2017 – CHW
Off to Penvergate to see what is seeding this year.
Magnolia officinalis var biloba has two small seeds. About half the size they were last year. As last year also a secondary flower.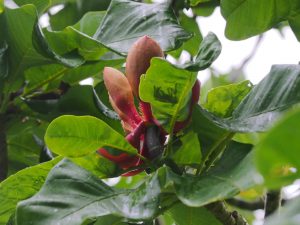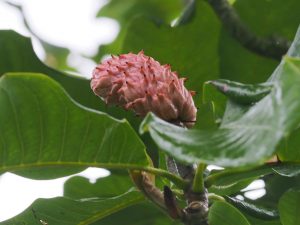 Tilia henryana has flowered early and the seeds are setting. The whitish bracts behind the seed clusters are interesting and attractive.
The fattest fruit I have ever seen on Stewartia rostrata. About twice the size of the ones on the drive which I looked at earlier in the week.
The elderly Magnolia soulangeas are all flowering for the second time. Unusually the flowers are more or less the same colour as in the spring. Smaller, but more normally, these would be all mauve.
Sorbus torminalis already showing autumn tints.
Two plants of Phellodendron amurense are developing into rounded trees with interesting bark. Sadly I planted them too close together but they are slightly different. Perhaps, however, one is a male and the other a female? Time will tell! No flowers or fruit as yet.
Seed forming on Aesculus wilsonii. This tree never seeds heavily and the conkers are small. Still only half formed here. Is the discoloration on the leaves the work of moth larvae which attack Aesculus hippocastanum or is this just autumn colour? I fear the worst looking at our chestnuts generally.
Sadly no seed has formed on Paulownia fortunei which flowered for the first time in the spring.
2016 – CHW
Recently, in my absence, a formal visit from Plant Health to inspect our sweet chestnut trees for disease. Apparently they have been overflying the woodland here looking for new infection in old Castanea sativa trees. They believe it to be yet more phytophthera ramorum.I have  my doubts as many elderly sweet chestnut trees have been very slowly dying back in their crowns for decades.
Anyway yet more tests for SOD and I fear some compulsory felling notices on some trees in the garden and in Forty Acres. Quite how Natural England and the Forestry Commission (what is left of it after cuts and mergers) can afford to fly around the country in helicopters while they still cannot pay our HLS agreement contract payments even faintly on time beggars belief. No funding shortages when it comes to all the PR of more 'new' disease to bolster their jobs and justify their existence. More hassle and rows to come I expect just when we thought the ten year ponticum eradication saga was over.
2015 – CHW
Every time I get to myrtles I curse the botanists and all the name changes – luma, amomyrtus, myrtus and ugni. So the common Myrtus luma in full flower today in many places is now properly Luma apiculata. It self seeds in profusion, has lovely peeling bark and is a wonderful coastal plant but the temptation to call it the 'Common Myrtle' is overwhelming. The Common Myrtle flowers earlier in the summer and is Myrtus communis. Not such a good plant and not nearly as hardy, common or floriferous even though from the Mediterranean rather than Chile. That is the 'common' bit I suppose.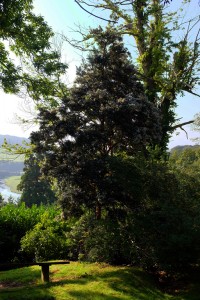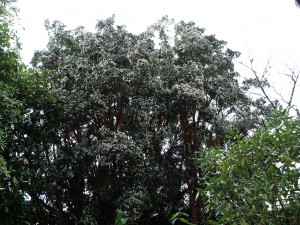 1968 – FJW
CHW first shots with 4.10 – 2 hits / 2 at Ovaltine tins. Lapageria out sometime.
1965 – FJW
Corn in. Bad harvest. Hay touchy and corn downtrodden.
CW
17 of the beds in the Tin Garden dressed and replanted. All daffs boiled and the bit below planted in daffodils. A lot, mostly Glorious, in the K Garden. Eucryphia cordifolia very good. White rhodo's auriculatum etc mostly over. Magnolia delavayi good and both var of Grandiflora. Quite a lot of Mag salicifolia have flowers also Conspicua. Cyclamen good. Lapagerias at their best and fuchsias.
1916 – JCW
The cassia on the terrace, the hydrangeas, the cyclamen, and the lapageria and solanum are about all we have to look at now.