2018 – CHW
This is a discovery! A mature evergreen euonymus species which I had never noticed before and will need to get identified. Can anyone help? One obvious seed pod but none I could see higher up the tree.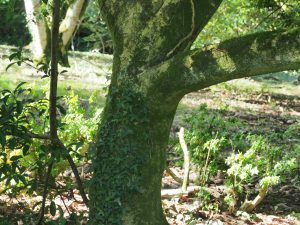 Rhododendron kiyosumense with attractive autumn colour and a few still green seed pods forming. A good deciduous species.
Acer sikkimense has survived the drought but made little new growth in its second year from planting.
Rudbeckia 'Prairie Sun' looking very fine.
Caryopteris x clandonensis 'Stephi' now full out.
Agastache fren. 'Blue Fortune' likewise.
Dichroa febrifuga
A new species of tender beschorneria – Beschorneria albiflora.
Colletia hystrix
Paeonia potanini
Illicium oligandrum – a new species of illicium for the 2018 catalogue.
Aralia elata in full flower.
Zenobia with ripening seeds.
Buddleia 'Silver Anniversary' – in flower. An attractive combination with the leaves.
Pseudopanax with seeds.
Rudbeckia triloba 'Prairie Glow' in full flower.
Echinacea purpurea
Kniphofia 'Little Maid' rather late in the season.
Malus 'Golden Hornet' laden down with fruit as usual.
Acer freemanii 'Autumn Blaze' living up to its name.
Hydrangea paniculata 'Early Sensation' fading off to pink.
Arundo donax 'Golden Chain' outside the converted barns which is clearly in the wrong place but looking very fine indeed. Loads of new shoots.
Ligustrum japonicum 'Aureum' in full flower.
Dregea sinensis
2016 – CHW
Mespilus germanica with a good crop of fruit which is not yet ripe. The tree is putting on secondary new growth after the rain.
2015 – CHW
Outside the front gates Hydrangea aspera ssp robusta (ex Crug) is flowering for the first time. Very late and long after the other aspera villosa group flowers have faded. It looks rather like a white form of Hydrangea sargentiana but now the botanists strike again and Hydrangea sargentiana is now reclassified as Hydrangea aspera subsp. sargentiana. On what basis was this change made I wonder?