2022 – CHW
The very rare Symplocos aff. sumuntia (previously believed to be S. glomerata) now in full flower.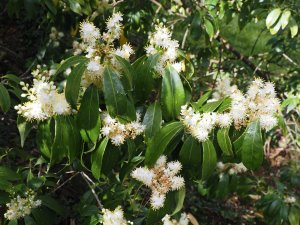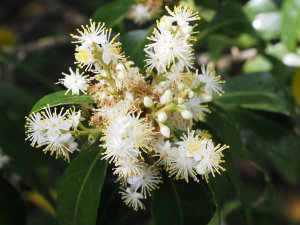 First flowers out on a clump of young Rhododendron williamsianum.
A good newly planted white form of Rhododendron racemosum.
Planted only last year but already the first flowers on several of the clump of Rhododendron 'Michael's Pride'.
Despite what I said a couple of days ago Michelia 'Allspice' is now just out.
As is the impressive Michelia yunnanensis 'Summer Snowflake'.
First leaves showing attractively on Mallotus japonicus.
Melicytus obovatus to show the size of the large shrub. You cannot see that there are tens of thousands of tiny flowers literally covering this plant.
Osteomeles subrotunda just coming into leaf. Attractive fern-like pinnate young leaves on this rare and unusual shrub which is said to be rather tender. Chinese origin. We await the 'hawthorn-like' flowers sometime in the next few years.
A few 2017 planted magnolias in the Isla Rose are about to drop their flowers and well past their best but still worth recording as those are mainly new varieties for us.
Magnolia 'Dark Bird' – two flowers and partly frosted. Not registered or listed anywhere that I can find.
Magnolia 'Sentinel' has ended up with huge flowers despite its tiny buds which curl sideways at the top. It is a Gresham hybrid listed only on the Eisenhut website.
Magnolia x veitchii 'Avocet' has faded to not much (M. x veitchii 'Isca' x M. soulangeana).
Magnolia 'Strawberry Shake' – unimpressive as it is here. This is another Lunaplant/Gottschalk hybrid – M. 'Purple Globe' x M. 'Joe McDaniel'.
Magnolia 'Darkest Purple' x M. 'Betty Jessel' – difficult to argue that this is indeed true to name at this stage of flowering but rather dubious for this cross? M. 'Darkest Purple' is a liliiflora hybrid bred in Alabama in 1949 with 'rich purple' flowers so I may be wrong.
The elderly (and previously cut back) clump of Rhododendron hanceanum is just out above the top wall. Nice pink tinge to the buds before they open and briefly on the tips of the flowers.
We saw Magnolia grandiflora 'Symes Select' in flower on Christmas Day. Here, already, is the start of a new set of flowers. I suspect you could readily find a flower on one of the six different M. grandiflora on the top wall in any of the 12 months of the year.
Pteris nipponica
Pteris umbrosa
Dryopteris sieboldii
Pellaea rotundifolia
Blechnum brasiliense 'Volcano'
Doodia aspera 'Rough Ruby'
Polysticichum munitum
Blechnum nudum
Onoclea sensibilis
Grevillea miqueliana subsp. moroka in flower. The first time I had ever seen this and rather good.
Banksia marginata – a new species to me.
Chorizema cordatum with bicolour flowers. Again, an unknown species for us to try. We used to grow Chorizema ilicifolia rather well but appear to have lost it. Greenhouse plants!
Grevillea thelemanniana 'Baby'. Ditto.
Corydalis tenuifolia 'Chocolate Star' in full flower. It seems to sell in the nursery before it ever gets this far into flower.
Still plenty of late flowers on an old (but pollarded back three to four years ago) Camellia x williamsii 'Caerhays'. Quite variable flowers in full shade but you can see the 'red' in the opening ones.
Salix undensis 'Golden Sunshine' just leafing up in Tin Garden.
Magnolia 'Daybreak' is darker than Magnolia 'Peachy' which is lighter in colour. The names seem the wrong way around as I have said before.
A young Magnolia x soulangeana 'Beugnon' with its first two flowers.
Enkianthus campanulatus 'Venus' now out as well.
A now established Tilia endocrysa leafing up. Spectacular!
Acer sterculaceum subsp. sterculaceum just leafing up. Quite bronzy.
Tilia tomentosa 'Brabant' planted in 2009 is already a good tree as you can see. Bark and young leaves also.
Betula utilis var. jacquemontii 'Inverleith' is developing good bark. Planted 2010.
Tilia paucicostata just leafing up.
Salix magnifica had erect purple catkin flowers last week. Today the catkins have opened up.
Tilia oliveri with drooping new leaves.
Tilia moltkei has much the same droopy new leaves today.
Crataegus chinensis with a flower.
Tilia mongolica 'Harvest Gold' with its yellow new leaves.
Tilia kuisiana, trunk and new leaves.
Wonderful bark on Eucryphia cordifolia.
Magnolia acuminata 'Golden Glow' x Magnolia 'Miss Honeybee'. Much the same as 'Miss Honeybee' as it seems to me.
Picea smithiana with attractive drooping light green new growth.