2021 – CHW
A visit to Treseders nurseries to photograph a few new plants and buy one or two as well. My last visit was last June, and they had clearly shifted a huge amount of stock since. Everything neat and tidy and the plants in wonderful condition. A great credit to Neil Treseder's grandson who carries on the family tradition after all the history which was so nearly lost in the 1970s.
Hardy ferns – apologies for a dull list but an interesting record of many new species I had not seen before.
Onoclea sensibilis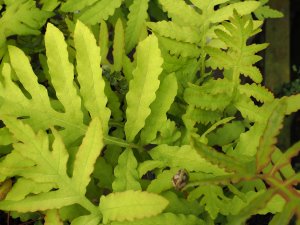 Pteris nipponica
Pteris umbrosa
Dryopteris sieboldii
Pellaea rotundifolia
Blechnum brasiliense 'Volcano'
Doodia aspera 'Rough Ruby'
Polysticichum munitum
Blechnum nudum
Onoclea sensibilis
Grevillea miqueliana subsp. moroka in flower. The first time I had ever seen this and rather good.
Banksia marginata – a new species to me.
Chorizema cordatum with bicolour flowers. Again, an unknown species for us to try. We used to grow Chorizema ilicifolia rather well but appear to have lost it. Greenhouse plants!
Grevillea thelemanniana 'Baby'. Ditto.
Corydalis tenuifolia 'Chocolate Star' in full flower. It seems to sell in the nursery before it ever gets this far into flower.
Still plenty of late flowers on an old (but pollarded back three to four years ago) Camellia x williamsii 'Caerhays'. Quite variable flowers in full shade but you can see the 'red' in the opening ones.
Salix undensis 'Golden Sunshine' just leafing up in Tin Garden.
Magnolia 'Daybreak' is darker than Magnolia 'Peachy' which is lighter in colour. The names seem the wrong way around as I have said before.
A young Magnolia x soulangeana 'Beugnon' with its first two flowers.
Enkianthus campanulatus 'Venus' now out as well.
A now established Tilia endocrysa leafing up. Spectacular!
Acer sterculaceum subsp. sterculaceum just leafing up. Quite bronzy.
Tilia tomentosa 'Brabant' planted in 2009 is already a good tree as you can see. Bark and young leaves also.
Betula utilis var. jacquemontii 'Inverleith' is developing good bark. Planted 2010.
Tilia paucicostata just leafing up.
Salix magnifica had erect purple catkin flowers last week. Today the catkins have opened up.
Tilia oliveri with drooping new leaves.
Tilia moltkei has much the same droopy new leaves today.
Crataegus chinensis with a flower.
Tilia mongolica 'Harvest Gold' with its yellow new leaves.
Tilia kuisiana, trunk and new leaves.
Wonderful bark on Eucryphia cordifolia.
Magnolia acuminata 'Golden Glow' x Magnolia 'Miss Honeybee'. Much the same as 'Miss Honeybee' as it seems to me.
Picea smithiana with attractive drooping light green new growth.