2023 – CHW
Malus 'Rudolph'.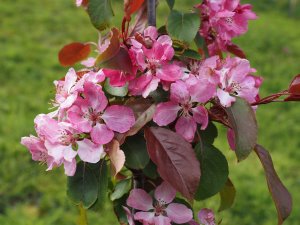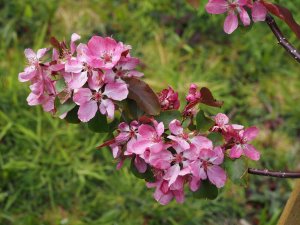 Malus 'Candymint'.
Malus transitoria.
Malus and daffodils in the Old Kitchen Garden. Made a video today with Karol of the first year flowering.
A huge laurel branch collapsed over the path below Donkey Shoe and had to be cut up.
Thankfully no damage to the Rhododendron 'Michael's Pride' opposite.
Rhododendron luteiflorum nearly out.
Not that much flower on Rhododendron burmanicum this year.
Michelia foggii 'Jack Fogg' just showing now all of a sudden.
Acer palmatum dissectum 'Crimson Prince' in full leaf. After uplifting nearby trees recently it now has a better chance.
The unusual combination of Rhododendron 'Yellow Hammer' and Michelia laevifolia.
Exochorda tianschanica is, I think, turning out to be a nicer flowered plant than the other more commonly grown species and varieties. Vigorous grower.
In their second year the Camassia leichtinii 'Superba' are finally performing in Tin Garden despite their young leaves being nibbled by deer and pheasants.
Tilia amurensis from Chollipo in Korea coming into leaf in Tin Garden.
Ilex x altaclarensis 'Sunny Foster' living up to its name with no new growth visible yet.
Acer campestre 'Red Shire' early into leaf.
Prunus 'Hally Jolivette' and Prunus 'Hokusai' – together in the sun.
2021 – CHW
Still a howling (warm) easterly wind.
A carpet of mainly large white flowered wild violets above Crinodendron Hedge in and above the new planting where the soil was exposed after our tree felling. As we saw they are predominantly purple and smaller flowered on Sinogrande Walk.
Magnolia x brooklynensis 'Woodsman' x Magnolia 'Pink Surprise' which is now called 'LADY WOODSMAN' or so I read in the Eisenhut book.
Magnolia x brooklynensis 'Woodsman' x Magnolia 'Patriot' with its extraordinary blue flowers.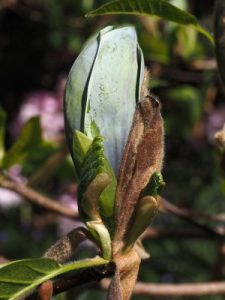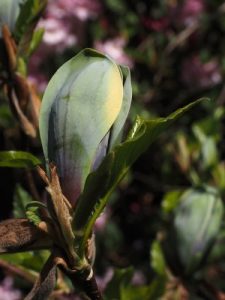 Magnolia x brooklynensis 'Black Beauty' at its very best.
Michelia 'Fairy Lime' with pink tips to its petals.
Pittosporum tenuifolium 'Garnettii' with a lovely contrast between variegated leaf and purple-black flowers.
Another superb Rhododendron niveum full out above Orchid House Nursery.
Acer palmatum 'Orange Dream' just in leaf with Rhododendron niveum.
One of Dad's hybrids (unnamed) Rhododendron 'Elizabeth' x Rhododendron 'Charles Michael'. This one (in a group of three) very nearly 'Charles Michael' which had died out on us but still hangs in there at Burncoose.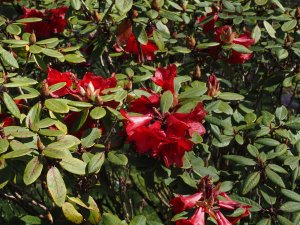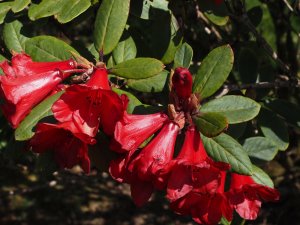 Then a real find hidden away above Crinodendron Hedge. Two Chaenomeles of which I had only ever seen one in flower. Both very old indeed. This one a tall multi stemmed shrub with single white flowers tinged pink. You can see the quinces beginning to form where the flowers have now largely finished. Nasty prickles! This is more or less certainly the true species – Chaenomeles cathayensis.
The second one is a small spreading shrub with single orange flowers. Very probably the true species; Chaenomeles japonica or Cydonia japonica.
I watched a Plant Heritage webinar on the National Collection of Chaenomeles earlier last week. The collection holder, David Ford, has 109 varieties in Surrey and all are grown in pots in his garden.
Japanese quinces may be Pyrus, or they may be Cydonia. No one is really sure of their origins. Chaenomeles are recorded as being on sale in a Bristol nursery in 1870 but were introduced to the UK 100 years earlier by Joseph Banks. Of the four species only forms of C. superba and C. x speciosa varieties are generally available to gardeners today as these have the largest and most saleable flowers.
The original Caerhays collection which still exists today is therefore:
C. speciosa 'Umbilicata' – Slip Rail (deep salmon-pink and very early into flower with last year's quinces still on the tree)
C. japonica – Crinodendron Hedge
C. cathayensis – Crinodendron Hedge (biggest fruits and biggest thorns)
Perhaps over 100 years old and certainly nearly centenarians.
The best modern or new varieties of flowering and fruiting Chaenomeles seen in the lecture were as listed below. Well worth obtaining for the next Burncoose catalogue if we can. In the USA there are 450 varieties of Chaenomeles in cultivation apparently.
C. speciosa 'Mango Storm' – has second flowering and rounded yellow fruits
C. speciosa 'Madame Butterfly' – pink/bicolour
C. speciosa 'Salmon Horizon'
C. speciosa 'Orange Storm'
C. x superba 'Apple Blossom' – pink and white – variegated
C. x superba 'Issari White' – tiny flowers in profusion
C. x superba 'Pink Trail' – white flowers age to pink
The huge Magnolia x veitchii 'Isca' (white) by the sales point is only now coming out while the pink M x veitchii 'Peter Veitch' (pink/white) is nearly over further up the garden. Odd.
Prunus 'Beni-Yutaka' is the best cherry for flower below the tower. These cherries came from Thornhayes nursery who have a very odd trade discount system and do not like Burncoose much.
Magnolia 'Limelight' with its broad spreading habit is just coming out. Really green in bud, opening pale yellow and quickly fading to cream.
Metasequoia glyptostroboides 'Gold Rush' is exquisite as it comes into leaf. What a delicate leaf formation.
Rhododendron 'Emma Williams' is a good pink colour this year. Sometimes it can be more white/pale.
The unnamed white magnolia on Bond Street is still quite a show a fortnight or so on from first viewing. Possibly as good a show today as anywhere in the garden.
Enkianthus campanulatus 'Vesta' is sadly full out already above Red Linney. No chance of this lasting for Chelsea this year.
Magnolia 'Pink Kobus' is not really a pink form of M kobus. It only really has a hint of pink in bud and you have to strain your eyes to see the pink in the tepals after that.
Acer palmatum 'Orange Dream' is quite special outside the front gate and well worth its place and name.
This Zantedeschia aethiopica has featured in the diary this year several times already. Now it really is full out and still it is only April. Could we cut from here for Chelsea?
I rather like the cultivated pink bluebells which I first planted here under my fuchsia collection 45 or so years ago!