2023 – CHW
A tour of Burncoose Gardens with 12 members of the Cornwall Garden Trust today. Cold east wind but the yellow magnolias looking good.
Rhododendron concinnum by the pond.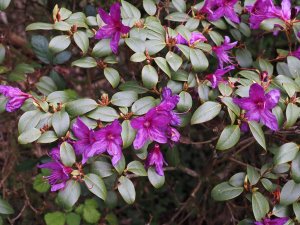 Rhododendron montroseanum with its change in flower colours.
Rhododendron 'Veryan Bay' and Rhododendron loderi 'King George'.
Rhododendron loderi 'King George' and Rhododendron davidsonianum.
Rhododendron loderi 'King George' and Rhododendron burmanicum.
Rhododendron loderi 'King George' and Rhododendron 'Nancor' (Caerhays hybrid).
Azalea amoena and rhododendron 'High Sheriff'.
Magnolia 'Gold Star' by the lodge.
Rhododendron 'Veryan Bay'
Halesia macgregori (one of three younger plants) already just in flower.
Attractive reddish new growth on Polyspora speciosa (KWJ 12204) which is romping away like its predecessors here.
The outstanding Enkianthus campanulatus 'Showy Lantern' – an excellent red which gets better and better.
Enkianthus cernuus recurvatus – the unopened flowers not yet living up to its name.
Pittosporum heterophyllum with flower buds.
Outstanding new growth on Maackia hupehensis although hidden away here.
These original plants from my father's Rhododendron williamsianum x Rhododendron decorum cross have been recently cut down but are reshooting beautifully (two named – 'Tinner's Bush' and 'High Sheriff').
Picrasma quassioides coming into leaf. A Chinese/Japanese small, ornamental, hardy tree with good autumn colour.
Magnolia 'Honey Liz' just out with buds to come. M. acuminata ssp. subcordata 'Miss Honeybee' x M. 'Elizabeth'. Not bad but not as good as 'Honey Tulip' or 'Honey Belle', or 'Judy Zuk' as we can now compare.
Cotoneaster cornifolus 'Ogisu' (93330) just into leaf. A deciduous species first collected by Ernest Wilson in 1910 and in 2007 by Mikinori Ogisu.
A very good form of Enkianthus serrulatus (group of three) – better I think than on the one Tom Hudson gave us and certainly flowering later in the season.
First flowers out on Rhododendron 'Fragrantissimum' by the front door.
Then we do the digging up of a huge Rhododendron sinogrande with Jaimie and Michael for Chelsea and balling it up ready for shipping. Then a spiel about layering a Rhododendron falconeri and a lot of chat beside a perfect Rhododendron macabeanum at the top of the garden. Finally shots of the new FJW hybrid between Rhododendron 'Elizabeth' and Rhododendron 'Charles Michael' which is as yet unnamed and unregistered. A centenary name with probably be appropriate when we dream it up but something for the rhodo members to enjoy anyway. Planted here in 2005.
Camellia 'Giant White' still has a few decent flowers in the shade.
Camellia 'Francis Hanger', the only true white x williamsii camellia, also has a few flowers left in the shade. Another plant I had forgotten existed in this location.
The old clump of Rhododendron 'Duke of Cornwall' is particularly fine today in the sun. We looked at some seedlings here a week or two ago on Sinogrande Walk.
Magnolia 'Yuchelia' has sprung out unnoticed by me.
Prunus 'Gyoiko' above the Petrol House has a splendid greenish hue and green veining.  Odd that it is relatively unknown.
Prunus mahaleb, the St Lucie Cherry, is nearby but has yet to produce fruits although the small flowers are out for several weeks.