2021 – CHW
Easter Day and time for a look at the new gifted and bought in plants (50 to 60) which have arrived here mainly in the last fortnight or so. The frames are filling up again with many new things after our planting out sprees in the last six weeks. A welcome diversion from the grandchildren and easter egg hunts.
Viburnum calvum with huge leaves and reddish petioles and new growth.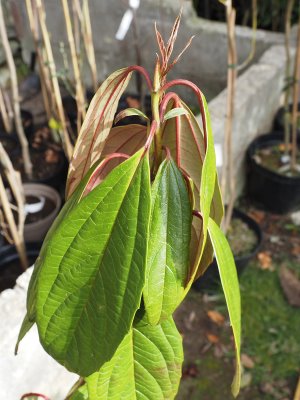 Myrsine divaricata – another genus of little merit except to the collector. Goes in with Schimus and Melicytus. Burncoose grew a few species years ago.
A gift from Raf Lenaerts – Magnolia laevifolia x M. maudiae 'Eternal Spring' is flowering away with large flowers and good scent. Exceptional growth in two years as a grafted plant. A very special sheltered spot for this Michelia cross in time. Just a hint of pink at the base of the tepals.
Another from Raf is Magnolia laevifolia x M. maudiae (BKR 201300) which has rather tiny flowers by comparison and is less good.
A new (to us) Magnolia 'Practically Magic' which is similar, I think, to 'Coral Pink'.
Magnolia 'Simple Pleasures' – very simple and not much of a pleasure so far.
Magnolia x loebneri 'Pink Stardust' had largely dropped already. Not as pink as 'Raspberry Fun'.
Coprosma grandiflora
Surprised to find Daphne bholua 'Garden House Ghost' still out in full flower.
Picea schrenkiana purchased from Mallet Court.
Another new ilex species for the collection – Ilex colchica.
Buddleia tibetica