2023 – CHW
Annoyingly I have broken my camera lens when it 'fell off' my desk. Much less focus and definition on this old lens and poor pictures for a bit.
I have looking to find where we planted Salix purpurea 'Nancy Saunders' as I need pictures for the website. It is going to become a small tree but the catkins are rather small and uninteresting. Hopefully the leaves and shoots will be better!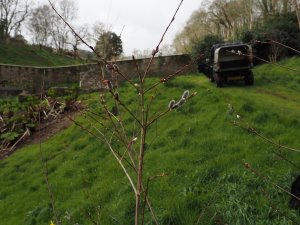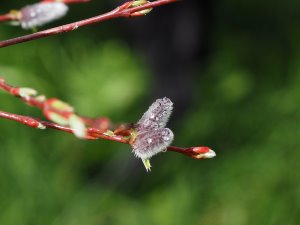 The Gunnera manicata beds are growing inches a day as this very wet, but mild, period continues.
Rhododendron strigillosum with one flower left on one of the 3 plants moved from the nursery bed 2 years ago. Incredible hairs on the stems and around the new shoots.
A few final pictures of Michelia doltsopa (or manipurensis if you prefer) and Michelia doltsopa 'Silver Cloud'. Michael has still to give us his preferred name to register the seedling he raised. Then we can try to get it registered. These pictures may help. A large tree already. The chosen name is 'White Phantom'.
After the strong winds a complete carpet of windblown flowers under the Rhododendron sutchuenense clump.
A few pictures from the Four Burrow Hunt meet at Porthluney last Saturday. My granddaughter Lamorna is strapped to Neil's back. About 45 riders and a good enough crowd of spectators. No sign of antis or the police as everyone enjoyed the sunshine. No sign of the first house martins either flying in from the sea as I have seen on this day in past years. The first beach meet for three years.
First flowers out on Rhododendron loderi 'King George' – I saw a truss at the show and could not believe it would be out yet.
Camellia 'Fairy Wand' which Forrest Latta, from the International Camellia Society, said had been much improved on in China.
Magnolia 'Pastel Sunset' x Magnolia 'Genie' flowering for the first time. Disappointing! Never heard of 'Pastel Sunset' before but it is a quick growing vigorous tree and not like 'Genie' in habit at all.
Magnolia campbellii var. mollicomata 'Peter Borlase' is as usual one of the very last campbellii forms to flower.
Myrsine divaricata – another genus of little merit except to the collector. Goes in with Schimus and Melicytus. Burncoose grew a few species years ago.
A gift from Raf Lenaerts – Magnolia laevifolia x M. maudiae 'Eternal Spring' is flowering away with large flowers and good scent. Exceptional growth in two years as a grafted plant. A very special sheltered spot for this Michelia cross in time. Just a hint of pink at the base of the tepals.
Another from Raf is Magnolia laevifolia x M. maudiae (BKR 201300) which has rather tiny flowers by comparison and is less good.
A new (to us) Magnolia 'Practically Magic' which is similar, I think, to 'Coral Pink'.
Magnolia 'Simple Pleasures' – very simple and not much of a pleasure so far.
Magnolia x loebneri 'Pink Stardust' had largely dropped already. Not as pink as 'Raspberry Fun'.
Coprosma grandiflora
Surprised to find Daphne bholua 'Garden House Ghost' still out in full flower.
Picea schrenkiana purchased from Mallet Court.
Another new ilex species for the collection – Ilex colchica.
Buddleia tibetica