2023 – CHW
More pictures of Magnolia 'Atlas' x Magnolia sargentiana (pure). Jaimie made this cross in 2009. It was planted by the Old Dog Kennels in 2014 and first flowered in 2022.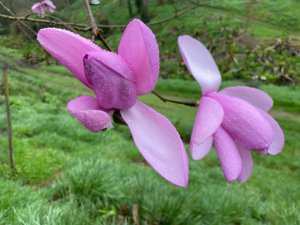 Melliodendron xylocarpum now full out in the Rookery.
Over the last two years cock pheasants have decimated the flowers on our clump of Fritillaria meleagris by Tin Garden. Few have survived but, this year, we have fenced the pheasants out.
Eurya japonica in flower in the Rookery with its highly unpleasant smell.
A visit to Cornish Lithium and a celebratory lunch after the signing of the Exploration Agreement.
A good Monkey Puzzle at the entrance of the Innovation Centre on the campus of Falmouth University.
The Cornish Lithium site at United Downs.
White violets at Burncoose.
In the conservatory Pittosporum tenuifolium 'Tom Thumb' and Rosmarinus officinalis 'Prostratus'.
The first rose nearly in flower on the lawn.
The memorial granite and plaque has been erected by the recently planted magnolia on the top path in Old Park. A commanding view.
More pictures of Jaimie's Magnolia 'Atlas' crossed with Magnolia sargentiana (pure). It has faded a bit after opening.
Rapanea salicina 'Toro' (syn. Myrsine salicina) by Charlie Michaels Nursery Bed with its unusual and attractive new growth.
The rare Maddenia hypoleuca flowering away for the second time.
Ilex ficiodea covered in bud.
Tetradium fraxinifolium (KWJ 12091) appears to be evergreen although its old leaves now seem to be turning colour prior to dropping.
A Magnolia sprengeri from Lei Shan
Acer negundo subsp. mexicanum
Debregeasia longifolia
The champion tree of Magnolia (Michelia) maudiae var. platypetala
Skimmia laureola
Rhododendron veitchianum from Thailand
Rhododendron magregoriae (a greenhouse Vireya species)
Myosotidium hortensia
The champion tree of Melliodendron xylocarpum
Camellia 'Quintessence'
Polygonatum vietnamense
Another of Alan Clarke's introductions – a Rhododendron maddenia subsection [?] just starting (CW & J 6342).
Rhododendron 'Damaris' just coming out on the Main Ride. One of the best yellows 40 years ago.
First flower out on the excellent Magnolia 'Lemon Star'.
A study today of our eucalyptus species as I write the care article for the website.
Eucalyptus leucoxylon 'Rosea' – 2015 planted – pollarded back by the cold in 2018.
Eucalyptus mannifera var. praecox – 2014 planted and now 35ft with attractive bark. Untouched by cold so far.
Eucalyptus simonosii – 2014 planted and now also 30-35ft or so with wonderful bark.
A rumpled hen pheasant about to lay an egg randomly!
This huge beech tree on the drive once had named graffiti and messages carved in its trunk. In the 1960s they were quite clear and were probably the work of the wartime evacuees here then. Today the carvings have been more or less obscured by the growth of the tree.
Rhododendron 'Anne Teese' just coming out.
A large clump of Rhododendron albrechtii with flower and early leaves. I planted these years ago and we have just planted a new batch.
Despite being nearly leafless at present plenty of flowers on Illicium floridanum or, possibly, Illicium mexicanum which is very similar. Both species have been planted here and I am not sure quite which this is.
Lindera obtusiloba is about as out as it gets.
It is not every day that I find a completely new plant (to me) in the garden. This camellia is totally prostrate and the dog is as tall as it is. No flowers at all. Can anyone help?
This is the area to clear I think for next year's replanting. Just some very old japonica camellias and other things which can go. A very sheltered spot for big leafed rhodos.
This is a climbing euonymus – Euonymus fortunei 'Woolong Ghost' which we have planted to grow up a beech tree. This we have seen at Tregrehan where it is easily up to 30ft but it loses the white variegation when mature.
Enkianthus campanulatus 'Prettycoat' has plant breeder's rights on it. A very pale colour to its 'bells'. Nearly white with a hint of pink. Floriferous at a young age but nothing too startling really with or without breeder's rights.
Podocarpus wongii has a very attractive new growth. I guess these are Asia's cuttings from Tregrehan. Almost a red stripe to the edge of the new leaves. Impressive!
Hydrangea lobbii out in the greenhouse already. Very delicate and pretty lacecap flowers but clearly a bit tender. I lost this outside at Burncoose at 4ft tall after a cold winter.
Liquidambar styraciflua 'Silver King' leafing up nicely. The silver variegation is irregular.
Quercus monimotricha which Asia has cleverly grown from cuttings. Drooping silvery new growth on tall erect shoots.
First flowers on Malus 'Jelly King' which we bought in for the Isla Rose Plantation. This is an introduction from New Zealand and is the ideal crab apple for making jelly.
Rhododendron pachysanthum just coming out.
Magnolia denudata 'Dan Zin' is full out and unblemished. We used this at the Savill show.
Acer palmatum 'Sango kaku' ('Senkaki') planted in 1913 and just now into leaf. A wonderful translucent light green through the sunrays.
A young Rhododendron singogrande with its first flower. The mature plants beside it have yet to show colour.
A young Rhododendron moorii denuded of leaves by the east wind. A flower or two before it dies! Another failure with this short-lived species.
Magnolia 'Genie' just out but not as good a colour as usual. Paled by frost and cold.
I fear the michelias are dying. The flower buds which seemed ok are now dead but the new growth buds are intact. However the main stem is going black so pruning may now be the only way to save these plants. Need to review with Jaimie in two to three weeks.
Magnolia 'Spring Rite' just coming out.
Magnolia 'Raspberry Fun' likewise. A much darker and better pink than the one seen yesterday in the Savill Garden.
Magnolia 'Petit Chicon' with its first flower out.
Rhododendron macabeanum at its very best. Splendid and a first prize at Savill.
Likewise Rhododendron 'Duke of Cornwall'. This went into the bin at the show as the cut spray did not travel well.
The newish Magnolia 'Tropicana' just coming out. You cannot yet see the full colour mix.
Magnolia 'Wadas Memory' full out and unblemished. One of several today in the garden of this variety.
Rhododendron fargesii full out in the main quarry. I showed this starting to come out at least five weeks ago.
A Rhododendron monstroseanum seedling looking very fine. We had a 'first' at Windsor with this.
Then some exhibits from the International Camellia Society.
Magnolia 'Dark Shadow' on a Crown Estates exhibit.
Camellia japonica 'Matterhorn' is one we need to obtain.
Staphylea elegans won its class.
Malus 'Everest' was good too.
Rhododendron primuliflorum
Rhododendron arizelum – you will see many of the big leafed species from here on and also in the garden. An interesting comparison.
Rhododendron sinofalconeri – superb too in the Valley Gardens.
Rhododendron letouchae (stenaulum) quite different from ours.
Prunus tenella 'Firehill' as a vase with more flower on its stems than I have seen.
Staphylea x coulombieri – quite nice but not hugely different.
Amelanchier lamarkii full out in a vase and with very different new growth to Amelanchier laevis photographed last week.
Syringa pinnatifolia out much earlier than ours.
Choisya 'Aztec Pearl' – a shy flowerer with us in the nursery.
Kerria japonica 'Golden Guinea' – foliage and flowers a nice contrast.
Aesculus x neglecta 'Erythroblastos' – superb new growth.
Camellia sasanqua 'Sweet Jane' – likewise.
Prunus maakii 'Amber Beauty' – glorious in full flower. Ours has not yet.
Taxus baccata 'Rushmore' – tiny leaves.
Michael receives the cup for the best rhododendron truss in the show for 'Countess of Haddington'. Then off around the Savill Garden with John Anderson and Harvey Stephens.
Pruning wisteria to achieve more flowers – care article pictures.
Mahonia nervosa – young plantings.
Betula utilis var jacquemontii 'Greyswood Ghost' with bark and catkins.
The unknown to us Mahonia 'Bokrafoot' in full flower at the Savill Garden entrance. Well worth stocking by Burncoose.
An impressive trunk on an ancient Nothofagus dombeyi.
A superb glade of Acer palmatum 'Orange Dream' glowing in the sunlight. One for the acer care article.
Acer shirasawanum 'Aureum' similarly effective for the care article.
Prunus incisa 'Omoinoyama'
Rhododendron 'Princess Anne' (lanceanum x keiskei)
Prunus 'Royal Burgundy' – well worth stocking.
Xanthorhiza simplicissima – the huge spreading clump which I first saw 40 years ago and identified as a must for the Burncoose catalogue.
Prunus avium 'Plena' – in maturity quite a sight today.
Magnolia 'Phelan Bright' very fine in the garden as well as on the show bench.
Malus hupehensis which has died out at Caerhays.
Cornus nuttallii 'Pink Blush' with little pink but a choice plant which we ought to stock.
Acer sterculiaceum ssp franchettii – an original plant of this survives at Caerhays.
Rubus spectabilis 'Olympic Double' – even better this year than last.
Magnolia soulangeana 'Rubriflora' (denudata x lilliflora) – nothing special.
Abies forrestii – well worth trying at home.
Tilia endochrysea with half sized leaf.
Sassafras albidum – this extraordinary spreading/suckering clump in full flower. Why does ours not produce suckers like this?
Podocarpus nivalis 'Ruapehu' on a rockery bed.
The rare Ceanothus cuneatus var ramulosus which we should stock.
A fine Juniperus communis 'Compressa'.
Hemerocallis dumortieri – out early with peculiar flowers.
This Epimedium 'Pink Champagne' is a MUST for us to stock at Burncoose. What a display! Easy selling name too.
2016 – CHW
The two hectare plantation of camellias in the Portholland valley is being ripped out after some 25 years. Originally these camellias were planted as part of a European grant project for Cornish growers promoting traditional and new foliage production. The belief was that there was a European/German market for eucalyptus, pittosporum and other foliage plants if they could be grown in bulk as Tregothnan were then doing on a field scale size with a huge range of potential foliage plants form phormium, rubus, eleagnus and camellia. Caerhays had always sold sprays of Camellia japonica foliage to the Covent Garden market and still does today. The hope was that by growing more named varieties of camellia a new market could be opened up for the sale of camellia buds and sprays of flowering camellia.Although Tregothnan did indeed go on to develop a thriving foliage business which has adapted into tea production as well as supplying the floristry market the supposed German foliage buyers sent only one lorry to Cornwall and this was not a success.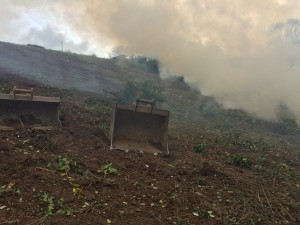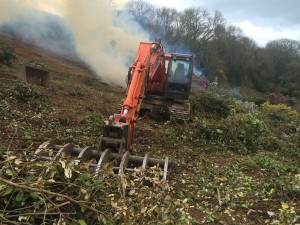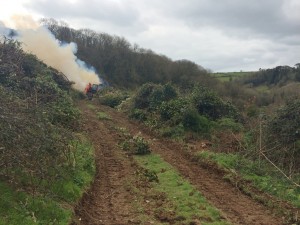 We did eventually manage to interest Dutch buyers in the camellia product some five years ago but it proved impossible to provide week on week the consistency of product in a limited range of named varieties and the costs of cutting and bunching camellia sprays in different sizes hardly covered the costs achieved in the market. Transport costs to Holland were horrendous and the Dutch never understood that the product was grown outdoors and therefore subject to frost, wind damage and hailstorms week on week. In warmer weather the flowers came out too quickly during shipment.We managed only one successful load which was shipped on the Moscow, Vladivostok and the Gulf States. The buyers wanted more next week but we had a frost. We were not geared up staff wise to cope and the skills needed to package thousands of identical bunches of uniform quality of the same variety as the Dutch (rightly) demanded were beyond us. Camellias do not, in the main, grow in a manner which easily allows the cutting of 30, 60 and 90cm identical sprays in very large quantities.
So the Dutch gave up on us, we could not see a realistic profit in the future and the plants grew so big that you could not get through them although the brambles did.
So, slightly reluctantly, we decided to destroy the plantation and return the land to normal agricultural use. Not a success story but one which cost us very little as the original grant covered the full cost of the plants and the original planting while some ongoing agricultural support from Europe paid for maintenance of the crop (today called BPS) on an annual basis.
Meanwhile the Higher Rockery was getting a 'haircut'. Several azaleas and rhododendrons needed cutting down to reshoot and rejuvenate as they had again grown too large and were shading out other plants. This was last done at least 30 years ago.
Rhododendron 'Ginny Gee', planted in a newer bed, was just coming into flower helped by the removal of a few brambles.
In the main the Rockery is in part either too shady and damp for many rhododendrons and, in part, too hot and dry with poorish soil. Few of my more recent plantings have done well ('Ginny Gee' and 'Wee Bee' being the exceptions) and the last of the original clump of Rhododendron russatum is on the way out. Rhododendron spinuliferum and Rhododendron weyrichii still thrive however as does Vaccinum urceolatum.
2015 – CHW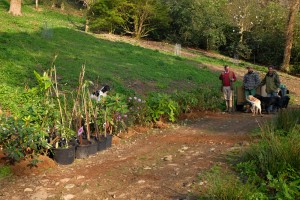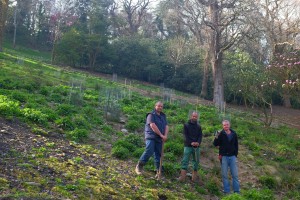 Completed the planting out of some 200 rhododendrons in the centre of Old Park.  These were mainly new species to Caerhays and some are replacements for species which have died of old age.  All were grown from wild collected Chinese seed by Alan Clark formerly of Muncaster Gardens in Cumbria.  The frames by the greenhouse which had our own excellent crop of rhododendron seedlings were also planted out some in Old Park and some above Rogers Quarry.  These included Rhododendron excellens, lindleyi, ririei, arboretum, royalei (yellow and pink) and 'Penvose' (Caerhays hybrid).  Higher Quarry Nursery and Orchid House Nursery are now virtually empty for the first time for years and ready to be dug over ready for Jeremy Peter-Hoblyn's Chinese rhododendron seedlings which he kindly gave us last year just before he sadly died.  We have planted out now at least 100 new magnolias, 300 plus rhododendrons and at least 150 other camellias and assorted shrubs in seven days . A bigger planting out programme than Jaimie had ever undertaken in his 21 years here.  Now we need some rain to bed them all in but none in prospect this week it seems.
Looking exceptional in the garden today are:
MAGNOLIA cylindrica – a wild collected form which is not pure white but has an initial blueish-purple stripe at the base which then turns reddish.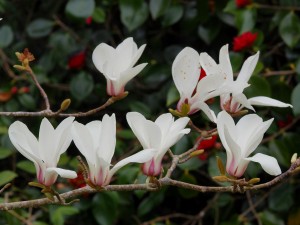 2004 – FJW
Mag stellata by nursery excellent.
1966 – FJW
Mrs Blandford died – 60 years they were married.
1933 – JCW
Just as on this day 10 years ago, but no Auklandii. Magnolias are all good.
1923 – JCW
Bob's White Australis is splendid, the Auklandii starting the early one is well out, the hybrid white Auklandii have been very beautiful. The cherries in the drive are at their best but Subhirtella in the Beech Walk is better.
1918 – JCW
One of the best days of one of the best springs, the first of the Auklandii are opening. Bob's White Australis is in flower well for the first time. All the heaths are open and a great mass of rhodo's with very pleasant light for things like the Augustinii's.
1914 – JCW
Daffs are near their best. Clematis alpina is lovely. Mrs Butler x at its best. R fargesii at its very best. R lutescens going back. The Auklandii x Arboreum white and red come on well. A few R broughtonii moving.
1912 – JCW
Reticulata half fallen, de Graaf going back, cherries are out bar one, the later poets are open, some montana open, rhododendrons are near about their best.
1907 – JCW
Plymouth Show. De Graaf ⅓ open, Weardale well out, all x poets not properly open, no Auklandii yet.
1904 – JCW
Truro Show. De Graaf open and Weardale, but not grown, and I did not take the former Dante, and 137 were our poets, flowers below the average.
1903 – JCW
We have nearly the last de Graaf buds open, all the Lulworths or nearly all are out, the cherries are half out. I returned from Dinton and the Drill Hall today, there were very few Poets at the Drill Hall except from the west.
1900 – JCW
Bob saw the first swallow.
1898 – JCW
Sir W Scott, Homer, 37, Dante, Firebrand, Griflamme are open also Mrs Langtry (one or two), M Cowen, M de Graaf, M Plemp, G of Leiden and G mundi.