2023 – CHW
A fine Easter weekend. I saw the first bluebell in flower at Burncoose 3 days ago but it was raining and my camera does not like the rain!
This is a 1998 rhododendron cross made by Jaimie. His cross No. 12 which we need to look up. Attractive striping as it first opens and, perhaps, well worth naming. Perhaps Rh. calophytum is one of the parents?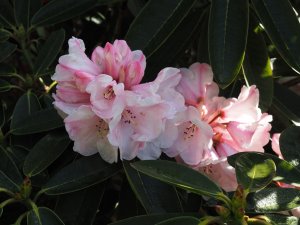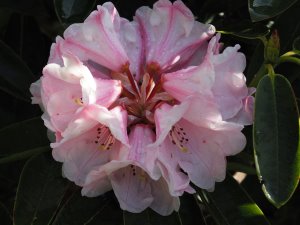 Rhododendron albrechtii is full out in the Auklandii Garden. A deciduous species which has lived here for 100 years and was featured on the table of centurion rhodos at the Rhododendon, Camellia & Magnolia Group visit on Thursday.
Magnolia 'Kews Surprise' has survived last night's hail. You seldom find flowers low enough to photograph properly on the original tree but here we have a treat and you can see the true colour.
Stachyurus himalaicus is a rare, tender and slower growing species. This one has, so far, been spared by the deer which have devoured other species.
Azalea stenopetalum 'Linearifolium' above the greenhouse has a very pale mauve flower and is rather different in colour to the plants not yet out in the Rockery. I did not know this plant was even here!
The wild collected Magnolia cylindrica (NA60704) bought in 2005 from Eisenhut and planted in 2007 is just coming out. Unlike our original M cylindrica which is pure white this has an attractive reddish purple stripe at the base of the tepals.
Magnolia 'Sundance' now has a couple of flowers out low enough to photograph properly. Not a great colour but what a superb shape.