2019 – CHW
This Hydrangea paniculata 'Grandiflora' was cut to the ground last autumn. Strong regrowth and very few flowers but, those there are, are huge.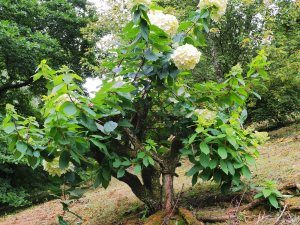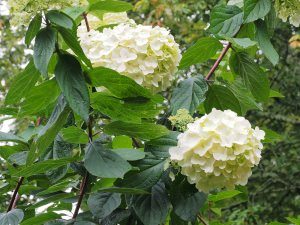 A few seed heads starting to form on Castanopsis concolor. They take two years to mature. Good markings on the trunk too.
To my amazement I find Cleyera japonica 'Fortunei' covered in pendulous white flowers. I went to photograph the foliage and then realised that the plant was covered in bees. Looking closely the flowers are well hidden in the variegated foliage and I would not have noticed from a distance. I have never seen this in flower before and had no idea when it actually did. A very dense growing and colourful shrub.
Salix udensis 'Golden Sunshine' will be a welcome addition to the 2020 Burncoose catalogue. Cut it down hard each year to see the spectacular new growth reappear. Does not like hot/full sun but holds its leaf colour right through the season.
Secondary flowers on Magnolia "Todd's Fortyniner" which had colour showing in December for the last two years and was out by January.
Euphorbia stygiana did not much like us taking its cuttings in May and has poor regrowth near the top of the tree in the drought.
This elderly Magnolia sieboldii has died in the drought. Thirty to forty years old I think and not planted when I was present. They are short lived.
2017 – CHW
This evergreen Illicium lanceolatum came to us from Mark Fillan as a new species (to us) of illicium a year ago. It was fairly pot bound and is now growing in shade in Old Park. This is its first flowering here. A seed head is clearly in evidence and needs to be collected when ripe and hard. Then it needs a soaking in water to release the individual seeds before planting in a seed tray. This is the second new species of illicium to flower here this year.
2016 – CHW
No entry.
2015 – CHW
No entry.
1953 – CW
Auriculatum at best or going over. White hybrids good. Eucryphia pinnatifolia big plant over. Rest at best. Nymansii very good, some cyclamen and lapagerias. Very hot over Bank Holiday.
1948 – CW
H.H.Hume, University of Florida came today on Camellias most interesting. Likes plants.
1918 – JCW
Have cut nearly all the gladiolus, Buddleias are fair, one of Wilson's Hydrangeas are good, very little else. The 1917 winer killed the gladiolus.
1916 – JCW
Romneya very good indeed, hundreds of flowers out, nothing much else in the shrub way left. Our hybrid gladilous look very nice, and very refined range of colours.
1913 – JCW
A late C, I go north tomorrow. Solanum good. Buddleia fair, even good. Very short of rain.