2023 – CHW
Serena gives me a perfect picture of Lamorna arriving here and pleased to be at the castle.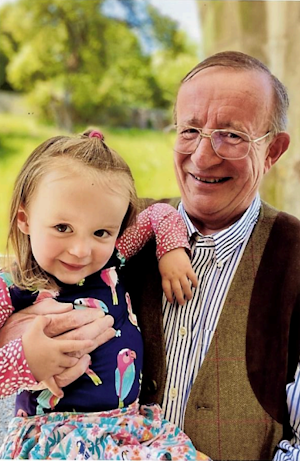 I attach another picture of Manglietia 0695 which flowered here this year and the email correspondence between Tom Hudson, Dick Figlar and the Chinese as to its true identity. We seem to be still no closer to knowing exactly what it is!
The newly potted on Magnolias look a superb crop for next spring at Burncoose.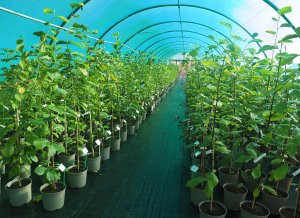 >
Thousands of potted camellia liners excellent also.
Hibiscus moscheutos 'Midnight Marvel' full out.
Eupatorium dubium 'Baby Joe' was a new introduction this year and finally we see the flowers.
Look at the colour change in the flowers on Campsis grandiflora.
The first time I have seen seed forming on Chordospartium stevensonii.
After the viewing of secondary magnolias in the garden at Caerhays this is what was in flower today at the nursery.
Magnolia x brooklynensis 'Hattie Carthan'.
Magnolia acuminata 'Koban Dori'.
Magnolia acuminata 'Gold Finch'.
Magnolia 'Aphrodite'.
Magnolia 'Apollo',
Magnolia laevifolia 'Velvet and Cream' with extraordinary and colourful seed pods.
The climber tunnel looking pretty good too.
Eucryphia milliganii nearly over.
Viburnum triphyllum, or so it is labelled, but I cannot find it in either of the Viburnum reference books, flowers over.
Daphniphyllum teysmannii (BSWJ 14626) from Japan settling in reasonably after planting this spring.
Then a series of dieing rhododendrons.
Rhododendron parisha.
Rhododendron sinogrande has already dropped its older 2nd year leaves.
Seed heads on Magnolia globosa.
Most of the later flowering scented rhododendrons have jettisoned their seed heads in the heat. These were green only a week ago. There will be little later flowering rhododendrons seed this year.
Plenty of seeds however this year on Michelia doltsopa, which is a surprise.
Hydrangea 'Fireworks Blue' in full shade and, so far, unscarred by drought.
Sambucus nigra 'Black Lace' and Hydrangea paniculata 'Limelight'
Potfulls of lilies.
2020 – CHW
A visit to a garden near Wolsingham where Rhododendron ponticum has taken over and there is a need for a swing shovel to clear the way for new shrubberies.
I failed to identify this plant?
Some sloes forming but still green and swelling. Last year they were ripe.
Even the blackberries were sparse, undeveloped and with tiny fruits.
The elders mainly had very few seed heads and these too were sparse and underdeveloped for the time of the year.
A decent Eucryphia 'Nymansay' at last!
Prunus pilosiuscula is plastered in fruits which are red then black. Asia needs to gather these now. I have never noticed such a crop before.
2017 – CHW
We have missed most of the flowers on the pink form of Magnolia delavayi by the dog kennels but there was one small flower left. The tepals are not terribly pink but I think they would have been much pinker before the bud opened. This is the first time we have remembered to photograph the pink M. delavayi which is now about 15ft tall and 10ft across.
2016 – CHW
No entry.
2015 – CHW
No entry.
2002 – FJW
George Henry Williams shot his first grouse – even summer – gales and floods in Europe.
2000 – FJW
Delias new tapestry arrived (3 ½ ft).
1917 – JCW
Buddleia magnifica very nice. Forrest's rogue buddleia very pretty. Auriculatums over. Cyclamen starting and so the hydrangeas. Gladiolus at their best.
1914 – JCW
Cyclamen ⅕ open. Lapageria a few.