2020 – CHW
A Burncoose afternoon in the sun after another storm has passed through. The exact name given to it by the now 'woke' weather forecasters is instantly forgotten. Not much of a storm here!
Tilia henryana flowering in the nursery. Sadly our tree in Penvergate has been blown to bits by the wind. I need to go and have a look. Need to start again with this August/September flowering species much loved by bees. It is later even than Tilia kiusiana into flower.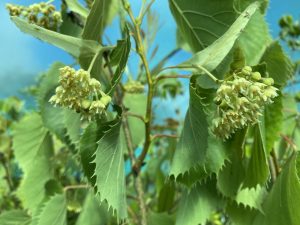 Buddleia 'Silver Anniversary' full out and looking good – flower and foliage.
Hydrangea paniculata 'Little Lime' is turning colour and now greenish. This is an exceptionally good smallish growing paniculata variety with huge flowers.
Rhododendron pentaphyllum turning already to its good autumn colours.
Fine autumn colour already on Oxydendron arboreum. What could be redder than this in August?
Sedum spectabile 'Brilliant' sitting alongside Senecio 'Angel Wings' makes an interesting contrast and a nice idea for a border planting combination.
A pinkish then changing to purple hydrangea that has now faded to exquisite combinations of bluish-green or speckled reddish-green on different flowers on the same bush. These too are perfect for drying to preserve these wonderful assorted colours. The reddish-green ones are from full sun while the bluish green flowers were in more shade. Again avoid the few flowers still showing their original and correct flower colours.
This blue flowering hydrangea already has flower heads which have dried off and gone brown. However it also has plenty that have turned bluish-green and are perfect for cutting and drying for Christmas decorations. If dried correctly the colours will stay and you will not need spray paint or sparkle to use them to their full potential.
Schefflera pauciflora next door already has well-formed seed heads.
It is a tall plant with a straight stem that is now producing side shoots.
2016 planted Tilia endochrysea has survived the drought with quite a bite of slug damage on the leaves. Quite dull now and not much like an obvious tilia leaf at this stage in the year.
Vaccinum megaphyllum (from Rod White) has seed clusters which are now setting.
Magnolia nitida has well formed seed heads this year although they are nearly all high up the tree. Nothing last year so Asia needs to collect what she can later with the long handled pruners when ripe. Six to eight weeks away from being ripe I guess.
We have to collect 170 Magnolia sieboldii seeds for a magnolia research project. Although there are still (amazingly) a few flowers showing there is also a plethora of seed pods on this tree. Some ripe and showing orange seeds. Some less so but what a sight this tree is today!
A few seeds on Ligustrum confusum (Record Tree) which will go black when ripe. Worth collecting I think so will talk to Asia.
Schefflera alpina also has a small seed cluster on a young plant. Quite different in colour to S. pauciflora.
An elderly Rhododendron hookeri with attractive peeling bark which I had not taken in before. There are hairs on the leaf veins and at the base of the leaves. The bark is very similar to Rhododendron thompsonii in the way it colour and peels.
2016 – CHW
The Game & Wildlife Conservation Trust clay shoot attracted 120 entries on a fine and relaxed day. Here are a few pictures to record the event. Tom Williams won the junior trophy. His father and uncle were less successful!
2015 – CHW
The row of hydrangeas which Jaimie planted for Alison along the roadside above Top Lodge are making a real show.