2023 – CHW
The large hole was where the roots of the largest felled sycamore were in the Rookery.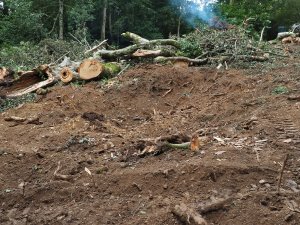 The fire is well away and the timber being extracted but still much more clearing up to do.
Loads of seed heads on just one of the 5 Magnolia 'Caerhays Splendour' on the bank.
We cut back a number of old Erica arborea above the 5 magnolias but the regrowth is coming from emerging seedlings and not the old wood. Care with grass cutting here.
The two large Eucryphia cordifolia beyond the Playhouse are nearly over for another year. The one beside the Aucklandii Garden already over earlier today.
Old and a few new seed heads on Lomatia ferruginea but most seeds have failed to form this year and the plant looks sickly to say the least.
Neolitsea aff. polycarpas (KWJ 12309), right beside it has, however, grown well.
One nearly dead Rhododendron calophytum and another, with a bit more shade, still absolutely fine.
Cercidiphyllum japonicum varieties have hated the drought and largely defoliated, as here. I saw this near Bristol as well in early July.
Volunteers from the Eden Project gather knapweed and other wildflower seed from the bank opposite the front door.
Peter Bickford-Smith collecting the entries for the annual GWCT clay shoot here as he has done for 30 to 40 years (barring COVID last year).
Hedychium gardnerianum 'Assam Orange' just out below the Rabbit Warren in its new site.
The prize giving after the clay shoot.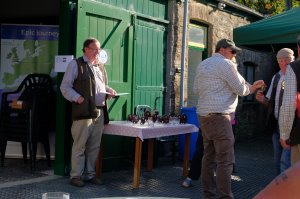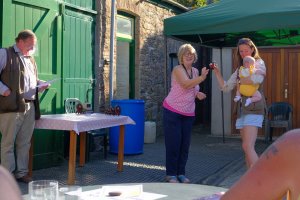 The overnight winds have yet again blown branches out of Magnolia 'Yellow Lantern'.
And off the Liriodendron tulipifera at Four in Hand.
The sea has turned brown with the runoff.
And the river has overflowed into the lake. I do not remember this ever happening in summer let alone August.
The last of the Echium flowers as the stalks seed and die outside the Drawing Room.
Hedychium densiflorum 'Assam Orange' just out outside the Smoking Room.
Likewise Lapageria rosea 'Flesh Pink' or is it 'Nash Court'?
I need to confirm with Asia the identity of this magnolia above Burns Bank. It may be a named form of M. cylindrica? Anyway I have never seen such large globular seed pods on a magnolia before. Very unusual and very spectacular. [It is Magnolia 'Sunrise' planted in 2007 which is now renamed as Magnolia cylindrica 'Lv Xing'.]
First berries for Asia to collect from Crataegus laevigata 'Crimson Cloud' in the Isla Rose Plantation which was planted 18 months ago.
Acer rufinerve 'Erythrocladum' turning a lovely yellow already which contrasts well with its yellow-green snake bark.
The enormous seed heads on Lithocarpus pachyphyllus grow larger and heavier day by day. This year a couple are at head height. Perhaps only a few acorns in each seed head will be large enough to be capable of germination but Asia has 20+ seedlings from seed gathered two years ago. Can one guess at the current weight of the seed head? Four to five pounds I guess?
The flower heads on Hydrangea seemanii have gone a crisp darkish brown and sit attractively on this vigorous evergreen creeper growing over the arch.
2018 – CHW
A trip around the garden with Ned Lomax, the head gardener from Glendurgan. Aralia vietnamensis has shot again vigorously from the base after the ravages of The Beast killed back the main 12-15ft tall stem.
First flowers out on our oldest Schima khasiana (or so we think) which I believe is identical to the record tree clump of schima at Trewithen. Huge clusters of flower buds. I have to say that the high up flowers and flower clusters on Schima superba (see two days back) look much the same from a distance. Sadly no flower buds on our (supposed) Schima argentea this year. A few on (supposed) Schima wallichii but not out yet in more shade.
Sheila Tidball and Peter Bickford-Smith collecting the clay shoot entries.
Schefflera myriocarpa is about to flower – three flower spikes showing.
Schefflera pauciflora (another wild collected form) also has setting seeds.
We have managed to keep the roe deer off this young Meliosma veitchiorum. Last year's plantings were all munched and leafless. Why do deer only select the rarest plants to kill?
Secondary flowering on Rhododendron flavidum as normal.
A nice flower on Magnolia delavayi at the top of the garden. It never sets seeds and the floor is littered with empty seed pods.
2016 – CHW
The Hortensus hydrangeas may be past their prime on the drive but the paniculata varieties are absolutely at their best. Here Hydrangea paniculata 'White Lace', planted in 2009 as a five plant clump in the open / full sun, have made a massive display. The flower heads vary in size and shape from the top of the plant to the lower branches.
Hydrangea paniculata 'Kyushu' has smaller, more lacecap flowers and is more spreading but less tall overall. None the less the overall impact is just as good. In shade this can be a straggly grower with few flowers and we had a poor clump at Burncoose.
Hydrangea 'Tricolor' (some would say 'Quadricolor') is full out. This plant would do better in a less exposed and windy position where it would get less dieback. Nevertheless the blue lacecap flowers set against the yellow edged leaves is an excellent contrast.
2015 – CHW
In Kennel Close planting to catch up on early autumn:
Aesculus pavia 'Splendens' has lost its leaves but still the first conkers I have seen on our 2011 aesculus collection plantings.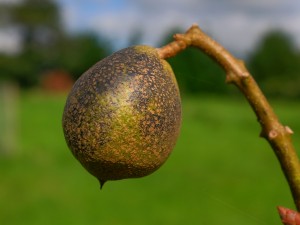 1976 – FJW
Dryest year for 250 years we are told – slight rain in evening after a summer of drought – damage in garden very grave and is as bad as a v cold winter.
1970 – FJW
Corn and straw all harvested and collected. Yield light both in grain and straw. 60 acres in 5 days fine weather.
1961 – FJW
19 loads of humus around the wood. The whole of the Rockery, Auklandii Garden – 1550, Tetropeplum hybrid, Salutation, Donation, Iteophyllum, Saffron Queen, Diaprepes, Humming Bird, Crassum – 2 Camellias by tree ferns, one up by Crossbill – Aberconwayii, 3 Camellias, Mag and Auk hybrids, H cinnarbar hybrids, Golden Oriole 1 and 2, Trewithen Orange, Rhabdotum, Megacalyx Golden Oriole, G.Blandford, Caerhays.