2021 – CHW
Seed heads well formed on Styrax obassia.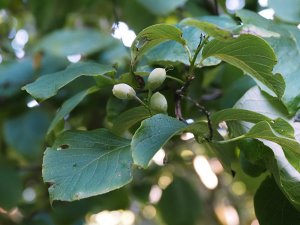 In our absence a salt laden gale has burnt off the leaves on the beech trees by Tin Garden. Some evidence of reshooting but basically a premature leaf drop.
Ketteleria davidiana has enjoyed a good growing season. It looked on its last legs in the spring.
Next year's flower buds showing up now on many magnolias.
Seed capsules or bladders on Staphylea pinnata and Staphylea colchica are colouring up.
Some very expensive machines harvesting potatoes in Eastern Close viewed from Treberrick Farmhouse which is being renovated.
The steep bank opposite Harolds Yard has been cut by Bob in a feat of daring!
A building conversion project at Trevarrick which got the go ahead at the trustees meeting today – three new barn conversions to residential.
Another potential conversion project for six units at Rescassa.
Squirrel damage on a young sweet chestnut in Old Park.
2019 – CHW
A strange excitement at 7.20am this morning. As I sit letter writing in the study a large grey squirrel repeatedly jumps up at the glass on the window. I presume that since the glass is tinted it could see its reflection as it turned out to be a young travelling male looking for new territory. This often happens at harvest time when young squirrels living in hedgerows by cornfields move on when the corn is cut.
Anyway armed with dog and equipment I opened the front door. The squirrel ran right through my legs and up one of the granite pillars outside the front door. It got as far as the battlements where it found it could not get over the three granite protrusions just below. Amazing that it could grip onto the sheer granite but it will not be returning.
Eucryphia lucida above the greenhouse. Late into full flower after the odd flower over the last month.
Schinus polygamus must be the dullest plant ever. Here it is 10-12ft high with no notable features!
A sucker from Sassafras albidum beside the path. The main trunk grows through a dense camellia clump so this is the first sucker I have seen here on this multi-stemmed tree.
Cornus kousa var. chinensis 'Wisley Queen' with now ripe fruits.
Jaimie has split the Hedychium gardnerianum clumps by the Playhouse and planted groups around and about in the garden. First flowers here.
Salix moupinensis is really a smaller version of Salix fargesii but the stems and buds are attractive. Growing in a damp place it has settled in well.
In my care article on cordyline for the website I referred to older branched forms shooting from the base. This is certainly true of this 35 year old clump by the front door.
2016 – CHW
Alison's hanging basket begonias are a great Top Lodge welcome to Caerhays.
This was originally, in 1999, a clump of ten plants of Hydrangea paniculata 'Pink Diamond'. They have done well and are a big impact today although no sign of a colour change to pink as yet. Taller growing than 'White Lace' too.
We looked at Hydrangea 'Hobella' in its prime six to eight weeks ago when it was a delicate pink. Now it has turned to a shade of light blue with some outer florets turning green while others exhibit red/purple blotches on the fading whitish flowers. As advertised this variety genuinely does change colour three times during the flowering season. Wonderful for dried flowers but at what colour stage do you dry them? There are new multicolour 'noblesse' hydrangeas being marketed hard by the Dutch today which have mixed colours and colour changes but I find them vulgar in comparison to 'Hobella' which Burncoose first sold in the early 1990s.
2015 – CHW
Decided to look further in Kennel Close with more time:Mespilus germanica (2011 planting) now has lots of fruit.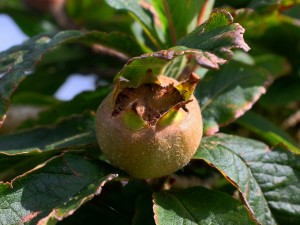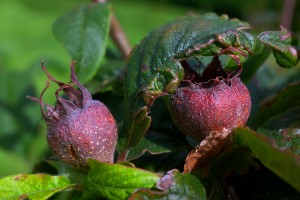 Juglans ailanthifolia (2014 planting) has a wonderful leaf structure if the roe deer will leave it alone.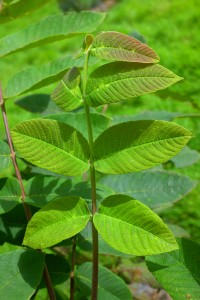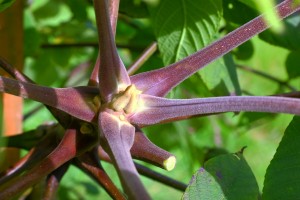 Prunus serrula 'Thibetica' has little peeling bark yet on the main stem but the newer branches are peeling nicely.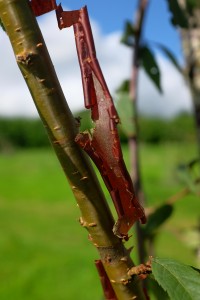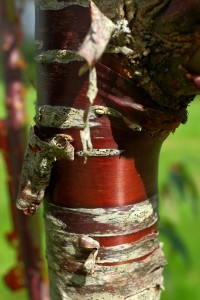 Acer campbellii 'Frangipanense' has secondary new growth and, despite die back from the top, is now well away with a bit more shelter from the laurel hedge.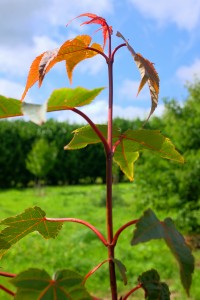 Cornus alternifolia, a seedling from our original plant, has made huge growth in four years and is now producing white berries turning black in huge clusters.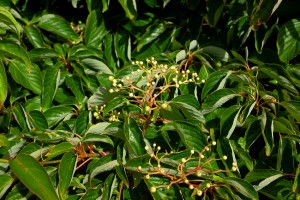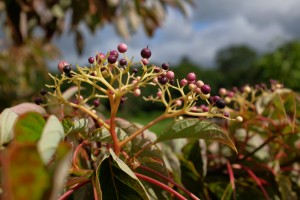 Aesculus glabra (2011) also has peculiar shaped conkers (four only) for the first time.