2023 – CHW
Viburnum sambucinum about to flower for the first time here.
Watering has saved these young rhododendrons in the Higher Quarry Nursery.
Cornus macrophylla, another evergreen species, is getting going but no flowers yet.
Viburnum fansipanensis (BSWJ 8302) also with swelling seed heads.
This newly planted Pseudotaxus chienii looks rather different from the established plant on Sinogrande Walk. Need to see which is the correct thing. I am suspicious of this as being too spreading and loose in habit?
A clump of Hydrangea paniculata 'Tardiva' in shade. Small flowers and not very impressive but this is a 30 year old clump.
Hydrangea aspera 'Macrophylla' flowers in 3 stages.
The hydrangeas are nearly over but the view down the drive is still is not bad.
After the rain a peculiar set of young new growth on Quercus phellos.
Pink and blue Hydrangea 'Fireworks' together.
See what a hit this clump of red hydrangea took in the drought last year but it is now recovering.
Viburnum setigerum with a fine crop of seeds on a young plant. This was a 1901 Wilson introduction and can grow to 10-12 feet but with nodding branches as here. Yet to take in the autumn colours. Dirr rates this as being in his top 5 Viburnum species.
Viburnum atrocyaneum is a native of the N.W. Himalayas. A dense bushy shrub is developing with us but no flowers that I have seen as yet.
Viburnum phlebotricum struggling in the heat. A Japanese species which grows to about 10 feet if it survives?
Viburnum phlebotricum (BSW 11147) with much smaller leaves and also struggling.
Viburnum wrightii – a Japanese species with attractive bright red fruits which we have yet to see here.
Viburnum fordiae – this evergreen species is making good progress and promises to become a large shrub. Native to China.
Viburnum fansipanense (BWJ 8302). This species also does not feature at all in either of the reference books.
Viburnum wilsonae – Introduced from Sichuan by E.H. Wilson in 1908 but little known in cultivation today. Can reach 6-10 feet eventually.
Viburnum rhytidophyllum with, as usual, seed heads and next years flower buds visible. Now that the plant is no longer in full shade it flowered twice last year in its newly hot location as we saw in the diary.
Viburnum parvifolium – (BSWJ 76768). This is a mountain shrub from Taiwan and there is argument over the name which should perhaps be Viburnum yamadae? Dense habit and tiny leaves. We saw the tiny flowers a month or so ago.
Viburnum sambucinum has yet to be planted out but is flowering in the frames.
I went to view Viburnum globosum on the bank above HCR but the large shrub was 'deado'!
Zanthoxylum simulans is a smaller tree and not quite as loaded with (as yet unripe) seed as in previous years. Easier to collect from this one.
Zanthoxylum piperitum var. inerme is in Kennel Close with few seeds this year and a much younger tree.
Three plants of Zanthoxylum coreanum are also doing well in Kennel Close. They look very like Z. piperitum.
Z. armatum grows above the foliage camellias. And Z. acanthopodium was photographed in the nursery a while ago.
A good Magnolia virginiana full out but unseen in Forty Acres.
A secondary flower or three on Magnolia 'Apollo' which, as we know, is one of the very last of the New Zealanders to come into flower and exceptionally long lasting even in hot and dry conditions in May.
Magnolia 'Yakeo' is however a regular second flowerer.
Magnolia x soulangeana 'Brozzoni' is a UK and Ireland champion but has serious rot in its main trunk up to around 6ft. Nevertheless the tree looks well and new root systems have grown through the rotten/rotting area which has many fungi assisting the decay. This garden diary records this tree as flowering for the first time here on 29th March 1928 so not a bad innings at all!
On Sunday we saw Magnolia tamaulipana in tight bud. Today it is nearly over. Twenty-four hours is all you get with this peculiar Mexican species. This is the second flower about a month after the first. The third bud was eaten by something – probably a mouse or a tree rat!
A solitary and absurdly late flower on Michelia 'Touch of Pink'. This is the third Michelia seen with odd flowers still out in the last week.
The Mallotus japonicus given to us this spring is establishing well and producing its first flowers. The large tree at Ventnor which I have coveted for years was sadly dying of drought or honey fungus.
Euphorbia stygiana 'Santamaria' has been over pruned for cuttings but here some seed pods. The result of too much lopping is that is has reshot from the base.
Brachychiton populneus has sat doing nothing for three years. At last a little development of its crown.
These five Rhododendron sinogrande were moved here from the nursery beds in April. Finally some new growth is emerging after the recent rain so they have a chance (or four do): one produced new growth which has shrivelled in the drought but there is more to come. The problem will be next year when the large old leaves drop to leave just far too small young leaves to sustain the plants.
I had thought that this Idesia polycarpa was a male but there are a very few seeds forming. After the dry summer many trees have jettisoned their seeds to save energy.
Eucryphia milliganii full out at 15ft or so tall.
Stewartia malacodendron showing early autumn colour on its youngest leaves. This is its response to the drought.
Rather unspectacular bark on Stewartia rostrata.
Seed heads forming on Stewartia pseudocamellia but many have withered in the drought and these are only showing on the basal new growth shoots and not on the main stems at the top of the plant.
Quercus 'Chimney Fire' living up to its name in its secondary new growth.
Eucalyptus amygdalina – with white flowers scented clearly of mint. A huge mature tree.
Diospyros lotus, the Date Plum, with inedible fruit forming on a tree 30ftx20ft. It looks an evergreen but is not.
Tetrapanax papyrifera 'Rex'. The old trunks have died and vigorous new suckers have appeared in the border.
I was right! It is an aristolochia called Aristolochia californica.
A nice spreading clump of Romneya coulteri.
Echium seedlings by the thousand!
Citrus orange growing outside. Note the suckers from below the graft which need removing and the careful pruning which has encouraged dense new growth.
Blue seed panicles on Berberis valdiviana. Very attractive!
Isoplexis canariensis with a late flower and bulging seed heads.
A wall covered with Trachelospermum jasminoides.
Pseudopanax ferox at 12ft with its totally different secondary leaves.
2016 – CHW
On the way early to the mainland but just time to photograph a fine Magnolia grandiflora 'Goliath' which has narrower and more pointed leaves than most other forms of M grandiflora. This specimen grows in the garden of a lady who collects succulents and echeveria which I inspected last night. Not my idea of nice plants but each to his own!
2015 – CHW
The grasscutting in the garden is now up to Georges Hut and a good half way through. Lots of roe deer tracks, rubbing and nibbling and today I see a roe buck with reasonable horns grazing happily in the middle of Kennel Close who ignores my car not once but twice at 40 yards.Eucryphia nymansensis 'Nymansay' coming out both outside the front gate and in New Planting. The latter was a record sized multi-stemmed tree until felled in the 1990 hurricane. We chopped it back to six feet and rebedded the roots and it is now back up to 15 feet but still looks a bit starved in comparison to the one in its prime on the drive at Burncoose.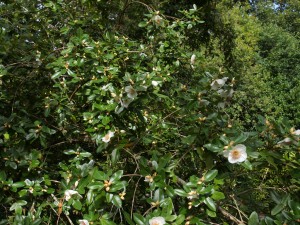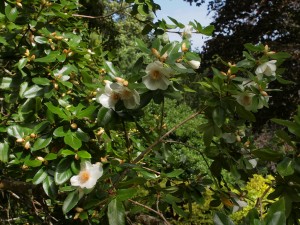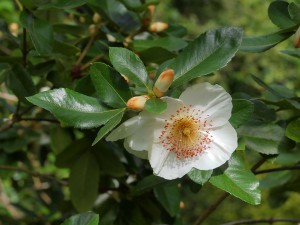 The best show in the garden today are five plants of
Hydrangea paniculata grandiflora 
on the bank at Hovel Cart Road. Huge and really robust in comparison to the forms shown a few days ago. Each plant is a good 10 feet tall and nearly as wide.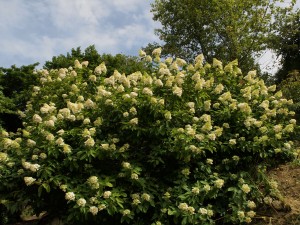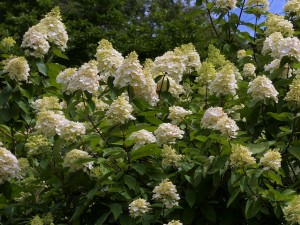 The first hoheria to come out is Hoheria glabrata hidden away by the castanopsis. The flower clusters resemble the shape of a (pendant) kalmia in bud. The tree (12-15ft) at Burncoose is ancient but never seems quite to die. This clump of three were planted in 1991.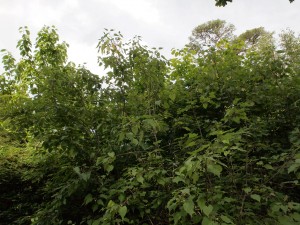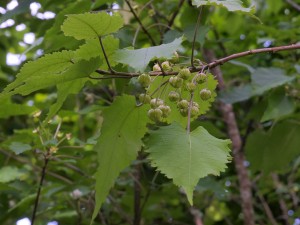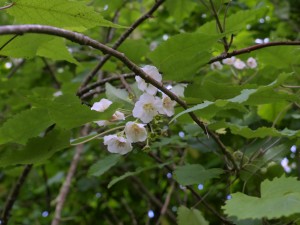 Nearby is Eucryphia lucida also only just showing colour with huge flowers that attract bees. Again a clump of three in the post hurricane planting but rather a poor place to see it properly.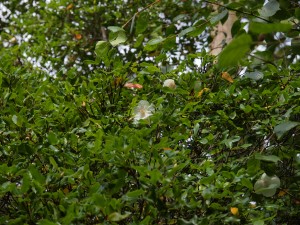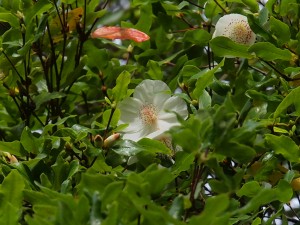 Podocarpus 'Blue Gem' came as a gift from David Lees of Lees & Co where he had grown it for many years in his seaside garden at Lymington. Clearly tender and probably South African it has truly gorgeous blue new growth and has made a nice shrub here. We have stocked it before in the nursery and must now propagate it again.
1997 – FJW
Very heavy rain for 3 days now – have not had such a wet spell at this time for years. One flower on lapageria.
1995 – FJW
Madeleine Williams arrived into the world – very hot and dry.
1964 – FJW
Harvest started. Auriculatums fair (Polar Bears excellent) – Eucryphia glutinosa good – Nymansensis will take another week.
1916 – JCW
The Romneya has 400 to 500 flowers open. There is nothing much else except Solanum.
1914 – JCW
The European war began August 2nd 44 years to a day from the last great war. Very few things open except R auriculatum which I am crossing with R ungernii from Treghan, a clean white form.
1897 – JCW
The first red lapageria open and I left for Scotland.