2023 – CHW
Orange new growth still showing on Podocarpus wangii.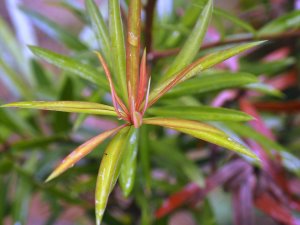 Pleased to see we have another species of Carya coming on in Tin Garden. Carya cordiformis 7 (rather than 5) leaflets on each individual leaf.
A flower on Ilex aff. gagnepainiana (FMWJ 13168).
Our replacement Quercus engelmannii is getting going.
Tilia paucicostata killed by deer nibbling. All wire netting surrounds must now be taller.
Celtis sinensis with secondary new growth after the rain.
Calycanthus 'Aphrodite' still has splendid show for the time of the year.
The newly planted Liriodendron tulipifera 'Snow Bird' only just survived the drought with a bit of watering. Die back at the top of the main stem which I cut out but hopefully the tree is away now.
Viburnum hoanglienense covered in swelling seed heads.
2022 – CHW
A trip to Bodmin Garden Centre which has made huge investments in state of the art multi-span tunnels in the last year since I last visited. They are now more of a growing nursery than a Garden Centre and we should be engaging with them for trade orders of herbaceous plants and for landscape deals.
Stand out plants included:-
Agapanthus 'Dark Silk' – very dark.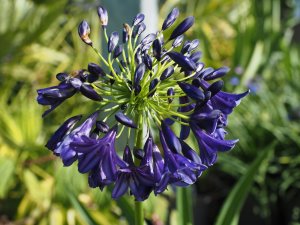 Echinacea 'Green Twister' – very odd.
Angelica gigas 'Ebony' – strange but a blackish flower covering rather than the green one I photographed yesterday in the nursery.
Kniphofia 'Poco Orange' -Burncoose stocks this miniature one now. Nice if you like small red hot pokers!
Leucanthemum 'Goldfinch' – I have seen this in Isle of Wight Garden Centres. Will be popular.
Then quickly into Treseders Nursery.
Prostanthera spinosa – and it was! Not very exciting flowers and decided not to buy. They have a great collection of Prostanthera species and varieties from Australia.
Cuphea ignea from Tresco. Larger flowers than seen on the same plant at Ventnor.
Dendroseris littoralis– the Juan Fernandez Cabbage Tree which was on the brink of extinction in the1980s. Semi-tropical very rare only growing in the wild on some small island off the African Coast but plenty of young plants doing nicely near Bodmin in Cornwall!
Cordyline australis 'Pink Passion' – quite similar to one which we do stock.
Ilex aquifolium 'Myrtifolia' which would be a good hedging plant.
Forsythia 'Fiesta' – attractive leaf colouration even without the early season flowers.
Cistus 'Gold Prize' – vulgarly attractive with its largely yellow but three tone coloured leaves. A short lived plant I expect but a showstopper.
Leucanthemum 'Ooh La Spider' – silly name but a good ruffled flowered form.
Interested to see these willow creations which would look good in the right situation if pruned and maintained. Stupidly I forgot to look for a price.
Then on to the Roseland Plant Centre who used to be trade customers of the nursery when we once did van sales. It appeared to have become a bakery and tearooms with a huge yurt. A few tired bedding plants and not much else at all. Took not a single photograph!
2020 – CHW
The variegated leaved Buddleia 'Harlequin' has largely reverted to 'Royal Red' above the top wall but is still a magnet for butterflies. Many flowers are already over but a second flush now accompanies the latest rain induced growth.
Cornus drummondii 'Sunshiny Drops' is now in flower and a rather good yellow it is although the name refers to the subsequent berries.
Maakia amurensis has no obvious flowers today but the Maakia hupehensis which has such gorgeous blue spring new growth most definitely does. The small tree blew over years ago and has become a low mounded shrub which makes the flowers more reachable. John Marston's excellent garden vlog this week made me go and have a look at our plant. Every week during lockdown I have found something new to covet on the walks in his garden.
Four Crataegus species with fruits have coloured up well in 10 days:
Crataegus ellwangeriana 'Fire Ball' – nearly ready for Asia to gather.
Crataegus combyi – likewise.
Crataegus aprica is only just turning.
Crataegus schraderiana in a similar state although it was the last of these four to actually flower this year.
Sedum 'Gold Mound' may be dwarf and a rockery plant but it is still quite striking. No idea about its flowers.
Ligularia gigantea 'Giant Scabious' was living up to its name with white flowers. Five to six feet tall. Very difficult to grow in a pot!
Perouskia atriplicifolia 'Little Spire' grew to about 18 inches and had delicate but attractive flowers as you can see. Arguably nicer than Perouskia 'Blue Spire'.
Agapanthus 'Windsor Grey' – whitish grey in bud and tall growing. Quite excellent and arguably better than Agapanthus 'Queen Mum'. A must get for Burncoose.
Agapanthus 'Inkspots' – dwarf to medium growing with dark buds opening darkish blue. Perhaps as good as Agapanthus inapertus 'Graskop'.
Agapanthus 'Sandringham' – a very good sky blue – medium-tall growing.
Agapanthus 'Bressingham Blue' – taller growing and very floriferous. Not quite as dark as Agapanthus 'Navy Blue'?
Agapanthus 'Lavender Haze' – lower growing and a gentle light blue.
Rudbeckia 'Peking' – very nice but perhaps not that different from others taken on this Isle of Wight trip?
Sisyrinchium 'E K Balls' – almost a rockery plant but striking blue flowers in profusion. We used to stock other dwarf sisyrinchium.
Persicaria amplexicaulis 'Fat Domino' – a very striking red and not insipid like some of the other knotweeds especially Persicaria bistorta 'Superba'. Grows to about two and a half feet, flowers to three and a half feet.
Coprosma 'Pacific Dream' – not that different but this is the one being sold everywhere in the Isle of Wight today.