2019 – CHW
Sunshine and finally some of the cold autumn weather we have been promised after six wet weeks.
The Camellia x williamsii 'JC Williams' hedge outside the front arch is now full out and I cut a bunch for Lizzie to decorate Dad & Mum's new granite headstone and surround which is finally complete in the churchyard.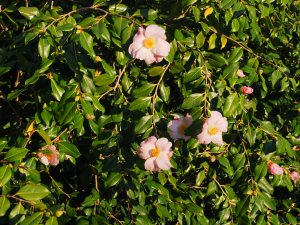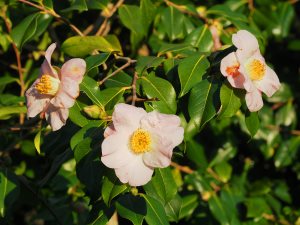 A week on again the Ginkgo biloba is now shedding and almost totally yellow. Three gorgeous weeks of colour.
One does not think of Rehderodendron macrocarpum as having autumn colour but this is not too bad I suppose beside the ginkgo.
Camellia x williamsii 'George Blandford' on the Main Ride.
Camellia 'Noblissima' at The Pound. The plant beside the front door had a few odd flowers which I failed to capture before they were frosted and then blown away. Some frost damage can be seen here.
Vaccinum megaphyllum with nearly ripe berries which Asia could soon collect.
Sarcocca wallichii in flower in the Auklandii Garden. About the same timing as last year.
Worrying that this brick buttress on the top wall is breaking up largely caused by an ilex oak seedling which is now embedded. The buttress is no longer attached to the wall either so remedial action here soon.
Also large cracks and holes in the wall and a Cotoneaster franchetii 'doing nicely' growing from the top between slate slabs. Time for a KPK attack to relay the slate slabs in cement and fill in the holes.
2016 – CHW
First flowers on Camellia x williamsii 'George Blandford' on the Main Ride. Rather small flowers on this old plant.
2015 – CHW
Nice colours on Parrotia persica which will probably be out in flower in four to six weeks with no winter hibernation at all.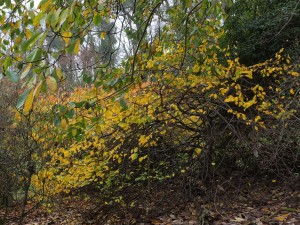 Hydrangea 'Madame Mouilliere' still has some perfect flowers left above Red Linney. Staggering after many months of show but this clump was massively invigorated by a major chop down three or four years ago.
2000 – FJW
George Williams fired air gun and connected with a tin. [?] and played the flute.
1932 – JCW
Lapagerias nice. Cam sasanqua has been good. R lutescens opening some early ones. Erica darleyense has fairly started opening. Fuchsias our best things.
1921 – JCW
Just about as in 1917 but we have had good planting weather for November. Erica cordonodes is nice, the lapagerias hold on and one Rho sutchuenense is opening.
1917 – JCW
Had three weeks dry, it is a cold S.E wind. Bits of Cam sasanqua and Cam japonica open also Erica codonodes and darleyense. Rho venustum is nice. Cotoneaster salicifolia is good.
1916 – JCW
Much as in 1914 but it is dry now after a very wet autumn.
1914 – JCW
No snow so far, not much frost. Geraniums holding on. Lapagerias several. Camellia sasanqua a few. Some roses. We have lately had real rain in a dry autumn.
1904 – JCW
Heavy snow and some frost last week, not very much damage. Measured a leaf of Mag hypoleuca to be 17 1/2 inches by 8 ½. Lapagerias and Cam sasanqua coming again after the frost. Bits of Erica codonodes out. Nar M clusii open in a frame.