2018 – CHW
The fallen champion Osmanthus yunnanense has now been cut up but the team were unable to upstand the remains. This will need a digger but is still well worth doing.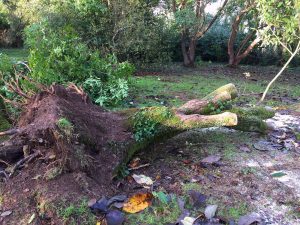 The first daffodil shoots by the fernery. I pictured these last year but perhaps a little earlier. Need to check. The frosts (minor) over the last few days may have had an impact.
Hydrangea 'Madame Mouilliere' with perfect flowers and even emerging new flowers in December. I think I photographed flowers here last March. Quite an amazing performance for a hydrangea. Why does this plant set new flowers when the main crop of flowers are over and have turned greenish with red-purple tints?
Visit Sheila to hear the good news about her successful cancer operation. The nasturtium flowers in her front garden look as well and jolly as she did!
2016 – CHW
Laurel cutting nearing completion above Rogers Quarry.
We have cut back hard one of the younger michelias encroaching over the Magnolia dealbata but I am not sure we have yet gone far enough. A pity to cut it but a question of priorities.
2015 – CHW
The Camellia x williamsii 'J C Williams' hedge outside the Rockery has sprung out in the strong winds of the last 48 hours. Already blue tit damage can clearly be seen on some of the flowers.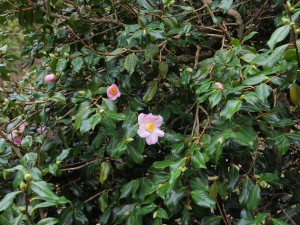 Rhododendron mucronulatum is now full out at least a month early and perhaps the best show in the garden today.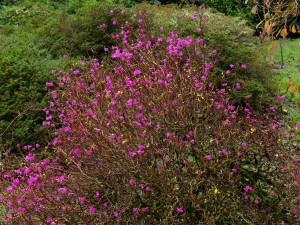 Another very blustery day but still no rain. Forecasters wrong five days running.
1950 – CW
Took seedling Camellia from big quarry to R.H.S called November Pink – given an award. Out since October 1st flower – Taliensis no award. It is one of the most distinctive plants here and hardly anything better quality.
1933 – JCW
Some flowers on Prunus autumnalis, on caucasicum series not much. A very cold wind no real ice so far.
1929 – JCW
The worst wind smash in the New Planting we have ever known, in the big north end ⅓ to ½ of the conifers are uprooted and it will be long before we can clear it and see where we are. A further storm followed and brought more trees down in the Drive. We had about 14 inches of rain in the period of all Nov and 2 days of December. This rendered the trees weak in their roots.
1928 – JCW
Good lapagerias, fair Cam sasanquas. Blood red Arboreum x give us a bloom. The early blue stylosa is nice. Cotoneaster salicifolia is good. A few roses.
1925 – JCW
The east wind has gone for the first time, some lapagerias left but the pond was frozen over. I picked some Sutchuenense at the Engine House to open in water. Berberis polyantha is the only thing to talk about and the Stransvaesia fruit.
1917 – JCW
The plant of Moupinense is open.
1900 – JCW
Picked Stylosa alba and a Penzance briar, a big (record?) lot of rain for the last month.