As mentioned on the 22nd February 2018, I sent the images to Tom Hudson (Tregrehan Gardens) and here is the debate that ensued between myself, Tom and Gary Long (Head of Trewithen Gardens and Parks & Director of the International Camellia Society).
Tom's initial response to my request 15th Feb:-
Charles/Gary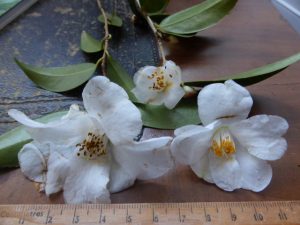 I hadn't taken much notice of the varieties of cuspidata before. In the image here the small flower half baked effort at the back is cuspidata growing at Tregrehan. The larger 2 flowers in the front were from the 2 bushes at Trewithen. Striking how much bigger the Trewithen flowers are when compared with what i am used to seeing here.
In the Flora of China the Tregrehan plant would be cuspidata var cuspidata and the Trewithen plants cuspidata var grandiflora. Presuming that the 2 Trewithen plants are species and not cuspidata x saluenensis ie Cornish Snow Group. Cliff Parks Camellia book and the Register seem to agree on this.
Tom.
Gary's response 16th Feb:-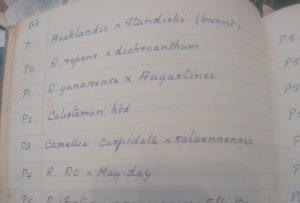 I have done some digging through George Johnstone's minute book and he does reference "cuspidata x saluenensis" (see photo) so could well be that and not grandifora BUT there is no reference to where or when it was planted in the garden. On the right there is a reference number this one being P3. Which related to small aluminium/lead labels on the plants in the garden.
Is it best to go with the cross or grandiflora?
Gary.
Tom's response 16th Feb:
I did compare the Trewithen flowers with Cornish Snow last night and they are very similar. I didn't mention the comparison as I hadn't found a detailed flower description of Cornish Snow.
My hunch is that it is cuspidata x saluenensis as the variety grandiflora is southern and eastern China, which is outside Forrest country.
I think we can be certain that it isnt cuspidata var cuspidata.
Always the way….Tom
Charles' response 19th Feb:-
Dear TomThe plot thickens!This is a plant said to have been grown from seed brought back from Hong Kong by Toots Williams. Nearly over but very pretty. Other tender HK plants in the group. Could it be Camellia lutchuensis? The leaf formation is however quite unlike other x lutchuensis crosses of which we have a few. Macoboys book has a picture of lutchuensis which seems similar.

The second pictures are of a very elderly 'Cornish Snow' which is not so very dissimilar to the C. cuspidata var cuspidata seen at Trewithen!

Here is our Camellia tsai which I am pretty sure is correct:

Jaimie is holding C. lutchuensis (?) beside it:

Our elderly plant of C. cuspidata (or is it C. taliensis – I do not really know) is nowhere near out yet. We have lots of smaller plants recently planted out from our own propagation. The leaf formation is very different from what we saw at Trewithen as is the flower which is globular in bud. Leaves are serrated, rippled and much larger.
I will send pictures later. I suppose it could be C. sinensis after all?!
Back from Tom:-
Well yes another game emerges from innocuous plant at Trewithen, thanks for the images.
We can have a look at a few of the species here too if you like on Friday. These camellia spp. especially the miniature brigade are tricky to tell apart, good provenance essential!
Camellia lutchuenensis native to Japan and the Ryuku Isles so Hong Kong way out for Toots camellia. Of the 10 spp or so that grow in HongKong it looks most like C. caudata to me.
Camellia taliensis used to be at Caerhays as a big plant below the laurel ride, not sure if it is still there. Flowers in Nov-Dec with big shiny leaves, irrawadiensis now a synonym. Camellia sinensis not like any of your photos either…..
I agree that Trewithen plant is most likely the cuspidata x saluenensis that Gary found in G. Johnsons planting journal.
Polyspora even more of a tricky game to look forward to…
Soon
Tom