2023 – CHW
First colour showing on Magnolia 'Strybing White' and a windblown petal on the ground.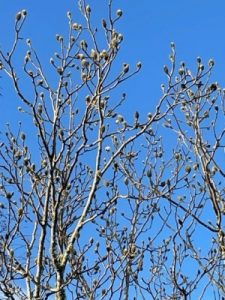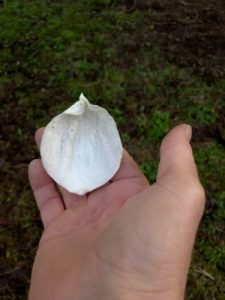 Cutting back the far end of the laurel hedge below the Main Ride has revealed a lot of layering. Now cut, these encroaching layers can be dug out with a digger to give room for more planting.
An interesting set of newspaper cuttings about West Portholland together with pictures of Pengelly Farm and the farmer which lived there and still live there today.
Zanthoxylum armatum (NJM 11.080) continues to surprise. Ripe and red pepper seeds still in evidence and this species is an evergreen. Some of the nastiest prickles or spines you could wish for as well. Looks to be a large upright tree eventually which other species growing here are not.
After Helen Chen's statement that Phyllostachys nigra 'Megurochiku' was very rare in cultivation and, in her view, one of the very best bamboo varieties I thought I had better photograph the canes and clump again. There seems to be a bit more running and spreading from the original planted clump than one usually sees in P. nigra itself. The canes are clearly still immature but the older ones are developing darker colouring just below the node. This is brownish-black with a hint of red at present. An attractive foliage effect too and planted in a good place for visitors to see and enjoy it in the future.
Rhododendron 'Christmas Cheer' now full out above the greenhouse. Rather late this year.
First flowers on Rhododendron 'Golden Oriole var. Busaco'.
Camellia 'Cornish Snow' full out.
Tillia cordata 'Winter Orange' stands out well in heavy rain.
2019 – CHW
Magnolia campbellii 'Darjeeling' has sprung open, probably as a result of the north wind, since it was showing nothing three days ago. Jaimie has cut an excellent flower and brought it into the house as you can see.
A flower from Magnolia delavayi also blown from the tree in the gales
New growth well developed already on the evergreen Carpinus kawakamii.
First flowers at the top of Rhododendron 'Crossbill'.
Likewise on Rhododendron 'Bo-Peep' (yellow form).
2017 – CHW
The shooting season is over and I emerge from three days in bed suffering from a lurgy and exhaustion having hosted 80 plus days. All that remains by the front door are clods of mud from the guns trailer.
2003 – FJW
First Narcissus by green gate – Camellia as usual.
1995 – FJW
Flower on Magnolia Bishop Peter.
1989 – FJW
Cam williamsii past their best. Keysii, Crossbill coming. Major remedial (!) works being done at the top of the wood – i.e most of old show stopped dead and now cut down.
1981 – FJW
Very mild winter to date. Williamsii's well and truly out and Sutchuenense, Red Admiral etc. Far too early. Trewidden Argenteum has been first class.
1969 – FJW
First snowdrops.
1958 – FJW
Period of frost and snow left. 8° frost – little damage. Camellias unabashed.
1940 – CW
I returned after a cold spell when the pond frozen all over as 4 degrees of frost at Trewidden about 21st Jan. All fuschias cut, Geraniums probably dead. The Saluensis Camellias all coming out again but no colour on any Rhodo. This frost harder than Dec 38 but plants not so soft. Hamamelis quite perfect and not touched.

1930 – JCW
Much as on January 27th 1924 but more C speciosa in, H mollis over but H Arborea is good so is lutescens and moupinense, cyclamineus open.1917 – JCW
Nothing of any use excepting Hamamelis mollis which is very good.1901 – JCW
I saw several yellow Crocus open, have not been about for some days, several seedling trumpets show colour. Snowdrops and Coums are at their best. D. Kingsmill just through the ground.