2020 – CHW
Heavy wetting drizzle. When will it every dry up?
First couple of flowers on Camellia x williamsii 'Galaxie' in the drizzle.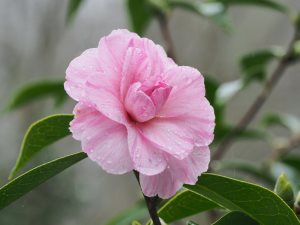 I have been watching but suddenly Rhododendron arboreum ssp. delavayi var. albotomentosum is nicely out.
Oemleria cerasiformis out with its first leaves.
Camellia x williamsii 'Golden Spangles' full out with leaf variegation showing.
One week on Prunus 'Kursar' is now nearly fully out in flower. What a delight these early cherries are!
Camellia 'Grace Bunton' has a variable semi double flower with pink buds and attractive pink edging to the petals. There are two plants just above the Hovel and this is very well worth propagating for the future.
Camellia x williamsii 'Celebration', the darker form of Camellia 'Donation', has survived the north wind intact by the Hovel.
2018 – CHW
Management meeting at Burncoose so time to have a look at some new plants in the nursery.The true Camellia 'Desire'. We bought a batch of these last spring at the Trewithen nursery sale. Sadly they are not even faintly true to name.
Chamaecyparis thyoides 'Rubicon' ('Red Star') looks completely dead at this time of the year. Unusual to say the least.
Asterotrichion discolor is a new plant to us and here flowering away in January for the first time. A bit like Atherosperma moschatum in terms of the flower but this is clearly not a small tree.
Azara integrifolia 'Variegata' looks particularly fine today. Wonderful colour combinations in the leaf.
Cornus officinalis is full out and very attractive today. Rather similar to Cornus mas?
Sycoparrotia semidecidua has extraordinary flowers and here they are spot on for late January. Completely deciduous here in the tunnel.
x Mahoberberis aquisargentii is a rarity but we have some good young plants for sale.
Hammamellis x intermedia 'Diane' full out.
Hammamellis 'Arnold Promise' is an unusual shape and just going over.
Sycopsis sinensis is an evergreen. You can easily see how sycoparrotia is a cross between sycopsis and parrotia. Both are excellent for early spring colour as an alternative to hammamellis.
I have never seen Lonicera nitida 'Tidy Tips' putting on its full winter show before. It looks like a heather from a distance. Excellent edging plant instead of box.
Lonicera x purpusii 'Winter Beauty' is full out as one would expect.
Osmanthus yunnanensis full out as well.
So rather more to see today in flower than many might expect.
Camellia 'High Hat' – battered in wind and rain but still one of the most reliable early flowerers
Camellia 'Apollo' – full out
Camellia 'Monica Dance' – with nice stripes in the petals
A compact growing single red japonica of unknown name
Camellia 'Gwyneth Morey' – first flowers here. 'Jurys Yellow' – full out and almost over elsewhere.
Camellia 'Mary Phoebe Taylor' – is a fantastic size and show
Camellia 'Duchess Decazes'
Camellia Duchess D has 'sported' pure pink at the top
Camellia 'Apollo' – again with the irregular white blotches on some flowers as we expect
Camellia sasanqua 'Paradise Blush' – as labelled but perhaps incorrectly! Blush is pink in bud fading to white. These are just out but look pure pink! Time will tell.
1992 – FJW
One day of rain in January – no snow but some frost.
1988 – FJW
Very very wet. Garden too far advanced – losses of '87 still being dealt with.
1969 – FJW
A very mild wet January – saluenensis and williamsii well out.

1934 – JCW
No Daffs a late year, Coums open. R praecox by the brown gate is remarkable. No pissardi. The same as 1924 for R moupinense. No Lent Lily.
1924 – JCW
The first Daff opening near four in hand. Heaths are nice. Moupinense is nearly over. Parvifolium is good yet.
1921 – JCW
Much as in 1915. We have just finished the big rookery clearing except for the planting of five evergreen oaks.
1916 – JCW
Coum but fair. Thomsonii x Arboreum in Old Park are very fine, nobleanum good, Rhod 'n oleifolium very nice. E darleyenis and Praecox Rhodo' of the very best, Barbatums fair + Camellia. Soleil d'or and Lent Lily open. P pissardi very nice indeed. Prunus cerasus conradinae going over.
1915 – JCW
Cyclamen coum are good. Some Lapagerias, some Camellias, one Lady Clare small, nobleanum very nice, R mucronulatum is going over, a few snowdrops and aconite.
1898 – JCW
One or two Caerhays trumpets open. Minimus nearly at its best, snowdrops quite white crocus partly open.