2023 – CHW
The Royal Isle of Wight County Show.
Met Alan Titchmarsh who was enjoying the members lunch.
Not sure what you call this?
Dorset Horn sheep.
Dutch spotted sheep.
Suffolk sheep.
Miniature Ouessant sheep once only found on an island off the Brittany coast where their size was immaterial as no wolves present. Bred for wool and special clothing.
Fancy pigeons.
Tractors aplenty.
Pigs on parade.
Mass parade of sheep.
Primula florindae – a red form I had not seen before.
Rosa 'Pascali' with a tail end flower in a pot.
Hydrangea arborescens 'Emerald Lace' just coming out. This is an unusual form.
Tail end flower on Rhododendron hunnewellianum in the garden.
Rhododendron 'Polar Bear' – some plants out and some not.
Seedheads forming on a youngish Meliosma veitchiorum for the first time.
Illicium henryi in full flower but hidden away. Masses of cuttings here.
Manglietia [?] covered in flower. A 30+ year old plant which I need Tom Hudson to help identify. My guess is Manglietia fordiana (var. fordiana)?
Flowers on Eucryphia lucida 'Pink Cloud'. The first Eucryphia to be out?
The old Hoheria glabrata on the drive is still putting on a good show in its few remaining branches.
Meliosma dilleniifolia on the drive still not out yet.
Ligustrum lucidum with better flowers than one imagines for a privet.
Superb crop of styrax species recently potted on from the main seed bench.
Tray upon tray of recently pricked out and potted on seedlings.
Puya chilensis from seed.
Unbelievable germination of magnolia seedlings this year from the main seed bench.
What a joy it is to have Cressy in charge of propagation. We are growing more than ever ourselves efficiently and successfully despite the learning curve and a few dramas in this very hot weather.
A small vineyard below the pub.
Some hutch development nearby.
And a 'modern' new housing development.
The view over Brading Marshes from Robert Lovegrove's farm.
This is the electric fenced area for lapwing breeding on the marshes by the RSPB. They may keep out foxes but the ravens and crows seem to have been left uncontrolled.
We saw a young sea eagle and a marsh harrier but too far away to begin to photograph in this 2,000 acre marsh reserve. Many twitchers on the edges. No doubt the sea eagles enjoy the lapwing chicks as well.
Musa velutina with a very peculiar flower! I have never seen anything quite like this before.
Agapanthus 'Brilliant Blue' was another good dark form not seen before.
Acanthus hungaricus is not a species which Burncoose stocks but not that different really.
Kniphofia 'Mango Popsicle' – an attractive colour.
Geranium 'Orkney Cherry' with dark brownish leaves and contrasting bright flowers.
Iris hookeri with very pronounced and rounded seed heads.
Alstroemeria psittacina with flowers that are an odd mix of red and green. A tall growing species nearly over by this stage in the year.
Hydrangea arborescens 'Emerald Lace' in full flower which I had not seen before. The leaves are not those of any other arborescens variety and contrast nicely with the frilly greenish flowers.
Hydrangea arborescens 'Eco Pink Puff' was unusual too. When fully out the flowers do not really resemble a hydrangea and there are no outer florets or petals at all.
Agreed to swop website pictures with Eddington House nurseries to fill in some of both of our blanks. With no proper signal for a phone the hassle of using a slow computer is just too much in Seaview. Something to sort out on return.
Acaenia microphylla 'Kupferteppich' – particularly fine groundcover in the sun
Verbena rigida
Knautia macedonica 'Thunder and Lightning'
Veronica longifolia 'Marietta'
Salix udensis 'Golden Sun' with incredibly yellow foliage even in full sun
Elymus arenarius 'Blue Dune' – incredibly blue foliage in full sun
Geranium pratense 'Algera Double'
Digitalis 'Spice Island' – a striking orange foxglove
Aruncus 'Horatio'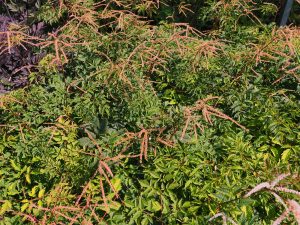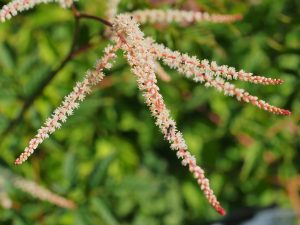 Hydrangea davidii, which grew well at Burncoose before dying of cold, is just out. Looks a bit sickly but with one or two vigorous new growth shoots.
Here is what is ready to be planted out next spring! It is going to be a long job. Wonderful new growth to be hardened off and scarcely a casualty. All potted on in a timely manner earlier in the year.
Since my last visit to the greenhouse at least six sorts of enkianthus seedlings have come up in profusion.
Many rhododendron seedlings coming on apace in their seed trays and many more pricked out into cell trays or larger pots.
A batch of our own hedychium seedlings from the top wall now in cell trays.
The germination of magnolia seed this year has been variable but generally successful. The trays have many strong good seedlings in just a few weeks from germination. Those potted on already have almost doubled in size. After many years we are finally getting this right and growing a proper crop!
Lots of last year's cuttings not quite properly rooted from last autumn and still on bottom heat. Hopefully pot soon.
But already a load of new rhodo and enkianthus cuttings are set on the mist bench as are some hydrangeas.
A propagator fulfilling all her potential in an exemplary manner and a joy to witness Asia! Many new plants for the Burncoose catalogue in two to three years' time from this lot.