2019 – CHW
The RHS have just given AGMs to 17 or 19 new varieties of Agapanthus. Here are a few new names to me from Eddington House Nursery. No idea if any of these are on the list? Raining hard so a short visit.
Agapanthus 'Double Diamond' – squat growing and double white flowers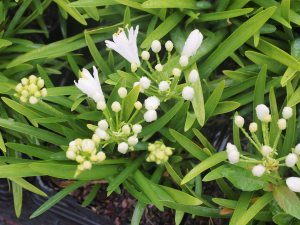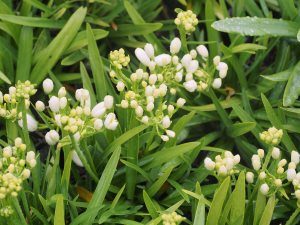 Agapanthus 'Charlotte'
Agapanthus 'Moonlight Star'
Agapanthus 'Little Dutch White'
An interesting new low growing Sedum spurium "Dragon's Blood". Very good!
Bought an Acacia boormanii to try at Caerhays. Upright pointed light blue foliage. Not listed in Hillier's so likely to be rather tender I fear.
2018 – CHW
A visit to view the garden at Seagrove House which had been open to the public on behalf of the NCCPG last Sunday. A formal and newly landscaped back garden and a traditional village front garden.
A rather special double orange hemerocallis. The owner no idea of its name.
Then on to Busy Bee Garden Centre which was much improved after a major revamp of the outdoor plant display area. New plants seen were:Digitalis 'Cherry Brandy' – growing to about 18'' in a pot.
Scabiosa 'Warburton's Pink Mist' was attractive and a candidate for next year's catalogue.
Mandevilla 'Sundavill' had leaves like Mandevilla 'Alice du Pont' but was a creamy yellow in flower. I cannot locate this in any reference books.
Salvia 'Amistad' was a good tall growing form with dark flowers. As good as 'Love and Wishes' perhaps?
In the Main Quarry Rhododendron fortunei subsp discolor is now full out and wonderfully scented (it used to be just Rhododendron discolor). There are green markings within the flowers.
So here is a fourth large clump of rhododendrons producing a fine scented spectacle in mid July. Discolor, auriculatum, 'Polar Bear' and the 'Harrow Hybrids'. Nothing to see in July of course!
I had been wondering why there was no sign yet this year of the Tropaeolum speciosum in the Camellia sasanqua outside the back yard. The seedlings are popping up under it but have yet to find any braches low enough to twine up. Before long they will.
2016 – CHW
Twitter followers very excited by the listing of Porthluney Beach as a nudist beach (article from westbriton.co.uk), which is not really what we want! A family beach for children to enjoy themselves without jet skis, outboard motors or boats. The nudist beach is actually below the Lookout between Porthluney and Portholland coves and you can only get there down the cliff using a rope. Nudists would do well to keep their clothes on for this bit as the nettles and brambles are bad here.Jaimie and Michael have finished the second grass cut in Kennel Close.
The keepers are unloading crates of pheasant poults (3,000) for the rookery pen in a heatwave.
2015 – CHW
Styrax serrulatus is just going over now having been well out for three or more weeks. Planted in 1991 it is now 12 feet tall and as much across. Just as floriferous as Styrax japonicus and rather more so than Styrax hemsleyanus or Styrax wilsonii who hide their flowers in the foliage.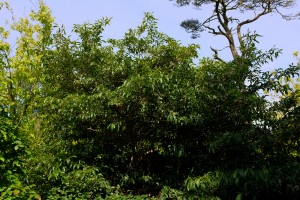 The best thing in the garden today is Rhododendron sinonuttallii. One of three separate clumps which all flower very late but by no means all at the same time. This group were planted by the Rhododendron megacalyx which have now died of old age and need replacing.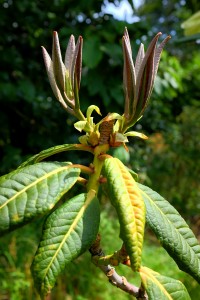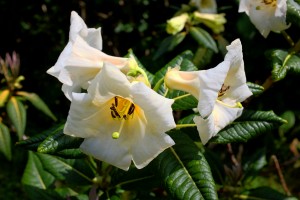 1993 – FJW
Only dry spell has been Wimbledon (21st June – 4th July). Since then very wet.
1971 – FJW
Charles cut the big bramble in the Drive Azalea – avoided like the plague by us all for decades.
1921 – JCW
Perhaps there are 500 flowers on the Romneya coulteri. There is not much else. It is very hot and dry and is about the record.
1916 – JCW
The first Lapageria is open, and the last Azalea viscosum, I have crossed it with Lanarth azalea.
1897 – JCW
I saw the first cyclamen in flower.