2019 – CHW
Penvergate grass now all cut for the year.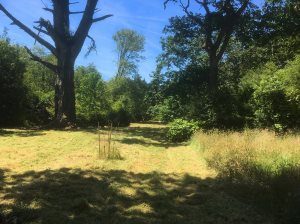 Clear otter footprints beside the Penvergate stream and a large animal at that.
A wild Convolvulus growing happily in the sand dunes between the beach car park and the shoreline. It might be Convolvulus althaeoides?
Forty Acres all now cut as well.
It is the time of the year when camellia galls become obvious but, other than being unsightly, they do little damage.
A plethora of self-sown seedlings under the elderly Cornus kousas beside the drive. Asia will need to lift these carefully when the drought is over for potting. Thankfully Jaimie stopped spraying the sides of the drive just in time to keep most of them alive.
We had seed pods last year on Decaisnea fargesii but they are much larger this year probably because of the heat.
Illicium majus has settled in over the last three years but has yet to flower here. Huge wrinkled leaves. Will it prove too tender for us? Time will tell.
Another, rather paler, young Hydrangea sargentiana at Donkey Shoe. Planted as a three but only one survives. One died because I stupidly cut it back thinking it was dead too early in the spring. There used to be an elderly clump of H. sargentiana here years ago which sprawled rather than being upright as this one is.
The old Magnolia macrophylla has one or two flowers out sitting high above a tall rhododendron so very hard to get a sightline to photograph it. The flowers last only a day or two.
Halesia macgregorii – I stupidly misnamed this as a rehderodendron last week but the new growth is still very fine! Did anyone notice the error?
A Melliodendron xylocarpum is hopefully finally on its way after two previous disasters. Planted this spring. Mice got the last one over winter in the greenhouse. They only eat the rarest and best things!
Styrax tonkinensis has, however, joined the dodo. I fear this new species may be too tender for us to grow even in Cornwall. Not the first of these to die but another bigger one in the frames to go out and try next year.
Stewartia serrata (2017 planted) seems to be on its way. Rather different shaped leaves to other species. Rather small serrations on the leaves but delicate new growth.
2016 – CHW
Camellia grisjii on the drive has startling red, I think, secondary new growth which makes it stand out from the rest of the camellia avenue.
A very early flowering variety with good scent. Attractive all year round.Agapanthus campanulatus 'Rosewarne' has large rounded flowers which are sky blue, fading a little later. When a single bulb produces a single flower the 'flowerballs' are even larger but here, in long established and crowded clumps which have been in the same spot for decades, they can be a bit smaller.
2015 – CHW
Hydrangea seemanii full out over the arch by the back yard. What a spectacle this self clinging evergreen climber actually makes. It first flowered in Cornwall 25 or so years ago at Trevarno where after dinner we once had a drunken inspection of the rather phallic buds.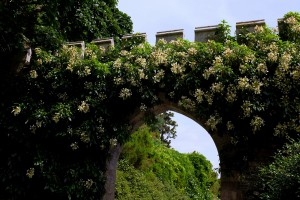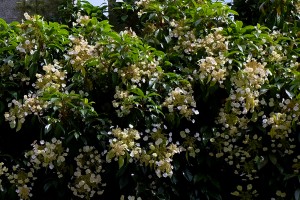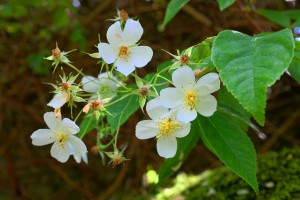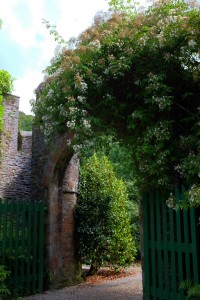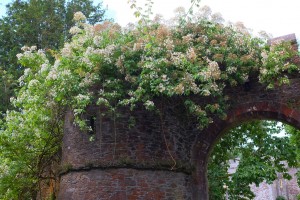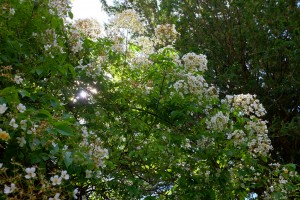 1992 – FJW
A really good and much needed soak.
1923 – JCW
Buddleias are nice. Plagianthus lyalii some very good. No Discolor or Auriculatums. Romneya coulteri very good also American Pillars and violas.
1914 – JCW
Very little in flower. Cassia good. Violas nice. Buddleia good. Bulbs mostly moved. Six or seven species of rhodo open, R keysii amongst them.
1908 – JCW
Buddleias (blue) just opening. [Rose] Papa Gontier good and General T.
Hand written note attached to Garden Book page,undated.
From Werrington Park,
re 4238 of Ward and Meconopsis 25933 = Integrifolia.