2019 – CHW
The hydrangeas and Harrow Hybrid rhodos look spectacular on the drive.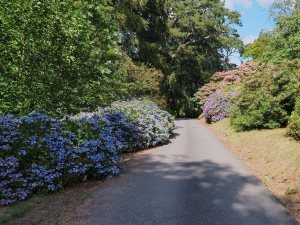 2018 – CHW
Rubus phoenicolasius with its edible orange raspberries (the wine berry) for the first time. The pheasant poults ate them all last year before I had a chance to taste one. Well recommended to add to the cornflakes as we always used to add the Korean raspberries as children (Rubus tricolor).
Underneath the main clump of Podocarpus salignus a veritable carpet of seedlings have popped up in the drought. Most Cornish plants that I have seen (and the one at Burncoose) are female. Here separate male and female trees grow side by side and this is the end result! No way of sexing the seedlings of course.
Our squirrel cull has produced an unexpected bonus (67 to date and counting). The corpses have attracted large numbers of sexton beetles who live on carrion. I have seen these huge and colourful insects occasionally but never realised their role in the ecosystem. Perhaps there are more of them because of the drought. Rather like sea slugs eating a dead fish.
2016 – CHW
Trip to Burncoose to photograph more new plants for the 2017 catalogue:Hydrangea 'Magical Amethyst' – as its name implies
Now off to dreaded Seaview on the Isle of Wight armed with a boot full of files to work through the next fortnight. Pray for rain and not a heatwave?
2015 – CHW
I have never really understood the origin of the very late flowering Harrow Hybrid rhododendrons. This is the best of several clumps and has layered easily on the drive. I can trace references to Mr Harrow in JCW's notes in 1910 but nothing more specific. It must be a Rhododendron auriculatum crossed with a red to flower this late.
Cornus kousa 'Gloria Birkett' is just starting to drop. The bracts are enormous and have latterly gone a pale pink. This is a very impressive cornus in a prime position.
Also on the drive are two trees with attractive new growth. Quercus phellos has variable leaves with some irregular white spotting on older leaves. No sign of any acorns. Beside it is Tilia mongolica (bought from Duchy Nurseries at the end of a Royal Cornwall Show 15 or so years ago) with its unlime shaped leaves and pronounced reddish new growth. Not a huge tree by the look of it and we need to remove the two leylandii which are crowding it at present.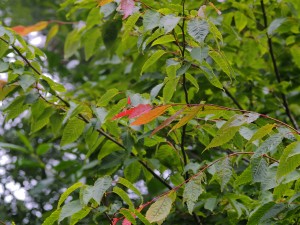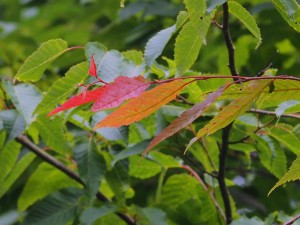 1933 – JCW
Ivey's Escallonia is of the very best.
Ivey's Escallonia is very good indeed. Some good Griersonianum hybrids to move near the Hovel after clearing all of the cotoneasters out.
1932 – JCW
Ivey's Escallonia is nearly open, some fair Griersonianum, some useful Eriogynum. Big Mag parviflora is V.G. Romneya is good. Jasmine pillar V.G indeed. Fuchsia are starting to show a bit. Ungernii x auriculatum is opening.
1930 – JCW
Ivey's Escallonia is the best thing today. Auriculatum, Decorums are good, some good Eriogynum. Fair R ungernii.
1926 – JCW
A few nice hybrid gladiolus. David Ivey Escallonia is very good. Decorum x Auriculatum good, one Auriculatum open. Plagianthus over, not much else except the Romneya and remains of Rambler Rose.
1924 – JCW
The Plagianthus are our best thing. The Auriculatum x Decorum very good but there is not much else but the American Pillars and the viola. This is the best growing year for rhodo's that I have known.
1917 – JCW
Plagianthus lyalii is the best thing in flower. Wilson's Fortunei hold on in the shade, and Auriculatum is moving and in two cases, open. The rambler roses are good all through the country, perhaps American Pillar is the best.
1916 – JCW
Rhodo ungernii – maximum, Wilson's Fortunei, Keysii and a Viscosum all open. Primula lettonicera and Plagianthus lyalii are the two best things.
1915 – JCW
The Hypericum in the Cutting is very good indeed.