2023 – CHW
So back to Ventnor Botanics after the huge press rumpus last year with the American owner who was trying to rewild it. I was told at the IoW show that a good lot of the weeds had gone and this turned out to be true. A lot of improvement but still loads to do. Yes, there have been new plantings (as we will see) but the Eucalyptus and Australlian/New Zealand end of the garden is now so overgrown that much of what was there has been smothered. Tree surgery on the periphery and bold moves to start the Callistemon/Melaleuca etc. collections once again as they were 30 years ago. Quite a few specimen and feature trees have died of drought in the last year and one or two oaks look bad which I fear is the aftermath of two very dry summers even by Ventnor standards. Only 1 Puya flower stalk that I saw this year and that was already over. The basic problem is still labelling. This is a botanic garden and therefore should have a duty to educate visitors. Not a hint of any new labelling. We all know how difficult it is to label a long herbaceous border as it grows but why not a chart with the correct names so people could work out what was what for themselves? Lanhydrock garden do this well in their excellent herbaceous section. So easy with mobile phones to then take away the proper name and educate! There are more plaques to commemorate deceased local people than there are plant labels. Why not put the financial bequests to the garden that go with these plaques towards a new labelling programme?
Podanthus ovalifolius – an old favourite with a few flowers left.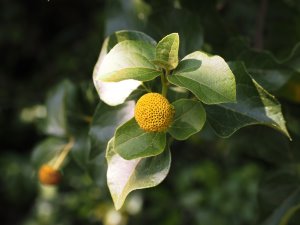 Bowkeria verticillata looking excellent and young self-sown plants here and there.
No label so sadly no idea of the identity of this Agave in flower?
Maackia amurensis has interesting bark.
Nothofagus nitida is not one we have growing at Caerhays as far as I know.
An unusual Mexican holly, Desfontainia spinosa, with red rather than the more usual orange flowers.
Picconia excelsa which we have recently planted at Caerhays.
Mountain sage from S. Africa.
Prumnopitys andina, the Chilean yew, making good headway. Previously Podocarpus andinus but our old plant of andinus is nothing like this?
Plump seed heads on Viburnum setigerum.
Just the drooping flower heads on the original Stewartia pteropetiolata (when introduced called Hartia sinensis).
First flowers on Ilex aff. gagnepainiana (FMWJ13168) Planted last autumn.
Flowers coming on Schefflera pauciflora (WWJ1199) and very different leaves to our other S. paucifloras.
Last couple of flowers on Magnolia sieboldii ssp. sinensis x Magnolia virginiana. A bit of a stretch that these are indeed the parents when you look at it. Certainly virginiana dominant in the cross for obvious reasons.
2021 – CHW
The first clump of Centaurea nigra (common knapweed) in flower on the bank.
Pale (with a red flash) and the more common pink form of Dierama pulcherimum.
Stunning new growth on Taxus baccata 'Dovastonii Aurea'.
Not quite out yet is Meliosma dillenifolia subsp. cuneifolia but covered in flower this year.
The oldest Manglietia insignis now has a hole right through its trunk and only one side shoot which will soon snap off in the wind. I have missed the flowers.
Cornus kousa var. chinensis 'Wisley Cream' with the seed heads now swelling.
The best blue hydrangea clump in the garden Dad always maintained in shade above the Auklandii Garden. A better blue than Hydrangea 'Benelux' or 'Nikko Blue' I think? Perhaps or perhaps the perfectly acidic soil here? Dad never gave it a name.
Still plenty of flower on the Azalea indica clump also in full shade in the Auklandii Garden. Weeks since the first flowers appeared here and at least seven different forms in this ancient clump.
Cornus kousa 'Samantha' on Bond Street plastered in bracts.