2019 – CHW
To Trelowarren for an update on the Cornwall Red Squirrel Project and a visit to the two red squirrel enclosures hidden in the woods. Both contain breeding pairs and it is possible that one pair have kits as only one of the pair has been seen for a few weeks. Although the unrelated squirrels came from enclosures in Paradise Park in Hayle and Norfolk where they were used to the public they have become very timid in their new woodland homes. Buzzards and owls sit and watch them in the cage and they do not like it. A third enclosure will go up soon when we have more youngsters. The release will only come when we have the necessary Natural England approvals and a captive stock of about 20 young reds from the breeding pens at Paradise Park, Trewithen and Trelowarren. Paradise Park already have one litter this year. These pictures of Ross and Demelza were not taken by me but show how the captive pens look prior to the release. All very exciting!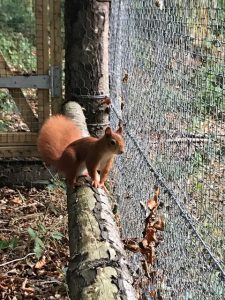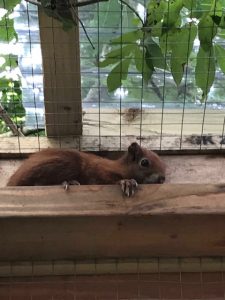 The flowers were full out today and covered in bees, flies and wasps. There will soon be a huge crop of seed and the lower leaves on the plant are already crinkling and starting to die as the whole plant very soon will. I had assumed that agaves take 40 to 50 years to flower but this one has been here for only 21 years. The plant right beside it is of a similar age and shows no sign yet of flowering.
Pimm's and some alcoholic Mexican concoction made from the juice of agave leaves was served in the evening sun. The latter quite revolting.
Geraniuma wallichianum 'Crystal Lake' – nice veining in the flower.
Rudbeckia maxima – grows to 6ft. Light green leaves and yellow flowers on tall stalks.
Rudbeckia? – good red.
Rudbeckia 'Peking' – huge flower heads.
Crocosmia 'Okavango' – big flower and quite unusual.
Geranium 'Eureka Blue' – another nice blue but the name might sell it.
Geranium 'Dusky Rose' – groundcover with dark leaves.
Geranium 'Blue Sunrise' – blue at first fading quickly.
Lots of new things to review here perhaps for our 2018 catalogue? Outstanding small herbaceous nursery but I fear they will struggle to make a living. Lots of stock still here from a year ago although half the agapanthus have sold and all of some new varieties (eg A. 'Queen Mum').
2016 – CHW
A long letter to George Eustice, Redruth MP and now confirmed (again) as minister of agriculture. George came to the Burncoose stand at Chelsea on press day and we had a chat about the shocking maladministration and non-performance of the Rural Payments Agency. His family farm and run a farm shop so he is one of the few MPs who actually know something about farming and what I am so furious about as regards Caerhays and the non-payment of the contractual management and other BPS payments due from last year.Off in another heatwave to Busy Bee Garden Centre. More of a shopping centre really with plants a rather poor fifth. Many plants had not moved at all from where I saw them shelved a year ago but they now look un-watered and unloved. Vastly overstocked for a short summer season.
A few new plants to consider for our 2017 catalogue seen here:Leucanthemum 'Real Charmer' is perhaps better than Leucanthemum 'Freak' and Leucanthemum 'Goldfinch' but not by miles.
What was very good but possibly too tender to winter outside were two superb brand new cordylines. Seemed to be UK grown rather than overseas sourced and a fair price (£30.00) for a 7.5 litre pot-full of this quality.
Cordyline australis 'Pink Passion' with lovely light pink edges to the leaves and pink stripes.
Cordyline australis 'Salsa' with red stripes and red edging.
Olearia x oleifera 'Waikariensis' – not that different but a compact New Zealand introduction. Might make a nice unusual compact slow growing hedge.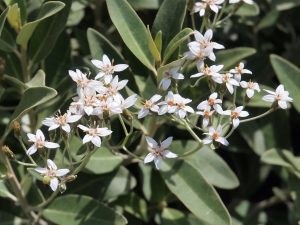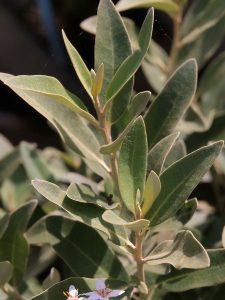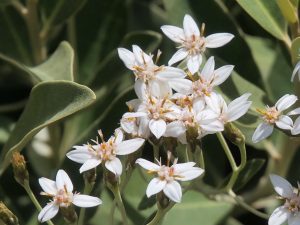 Podocarpus lawrencei 'Red Tip' – a Dutch raised dwarfish hybrid with attractive blue-green foliage and striking red new growth just emerging here.
Teucrium hir 'Purple Tails' – going over here but quite nice none the less at this stage in late July.
Gaura 'Rose Bicolor' – this is definitely a nicer gaura variety than any we currently stock and grows about the same size as Gaura 'The Bride'.
Alstroemeria 'Indian Summer' – tall growing with bronzy foliage.
Alstroemeria 'Summer Breeze' – same applies. Nice colour mix close up but not so eye-catching. Looks pretty straggly even in a large pot as here.
2015 – CHW
Yesterday we got our first proper rain for months but today is set fine and everything in the garden (except the keepers and pheasant poults) rejoices in the growth. The Park (or Downs) has gone from brownish to green overnight.
It is doubtful that we will get the grass cut a week ago on the banks above the front door raked up and burnt as normal as it will now rot. I am always in two minds about whether it is worth the effort and time involved in raking it up by hand. Years ago the tenant farmer (Rowse) at Penvergate used to come and bale it up as extra fodder for his smallholding but this just left seed allover the gravel. The banks have to be cut late to protect the primroses and bluebells but cutting the flowering weeds and grasses deprives the butterflies of feed. There are usually plenty of small blue ones to be seen but not this year nor in the Isle of Wight. Raking up grass does spread flower and weed seed around I suppose and makes the place look tidy for visitors but I would prefer to see it cut in August and the bank below the lawn to be left to grow rather than flymown to death as has become the norm.
1933 – JCW
Auriculatum is opening well in several places. Romneya is good, the bed wants renewing.
1926 – JCW
Plagianthus lyali nearly over. Decorum x Auriculatum coming on. Violas good. Rambler good. Romneya is very remarkable. Styrax just over as a family. Some rain but very little for 5 weeks.
1911 – JCW
Buddleia var Veitchii and Magnifica at about their best. Very very dry, several things dead.
1909 – JCW
Buddleia variabilis shows colour. Mitraria fair. Cyclamen none. Half the daff seed sown. Most of the transplanting finished. R decorum not open yet.