2023 – CHW
A hydrangea tour for the Friends of Burnoose this afternoon. Two hours with a slight drizzle.
Cleyera japonica in full flower and nicely scented at the cash point. I am not sure I have ever seen it performing as well as this. When the plants arrived here from Holland years ago they were labelled Michelia compressa and we mistakenly sold them as that. This was a leftover from the show tunnel. There are two in the garden at Caerhays – the best in Old Park.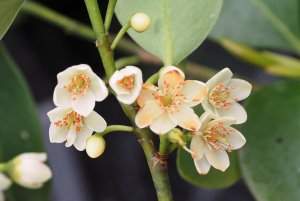 Hibiscus moscheutos 'Planet Griotte' in perfect flower by the till.
Viburnum x bodnantense 'Charles Lamont' almost out in flower! Peculiar!
Euonymus grandiflorus 'Ruby Wine' in full flower.
Hydrangea 'Fireworks Blue' excellent on the drive.
Hydrangea 'Sunset' looking good down opposite the lodge.
Hydrangea 'Selma' quite superb by the nursery entrance.
Hydrangea 'Magical Revolution Blue' a strange and erratic bicolour thing.
The best thing in the Burncoose garden today was Hydrangea aspera 'Villosa Group' by the lawn.
Maturing seeds on Meliosma veitchiorum.
A secondary set of flower catkins on Salix fargesii which seems to have been stimulated into action by Asia taking cuttings fairly recently as you can see.
Calycanthus 'Aphrodite' with a bit of slug damage to the flower.
Callicarpa bodinieri' 'Profusion' flowers both in bud and long over. A lengthy flowering season.
Myrcia laurotteana var. paraguayensis in full flower. Very much a 'myrtle' and I suspect the name.
Magnolia delavayi full out under the wall.
Hydrangea serrata 'Crug Cobalt' not very exciting so far.