2020 – CHW
An old clump of Hydrangea 'Blue Wave' on the drive.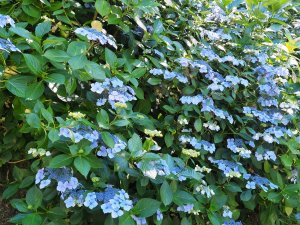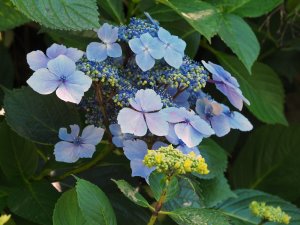 The Hydrangea paniculata 'Grandiflora' are now a huge clump above the drive.
The clump of Hydrangea paniculata 'Kyushu' is not as large growing.
Hydrangea 'Quadricolor' always gets a bit wind scorched in an exposed position but it is flowering very well this year. You readily can see the four separate colours in some leaves (but not others). It is more striking than Hydrangea 'Tricolor' but a weaker plant.
One branch in 'Quadricolor' has reverted to having just pure yellow leaves.
Hydrangea paniculata 'Pink Diamond' by Hovel Turning is just out. No pink visible yet.
Hydrangea paniculata 'Tardiva' up Hovel Cart Road in shade looks fairly nondescript by comparison but would be much better with bigger flowers in full sun.
Hydrangea paniculata 'Vanille Fraise' is still pure white with no pink tints visible yet by the Fernery.
Still a few more H. paniculata varieties to catch up on around and about ('Phantom', 'White Lady', 'Limelight'). It would be a good idea to plant more clumps of the newer paniculata varieties on the drive ('Skyfall', 'Early Sensation', 'Little Lime', 'Wims Red').
Rubus phoenicolasius with nearly ripe fruit which the pheasant poults will soon find and eat.
The dwarf growing and, here, top grafted Taxodium distichum 'Hursley Park' with attractive new growth.
Taxodium distichum var. imbricatum 'Nutans' is romping away. It was named on planting as Taxodium ascendens but has now been renamed. The branches are spreading and drooping but the new growth shoots are mainly ascendant. Quite some autumn colour to come here. This tree grows in a damp spot where a small spring rises in heavy rainfall. Jaimie says that it had its leader blown out but I do not think that this was the case. It will become a tree eventually but this is simply how it grows initially.
Cotoneaster horizontalis dying for lack of water. A most resilient plant normally.
Mahonia aquifolium with an enormous crop of blue-black seeds with a silvery sheen. Again the plant is demonstrating its desire to survive the drought by procreation.
Then a sad progress of dead rhododendrons. This is even Rhododendron ponticum dying in the drought.
Far worse casualties of nice species here and all were fine plants growing in semi shade on a hillside.
Rhododendron cilpinense was however a survivor to finally cheer us up.
A huge wasps' nest in a bank dug out by a badger who was clearly repulsed in the attempt!
2016 – CHW
A shambolic 1960s style farm shop right beside a tourist trap called 'Oasis' selling tourist 'tat'. The shop is run by an elderly couple with no till and a lack of hygiene regulations which would drive the EU and supermarkets absolutely mad. Self-butchered boar and delicious scotch eggs, crab in punnets with a 'sell by' label handwritten and stuck on as you buy. An absolutely perfect food hut pictured here with free range livestock. This is what smallholder farming used to be!
A few more novelties to consider as we buy a few plants for the Backstay garden.Lobelia 'Fan Salmon' is a pleasant pink with dark brown leaves like the popular Lobelia 'Queen Victoria'.
Rudbeckia 'Tiger Eye Gold' is a lowish growing good yellow but not quite Rudbeckia 'Goldsturm' so probably not worth stocking. On offer at £4.95!
Cestrum elegans is a Mexican species which we do not stock. Pinkish-purple or pinkish-red flowers and not that different to Cestrum 'Newellii' which has bright crimson flowers and is probably a hybrid of Cestrum elegans. The foliage is different though.
Rudbeckia 'Prairie Glow' is probably sufficiently different and bicolor to make it a useful addition to the catalogue if we can locate a grower.
A new one to me entirely was Lysimachia 'Clethroides' although you can see how it justifies its name. I do not remember ever seeing a white lysimachia and we even bought one (£8.00).
Now on to the happy task of selecting the Caerhays order of rare plants from Crug Farm for delivery in February 2017.
2015 – CHW
Mark Bulk's (Boskoop, Holland) availability list (for once with prices) arrives to peruse. Quite a few odd, rare and new things to purchase for the new 2016 Burncoose catalogue based on new 'stuff' growing well here already. Strangely JCW did often use the word 'stuff' to describe his plants. A rare aberration from the then protocol.
Chordospartium stevensonii (coastal plant seen at Ventnor)Carriera calycina (original plant here from Penrice Castle)
Cornus kousa 'Xanthocarpa' (yellow fruits – very rare)
Deutzia pulchra (wild collected and given to us originally by Roy Lancaster)
Forsythia mandschurica (no idea but dwarf?)
Hydrangea serratifolia (as at Tregothnan – climber)
Polyspora axillaris (see early February for pictures)
Torreya nuncifera (endangered in the wild)
I end up ordering lots for Caerhays and Burncoose gardens and will leave Clare to do the serious catalogue stuff. Quite fun spending a little (£5,000) of the Burncoose spring profits! Easy to get carried away by my personal preferences and then a bollocking no doubt from Andrew, the nursery manager, for increasing our stock too much.Then on to photograph oaks planted in Penvergate (Forty Acres Wood) and Giddle Orchard (Old Park Wood) since 1997. Time is so limited apart from July and August to actually look at what has been as prolific and extensive a planting programme as the garden as ever seen since 1910 to 1930. Many failures and losses. The further you go from Castle Wood the less maintenance and care has been undertaken and the greater the losses. Still we did find a few successes for the next 50 plus years to enjoy!
In March 1997 Quercus variabilis was planted in Giddle Orchard. Although the leaves do not quite match the picture in the Chevithorne oak book the trunk certainly does. A 15 to 20ft tree in 18 years and doing well. We clearly now have two or three of these dotted about.
Of the other six Mexican oaks planted in Giddle Orchard in March 1999 I can find no obvious trace. Uxoris, lancefolia, acutifolia and
candicans
. We just also lost a Quercus
candicans
 above the veitchiis but this had blown over. Unless I am being dim a total wipeout but trees did come down here and plenty of space to try again.
Moving on to Penvergate we planted Quercus castaneifolia and Quercus coccifera. The former has done well although it is a bit like Quercus x pseudoturneri. Planted in 1998 and a good 20 feet today.
Quercus coccifera, the Kermes Oak, is really a bushy shrub and has done very well in Penvergate just below the pheasant pen at the far end. Probably badly sited.
Of the four other oaks planted in Penvergate in 2000 only two remain. A very poor and stunted Quercus acutifolia which is only 4ft tall and has much salt spray dieback. Secondly, what I think is Quercus
castanena
 x sapadifolia growing reasonably beside Acer sterculiaceum which is doing well. Of Quercus affinis and Quercus rugosa there is no sign. Major casualties because of minimal care and maintenance on the periphery of the garden.
One cannot help admiring Betual albosinensis 'Bowling Green' from Werrington via Wilson in 1901. Amazing bark and just as I remember it. Planted 15 years ago. Nice to see several crabiodendron doing well here too.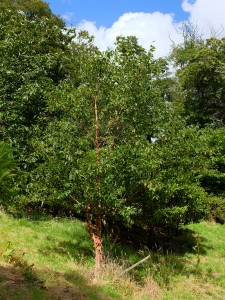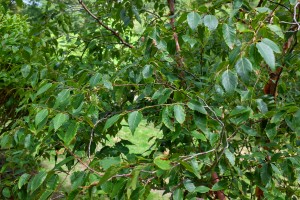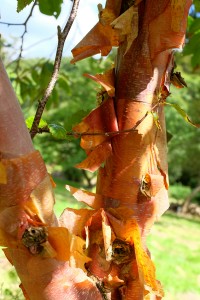 On the way back down the drive we spot Quercus x bushii with its extraordinary leaf form. Planted in 1997/8. A hybrid of Quercus marylandica and Quercus velutina. Our Quercus marylandica above Higher Quarry Nursery now looks sickly with major dieback.
1989 – FJW
A little rain is falling. We need a great deal – last proper rain June 3rd.
1965 – FJW
First Young Farmers Rally. Lost 1 pair of trousers and a parrot. A wet year – hay difficult – new growth on plants very marked.
1929 – JCW
Hybrids of Ungernii, Decorum and Discolor x Auriculatum are very good, Rosa Brunonis and American Pillar are very and so is the Romneya. One or two Eriogynum have flowers now. Mag delavayi a lot of flowers.
1917 – JCW
Buddleias are good now there is very little else. The Gros au Felicity rose has been very good since May, but wants food.
1916 – JCW
Much as above. Plagianthus begins to go yellow in the leaf, flowers good yet.
1910 – JCW
The buddleias are just starting. Mitraria are good. Ferns by the mitrarias good. Honeysuckles good, not much else, an odd lapageria and so cyclamen.