2019 – CHW
Another pilgrimage to Ventnor Botanic Garden. For a garden with this title they really do need to do more proper labelling. Some new planting near the entrance was relabelled but a two year old planting of New Zealand things have lost their tiny original labels.
Many wonderful things full out:
Fuchsia boliviana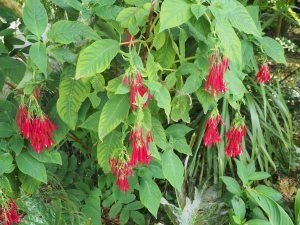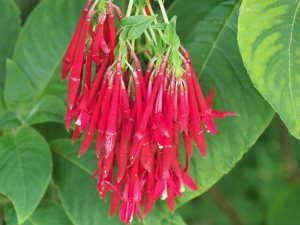 Eucalyptus leucoxylon rosea
Puya dyckioides
Callistemon 'Mauve Mist'
Strelitzia reginae in flower outside on a dry bank
An odd, misshapen flower underneath a Magnolia dawsoniana alongside a swelling seed pod.
Also flowering in Old Park is an excellent Magnolia virginiana seedling which is much better than any of the plants in the main garden.
Right next to the beehives is a pheasant's nest; probably far too late for them to hatch off now.
Seed cones appear high up on the Magnolia rostrata – giant cucumbers!
Attractive new growth on a young Rhederodendron macrocarpum.
Schefflera alpina has extraordinary brown or nearly black new growth. I have never seen this before.
Another dead mature magnolia! This time Magnolia x brooklynensis 'Woodsman'. No obvious cause.
Euphorbia stygiana was trimmed back on its main shoots last week to generate more side shoots which will make cuttings in late autumn. The milky bleeding from the cut stems has stopped.
Another rhododendron honey fungus casualty – this is the time of the year when these horrors show up.
Suckering growth from the base and roots on Cinnamomum camphora.
Cotoneaster exburyensis is full out beyond Georges Hut. A good show.
Finally, after weeks in bud, Styrax serrulatus is full out. Not much scent but covered in bees. When you step inside the umbrella of the tree the 'ceiling' is a mass of white flowers. The best thing in the garden today by miles!
An odd late (or early?) flower on Rhododendron zaleucum.
2016 – CHW
The interpretation panel for the newly restored Battery Walk Arch is up in the beach car park.
2003 – FJW
(Handwritten note attached to Garden Book page)
Quercus turneri, above Auklandii Garden: a challenged wisdom tells us that it does not set acorns for 60 years. The plant at Caerhays has flowers on this month, shows signs of small fruit.
1975 – FJW
Rain fell at 7am – drought since Chelsea time. Driest June since 1925? In the evening very heavy and spectacular thunder – no damage.
1934 – JCW
Much as in 1931 and 1932.
1931 – JCW
Eriogonums and Griersonianum are excellent. Fuschias opening. American Pillar good. Maddeni flowers very fine. Styrax japonica just open. No Auriculatums open.
1924 – JCW
Some Auriculatums hybrids are opening. Styrax hemsleyanus is just over but quite suddenly Discolor are nice. Hybrid Escallonia not open yet.
1922 – JCW
Just a day or so behind 1917. Styrax wilsoni – daisypetallum – langllangense and japonica have flowers on them but hemsleyanus is over. The Wilson Discolor in the Beech Walk is just now flowering again fairly well for the first time since 1915.
1920 – JCW
All the above are over and I start for the Gott match tonight.
1917 – JCW
Lilium giganteums start. Wilson's Fortunei's at their best, Lonicera tragophylla is good. Azalea arborescens would be fine if we had a group of it, Mikado is over. Dracoenas just over. Escallonia pteroclaydon is good.
1915 – JCW
Abelia floribunda V.G. Rosa Brunonis are good, Lilium giganteum open but only a few bulbs now, I found the best pink form of Wilson's Fortunei in the Beech Walk I have ever seen. L tragophylla good. Azalea viscosum on the wane.
1907 – JCW
Just back from Scotland, a very wet cold summer. All daff seed but Recurvas has just been picked. Roses good yet , have been very good. Rhodo's have grown well. One or two Lapagerias open. Maddeni nearly over. Cinnabarinum a few flowers left, Keysii open. A few azaleas open.