2023 – CHW
The drought starts to burn off the grass on the lawn. A hot day turns misty in the evening.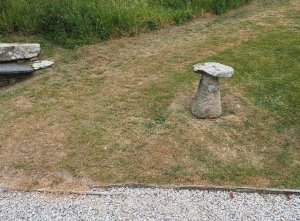 Another weekend and another tented wedding. Church service at St. Michaels.
Does this show male and female flowers on our oldest Monkey Puzzle?
Rhododendron nuttallii has few flowers after last year's drought.
We agree with James MacEwan that these 3 young oaks above the greenhouse are indeed Lithocarpus hancei.
Quercus morii.
Lithocarpus corneus is finally getting going.
The first flower spikes on a young Lithocarpus hancei.
Rhododendron 'Treberrick'.
Quercus libani.
Lithocarpus kiukiangensis with its first emerging seed cluster and flowers on the newer growth. We have seen flowers before (CM BS900).
Illicium merrillianum full out.
Seed clusters flowering on Lithocarpus variolosus.
New growth on Quercus fleuryi. Young leaves have indumentum but older leaves do not.
Magnolia insignis full out and rather early I think.
The young magnolia macrophylla with its first flower.
The first time we have seen this 'prickly bastard' in flower and what a sight it is! Caesalpinia decapetala – now Biancaea decapetala when we do the research later. A low growing and very dense shrub that would be better climbing an old tree.
Tilia japonica 'Ernest Wilson' in flower as a young plant. Few Tilia species seem to flower at a young age.
Quercus franchetii with flowers.
Two huge flowering Cordyline australis beyond the flower tent.
Large Gold Medal for the large Burncoose stand which was the floral centrepiece of a very empty and third rate flower show. A cider competition and a bee area but only about five or six nursery exhibits. LGM apparently £650. At Chelsea a gold medal only £575!
Distylum myricoides 'Blue Cascade'
Cyathia cooperi
Good use of Primula and Rodgersia.
Sambucus niger 'Golden Tower'
Cordyline australis 'Red Star'
Protea cynaroides 'Little Prince'
Sambucus niger 'Black Lace'
Picea pungens 'Glauca Globosa' and Sambucus niger 'Black Lace'.
Arisaema consanguineum
Arisaema consanguineum and Calamagrotis x acutiflora 'Karl Foerster'.
Fatsia polycarpa 'Greenfingers'
Cercis canadensis 'Ruby Falls' and Fatsia polycarpa 'Greenfingers'.
Astrantia major 'Ruby Wedding' and Athyrium nipponicum var. pictum.
Physocarpus opulifolius 'Diabolo' and Acer palmatum 'Scolopendrifolium'.
Deutzia scabra 'Pride of Rochester'
Cornus kousa var. chinensis 'Milky Way'
A silver gilt medal for a beached whale made from rubbish from the sea. Chelsea woke at Royal Cornwall in the flower tent but not exactly what a flower show normally is!
Dryopteris affinis 'Cristata the King' and Cercis canadensis 'Ruby Falls'.
Pinus parviflora
Podophyllum versipile 'Spotty Dotty' and Hosta sieboldiana 'Frances Williams'.
A mature plant of Ginkgo biloba 'Menhir' on the Burncoose stand.
Leucadendron 'Safari Sunset' and Zenobia pulverulenta 'Blue Sky'.
Mid afternoon and Secretary of State Nadine Dorries appears unannounced at the CLA tent to tell Cornwall we have £36m for digital improvements. Certainly needed in the CLA tent which was cash only! Actually she was setting up her stall as a candidate to replace Boris in the grimly inevitable leadership contest to come.
Quercus insignis is growing on reasonably well after some dieback in the cold.
Aucuba aff. chlorascens now protected from deer who had eaten all the leaves. Despite this the new growth has come through.
Massive reshooting from the Magnolia 'Cecil Nice' which half blew over and was trimmed.
Deer damage on Acer sikkimense (WJC 13674) but it still looks fine.
A much older and more mature Acer sikkimense (BSWJ 11703) with even worse deer damage. These two Crûg collections of the same thing could scarcely be more different in leaf!
A Rhododendron excellens just out with creamy yellow flowers and its neighbour's flowers have faded to white.
Merrilopanax alpinus doing well.
New growth on Schefflera delavayi.
Rhododendron nuttallii just out on the main ride.
2020 – CHW
A young Cornus alternifolia 'Argentea' in flower at Donkey Shoe. The Burncoose one has been pollarded after being hit by fallen branches.
This Rhododendron maddenii was cut down a couple of years ago but is regenerating nicely but only a couple of small flowers.
Sorbus crataegomespilus with its first fruits. Its species name says something about the shape of the fruits I assume?
A young Styrax japonicus 'Sohuksan' ('Emerald Pagoda') has some flowers but nothing like last year. Fallen flowers already carpet the ground.
A young Styrax formosanus var. formosanus in the new Styrax/Stewartia glade performing adequately but not overdoing it yet.
Three Escallonia varieties in the hedge around the borehole. Burncoose does not list all of these any longer so I may need to check that my naming is correct
Escallonia 'Pride of Donard'
Escallonia 'Langleyensis'
Escallonia 'Donard Seedling'
First flower on a young Rhododendron yuefengense. Very pale and late flowering. I saw this first at Tregrehan. The leaves are an easily recognisable shape.
Calycanthus 'Venus' plastered in flower above the Rockery in full sun. A group of three originally but only one made it. Intricate and attractive flowers but not a terribly robust plant.
Salvia x jamensis 'Hot Lips' outside the estate office. You only get the two tone effect on some / a few flowers on the first flush. Last year this plant had flowers on well into November if not longer as we saw then.
A few flowers on Paulownia kawakamii but most of the buds and flower stalks shrivelled in the six weeks of drought.
Flowers too on Liriodendron tulipifera 'Aureomarginata' if you can actually spot them among the leaves. Quite numerous but also quite small. Again a first flowering here after the last dry summer which has had a major effect on all three of our Liriodendrons.
Philadelphus pekinensis with faintly scented creamy then white flowers.
Deutzia pulchra is a very fine larger growing species.
Sycopsis tutcheri with reddish flowers rather like a hamamelis. Should not a sycopsis only flower in January/February? Perhaps not this species.
Photinia nitakayensis has just finished flowering.
Aristolochia sempervirens with peculiar 'mouse-like' flowers (like arisarum?). A vigorous climber but how tender?
Taiwania cryptomeroides with its new growth.
Lemon scented flowers on Magnolia grandiflora 'Russet'.
b) Styrax japonicus 'Fargesii' is only just out. The numbers of flowers in each cluster is less than on our older Styrax japonicus and the leaves are slightly larger and darker green. The individual flowers are perhaps a little larger too but you would be pushed to separately identify the two if you did not know. Clearly this is a clonal variety and not a separate species as thought until fairly recently.
c) Styrax hemsleyanus – I had thought that we had not replaced our old original plant which died but I was wrong. This species has long racemes of flowers (rather than clusters) from the tip of the new growth. Not perhaps quite such a visual impact but conspicuously different. Quite different from Styrax hookeri and no confusion between the two once you see them together.
e) Alongside it is Styrax formosanus hayatianus which has different bark and is not nearly so floriferous or (today) as scented. The leaves are larger and darker. The leaf to flower ratio is much more in favour of the leaf too.
f) Styrax faberi has yet to come out but note how different in size the leaves are to Styrax formosanus and a very different shape to Styrax hemsleyanus too.
I had to ask Tom Hudson's help in differentiating between Styrax hemsleyanus (right) and Styrax hookeri (left). Here is the picture he kindly sent me. Styrax hookeri has five to seven axillary leaf veins whereas Styrax hemsleyanus has seven to ten.
Here is Styrax hookeri, one of five semi mature trees, which we have grown from seed ourselves. The flowers are fairly sparse compared to other species and well hidden in the foliage. The leaves have yellowish brown stellate hairs and the flowers have very yellow pronounced anthers. This species is nearly over today and many flowers have dropped.
Another plant in Kennel Close of Styrax formosanus var hayatianus has more flower in full sun than e) above.
Then I discover yet another new variety – Styrax japonicus 'Jippei-Kawamure' flowering for the first time also in Kennel Close but only planted recently. Quite large flowers but too young to yet clearly identify exactly why this variety was given a clonal name.
2016 – CHW
Our hotel is Wolesley Lodge, a spanking new product of the Irish golfing boom and bust, just outside Tullow which, as a town, would rank below Redruth in terms of affluence. Its £53.40 per night for an excellent double room with bath and shower and air conditioning in including breakfast (€12.96). Two nights stay for both of us for £110! Clearly whichever bank own this emporium for golfers is making the best of a bankrupt job.A tedious and very delayed flight back where Aer Lingus cannot find a plane and we end up on a Belgian airline with rather puzzled cabin crew who have little idea where Newquay is. One passenger tells another that 'Newquay is a shithole'. I get the impression all passengers are either not on the right flight or drunk. That is really how Ireland 'works'! I am reminded of JCW's will where he forbade the family ever from investing in Africa or Ireland.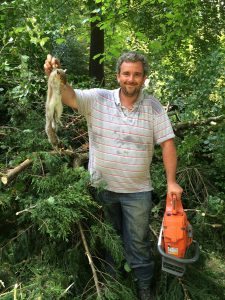 Meanwhile the garden team have finished clearing in the rookery and claimed a scalp!
The caption says it all.
2015 – CHW
There are several ancient clumps of Rhododendron indicum alongside the Rockery, in the Auklandii Garden and near the Top Lodge.  These plants are commonly known as Indian azaleas or Azalea macrantha.  They were planted in large clumps and vary in colour from dark red to pink.  The flowers are often sparse and not all the flowers come out at once so the overall effect is limited.  Nevertheless these azaleas really are the last vestige of the spring woodland garden season.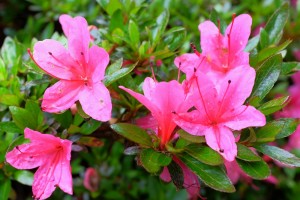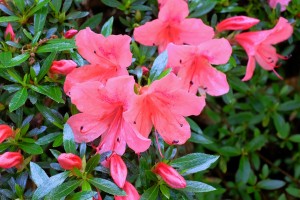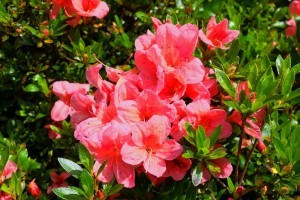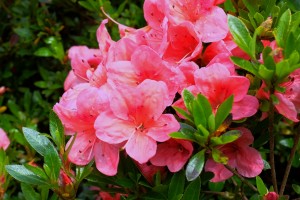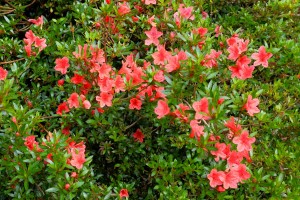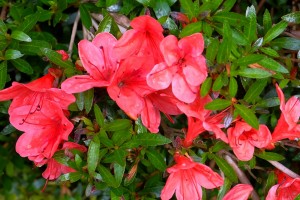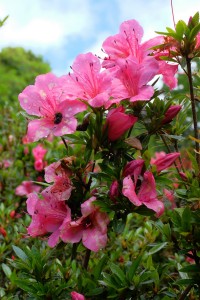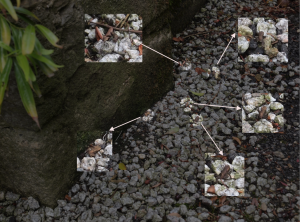 While going past the Rockery Karol and I suddenly notice a swarm of tiny young frogs crossing the drive and heading away from the pond presumably to hide in the cool rocks and moss in the Rockery.  Lizzie noticed these three days ago going downhill so it must be a hell of a migration.  Presumably the tadpoles lived in the stream below Bond Street and, having developed into tiny frogs, have started a long and dangerous migration.  All very strange and novel.  Some look more like tiny toads while others are clearly frogs.  There are many thousands at it!
1941 – CW
Magnolias parviflora, wilsoni, sinensis at best as a whole. Watsoni, fraseri, prostrata, denudata all good. Still a few conspicua and double camellias. Rho Cornish Loderi fully out, Ponticum and Fortunei in Beech Walk really a fine mass – Auklandii almost over. Azaleas very good. Rain in time but not for Amoena, all small due to May drought and cold.
1897 – JCW
Sowed the first lot of daff seed.