2019 – CHW
An inspection of the young Stewartia plantation which, I fear, is proving that all that comes from Holland is not perfectly labelled.
Stewartia sinensis has huge flowers compared to our old original plant. This does not make it necessarily wrongly named to I need to key out all its features including the seeds and eventual bark. In some respects it looks correct (eg five petals).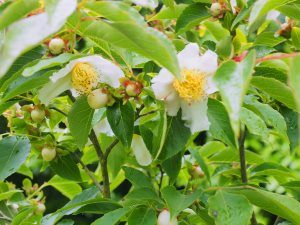 Stewartia monodelpha has pinkish buds and a hint of pink on the reverse of the odd petal. From the autumn colour seen last autumn on this young plant I suspect it may well in fact be
Stewartia rostrata. Again I need to key it out properly but the picture in The Plantsman (June 2008) of this is nothing like it and certainly has no pink in the flower.
Stewartia x henryae, which I have never seen in flower before but has had exceptional red autumn colours, seems more than likely to be entirely correct.
Stewartia ogisu is now full out and is certainly pretty and different. I cannot find anything much about this in the reference books or in Koen Camelbeke's excellent pictorial key dated October 2014.
I have yet to find our plants of Stewartia serrata, Stewartia malacodendron and Stewartia ovata. We have probably looked at Stewartia pseudocamellia and S. rostrata quite enough already over the years.
A late white rhododendron tinged pink in the group grown from Major Howell's seeds 30 years or so ago. No idea at all of its name/parentage!
A very late flower and a couple of buds on Magnolia 'Caerhays Surprise'.
Hosta sieboldiana elegans in full flower.
Morris dancers after a hard night's 'camping' by the beach
The boy scouts and plate smashing with bouncy castle
Car parks at 12.15
Calf, lambs, guess the name of the sheep and sheep shearing
Combine, baler and police
Swans and two cygnets oblivious to the people
In full swing
Mevagissey ladies choir – something backfired on the acoustics
2016 – CHW
Tree measuring with Owen Johnson, The Tree Register national (UK and NI) recorder, at Burncoose. He visited on his own in 2014 and missed a few things (Magnolia 'Charles Coates') so we review everything and I will attach the Burncoose revised record trees (UK and Cornwall) list here when he produces it again. Along the way I discover a good Rhododendron sanguineum by the pond. Shy to flower but a very dark red indeed.
Magnolia 'Yellow Fever' still has the odd late flower on the lawn.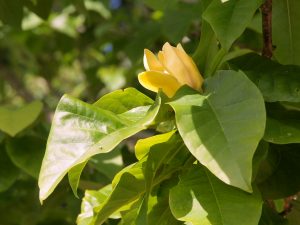 Owen had missed the Persea thunbergii below the stables with its startling new growth which I used to glimpse from the kitchen table and wonder what it was. An avocado tree!
Rhododendron leptothrium on the drive was a particularly dark form, far pinker (albeit in full sun) than the Caerhays originals.
Illicium henryi was doing well at the garden entrance. We had a nice plant of this rarity on the Chelsea stand. I have never seen it as good.
2015 – CHW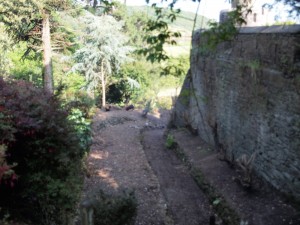 Clearance work in the Lower Rockery now complete. The dead myrtles cleared and the podocarpus hedge which had blown over has now been removed along with all the ivy and crap from 20 years of neglect.
If the old cornus on the drive is controversa then the one by Donkey Shoe must be Cornus alternifolia but I am still not sure without seeing the berries. The flowers are very high up but do not seem quite right for Cornus alternifolia.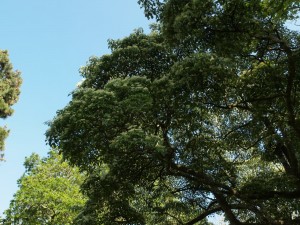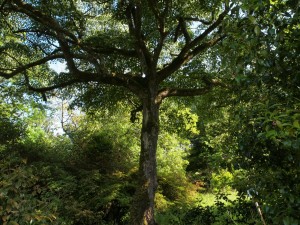 Finally Magnolia globosa is coming out after two to three weeks of showing colour.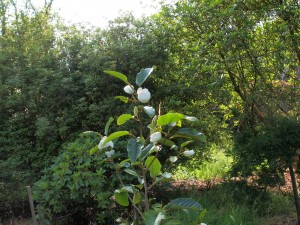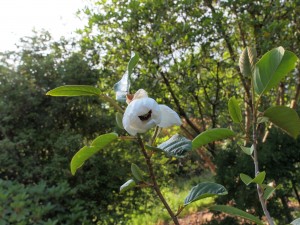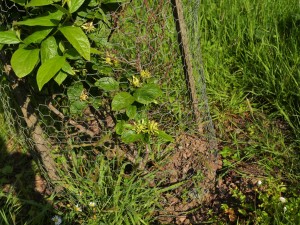 First flowering at Caerhays of the yellow Calycanthus floridus 'Athens'. Not as nice as when I saw it on 'Acer' Harris' stand at Chelsea about 10 years ago. Greenish-yellow really but far from the normal red.
One of several Styrax hemsleyanus grown from our seed which I have found today in flower.  Hillier's says the flowers are in 'downy racemes' but this does not seem to be the case here.  Cannot see that it is any other species? Styrax serrulatus nearby is not yet out. Styrax officinalis behind the greenhouse is already over and I have missed it. Need to find Styrax wilsonii which used to grow outside the back yard as a multi stemmed shrub. Again we planted lots of seedling.  To my surprise both the styrax originals by Charlie Michaels Nursery are dead and have been for some time (one was Styrax hemsleyanus).  Needs a good tidy up here.
1967 – FJW
Dry spell of 2 weeks duration. Newly planted stuff showing signs of thirst.
1949 – CW
Cornwall County Garden Produce Assoc, some hundreds say 400 went round. Orbiculari, Griersonianum all good also Soulei and hybrids, and Cornus. Very few Magnolias left but Parviflora good also Maddeni in Rockery. Maddeni hybrids over. It has been very dry and high winds.