2021 – CHW
Another posh garden tour. A little rain overnight.
Styrax japonicus 'Emerald Pagoda' at its best.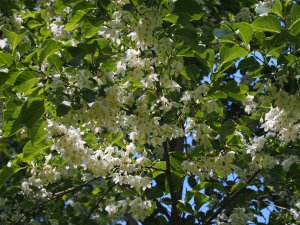 Magnolia 'Yuchelia' has recently caught us out with a customer complaint. M. acuminata 'Miss Honeybee' x Michelia figo is probably not as our original M. 'Yuchelia' actually is but more like this?
The bracts of Cornus 'Venus' now becoming more pink.
Styrax japonicus 'Jippei Kawamure' full out and doing well.
Paulownia kawakamii has almost finished flowering and I have missed it.
Eucalyptus crenulata with its attractive new growth.
Magnolia rostrata has a flower on one of its lowest branches.
I have a mental name block about the original clump of Rhododendron leptothrium. After Jaimie put me right I found it was already over in this very early year (the other one I have a block about is Rhododendron oreotrephes).
Illicium merrillianum with buds showing colour. Again much earlier than last year.
Illicium griffithii in much the same state.
The Rhododendron maddenii above Orchid House Nursery with its unusually huge flower trusses compared to Rhododendron maddenii subsp. crassum or Rhododendron polyandrum which flower earlier. Well worth Asia taking cuttings in a month or so.
Rhododendron auriculatum just coming out after the rain.
The supposed Magnolia floribunda var. tonkinensis (from Crug) is now out (two flowers so far) and clearly a Manglietia species (now also magnolia of course) but certainly not a Michelia as we expected. I must send the pictures to Tom Hudson for a further opinion. Very nice indeed though.
Rhododendron 'Pink Polar Bear' just coming out.
Another Stewartia monodelpha which probably also is not true to name. Two others in the far end of Kennel Close have no flowers but have different foliage.
Cornus hemsleyi (2019 planted) with first flowers.
Cornus iberica (2019 planted) with first flowers.
Styrax japonicus from Taehuksando (BSWJ 14182) flowering nicely for the first time. Large hanging flowers.
Nyssa leptophylla – a new species to us with first new growth.
Aralia foliosa with first new growth. Horrid prickles!
I always have a soft spot for the (now) wild growing yellow Icelandic poppies. Asia might collect some seed to grow on and Clare might see if we could add them to the new catalogue but I need to look up the Latin name first!
We were worried as to whether the Magnolia delavayi cut down last August would recover from The Beast. The first new growth was totally decimated but look how vigorous the second set of purplish new growth is.
First flowers on the plain yellow day-lilies outside the front door.
Stewartia pteropetiolata is just coming out. Still plenty of flowers to follow. A smaller flower than other species but alive with flies and bees.
An old Rhododendron crassum reshooting well after having only been cut back in the spring.
The very late flowering Rhododendron 'Mosers Maroon' is still out. Great plant for crossing with its dark reddish flowers.
The old Stewartia pseudocamellia is also just out. Green blotches in some petals.
Rhododendron sanguineum ssp didymum (or something close to it) is flowering late (as it should) by Georges Hut.
The first of several elderly Rhododendron fortunei var discolor is out in the Main Quarry. Nothing to see of course! It is a bit sun scorched though.
Styrax japonicus 'Pink Chimes' is just out. Less pink in this one, other than the bud, in contrast to the one in full sun further up the drive. Even a long tailed tits nest in the crown of the weeping tree!
2016 – CHW
The three young Aesculus wilsonii at the entrance to Old Park Wood are flowering
well.
2015 – CHW
Tents on the lawn, tents below the lawn, hustle and bustle from all our staff and helpers. Charity fete tomorrow. We need a fine day and 3,000 people if we can to create a real profit for the church and local charities.
Styrax shiraiana – another new species to plant out next spring with very different leaves. There are several new ones on Mark Bulk's Dutch website and we need to try the lot.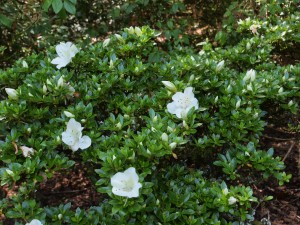 Rhododendron indicum (white) (Azalea indica) – very late into flower but, as with all indicums, flowers are random and not all out at once.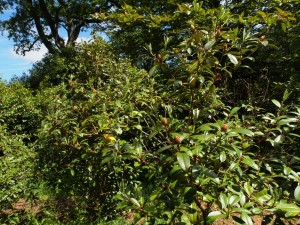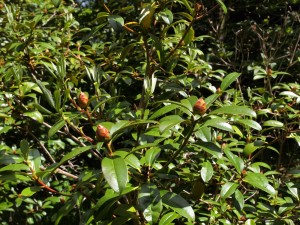 This clump of Rhododendron maddenii still in tight bud so must remember to have a look in July.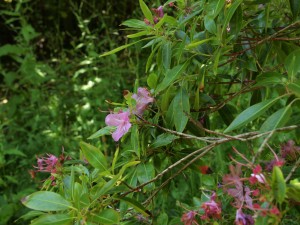 A late flower on Rhododendron leptothrium which is often paler on the ancient plants growing in shade below Donkey Shoe.
Two more Cornus kousas: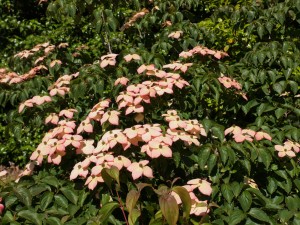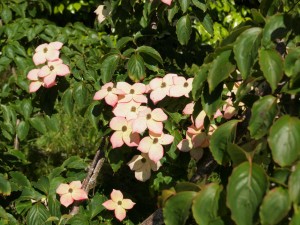 Cornus kousa 'WCBCRI' – that is what it says on the label! This may be a breeder's number, our cock up or a misspelling of one of the more obscurely named varieties in the US reference book. Nice enough with biggish bracts.
Cornus kousa 'Rasen' – in full sun the bracts curl and go pink. In more shade they go pink spotted. Quite an unusual US bred variety. As usual the US reference book is vague.
I think I have nearly had enough of Cornus kousas and conclude that most of the named clones are not that different to the species. Cornus kousa 'Satomi' far and away the best. As usual US breeders have named far too many seedlings! Good in the garden but too boring to try to collect a full set.
The pink form of Rhododendron decorum above the Sales Point is the best thing in the garden today and well worth a trip around the garden on its own. The white form nearby is nearly over but others in the garden are not. Clearly several different original collections here and well worth collecting seed. 'Tinners Blush' and 'High Sheriff' are our decorum crosses and we should do more!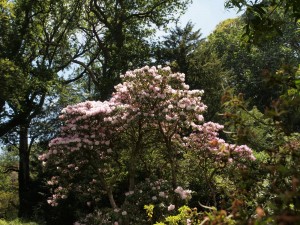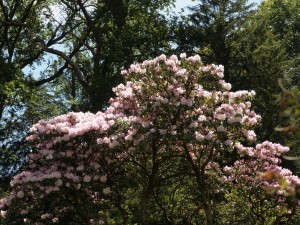 1948 – CW
Rho falconeri only just over also Harrows hybrids and Cornish Loderi over. Tally Ho at its best. Styrax wilsoni coming out. Azaleas mostly over. Still some Mag – Wilsoni and Sinensis. No hay cut here yet. Wall rose at its best.
1899 – JCW
Many Paeonies have only lately started, picked nearly all the daff seed.