2023 – CHW
Jaimie spots a rare (for us) group of Crocus amid a bank of naturalised wild daffodils in the Aucklandii Garden.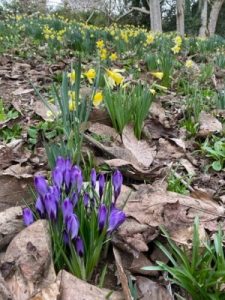 Camellia lecture and tour today. Rhododendron lutescens and Rhododendron arboreum subsp. delavayi out together by the main quarry.
Then to Tregrehan and the sight of seeds on Schefflera rhododendrifolia with a distinct trunk up against the east facing side of the house.
Seeds on Sarcococca wallichii.
Nestegis cunninghamii. A New Zealand genus.
Illicium simonsii in full flower. Some pleasantly scented and some not.
Rhododendron ramsdenianum very fine. A hybrid not a species dating from the 1920's.
A wild collected but unnamed Luculia species. Very different from L. gratissima and growing outside in full shade as a shrub.
Brassaiopsis bodinieri in a Tregrehan greenhouse. We have already lost this once outside but are trying again.
Strelitzia nichollii growing inside and now in the Burncoose catalogue. This species has white flowers.
Melastomajacene [?] from Ecuador. Extraordinary thing.
Cordyline australis and Magnolia campbellii.
Seed heads on Vallea stipularis which I have not see before.
Dichroa in leaf and flower in March!
In 1981 the Queen Mother planted this magnolia seedling by Georges Hut. A Magnolia mollicomata x Magnolia sargentiana robusta seedling with more trace of the former in the flower.
Only the petals (tepals) now remain under the New Zealand form of Magnolia 'Lanarth'.
Two young plants of Camellia reticulata 'Captain Rawes' now in full flower. Floppy plants which need serious staking. Enormous flowers compared to those on our elderly and dying plants on Rookery Path or below the greenhouses.
A few of our entries for the RHS Rosemoor Early Camellia Competition show on Saturday:
Camellia 'Ruby Wedding'
Camellia reticulata – white form
Nearly open magnolia buds picked from the garden winds today and wrapped in loo paper for the show.
Camellias in buckets for the Rosemoor display of x williamsii camellia varieties.
The magnolia flowers are all set up for tomorrow's lecture (full house). Not as many as usual to display as the winds have damaged a lot in the last few days.
Tree surgery on more sweet chestnuts in Old Park. Some felled, some with just dead branches removed. All under a statutory felling order.
One forgets what a frost pocket Old Park is where the valley is much narrower. Here a Magnolia 'Caerhays Belle' which will not be wasting any energy this year on its flowers!
One day on and the beech tree above Higher Quarry Nursery is nearly dealt with. The Aucuba hedge will hopefully reshoot but not many plants left this end of the nursery bed. Not that much rot in the centre of the trunk of the beech tree. An unusual direction to the wind (NE) caused it to topple prematurely.
For the last fortnight we had been wondering why the lake was still so full. The sluice gate hinges had rusted off and the sluice had dropped down preventing any water from flowing except over the top of it. New metalwork and a new wooden cross beam now while a rope does the job for the moment.
A load of laurels for planting out as shelterbelts in the Rookery and below Hovel Cart Road.
Just two flowers on Magnolia 'Big Dude' this year. They are certainly large!
A pink form of Camellia granthamiana which may not be correctly named as granthamiana normally has pendant white flowers. The leaf looks correct though.
Camellia 'Drama Girl' just coming out with its gigantic flowers.
The Magnolia campbellii which took 43 years to first flower is just out in the mist and drizzle. Very pale in colour and quite small flowers but they are the right shape.
The first acer into leaf that I have so far seen this year – Acer tegmentosum 'Joe Witt'.
Michelia doltsopa rushing out in the mizzle by Georges Hut.
The original Magnolia 'Delia Williams' now full out but no blue sky today to see it properly.
This is the second flowering of Jaimie's latest magnolia hybrid. A cross between Magnolia campbellii and Magnolia 'F J Williams'. In the mist the flowers seem a good colour but not (yet) exceptional. The flowers are variable in colour due to wind and frost. It will be another year or two before we can say with certainty that this new hybrid is good enough to perhaps be worth naming. It is not unusual for quick growing magnolia seedlings to settle into a pattern of properly flowering three to four years after their first light flowerings. M. campbellii crosses are notoriously slow to flower as we know.
This is the original and true Magnolia campbellii 'Alba' between showers. Now full out.
Early flowers out on Magnolia 'Caerhays Surprise'. Perhaps a fortnight before expected most years.
Magnolia denudata 'Double Diamond' battered by hailstorms earlier this week in Kennel Close. There is a large tree at Burncoose but this is its first flowering here.
The oldest Magnolia sargentiana var. robusta absolutely perfect in the Ririeii Opening.
A load of plants ready to go out at Belvoir in a lakeside setting which you can see a glimpse of here amid the showers and in a gale.
First flowering of Magnolia 'Sentinel' in the Isla Rose Plantation. Nothing, as yet, to get very excited about. I need to research the parentage as this is a new one to us.
Magnolia 'Tina Durio' does have some pink markings or veining on some of the inner tepals just as they open out.
Camellia fraterna with much earlier and larger flowers than last year. The flowers seem to turn into the plant and are not easily appreciated. A pretty species none the less with leathery leaves which are a pale green.
Rhododendron moupinense at its best. First odd flower photographed a good 10 weeks ago but not on this plant.
The New Zealand bred Magnolia 'Cleopatra' just coming out.
Magnolia x loebneri 'Pink Cloud' is another misnamed one really (like Magnolia zenii 'Pink Parchment'). Just a hint of pink in the bud before it opens a conventional white. Battered in the wind I fear.
Magnolia x loebneri 'Wildcat' has extraordinary rose-like flowers.
Then I see it also on hydrangea villosa nearby so it's a natural phenomenon and not serious damage.
A week on from snow and a hydrangea clump with plenty of new growth.
Camellia reticulata 'Lasca Beauty' is just opening.
Rhododendron 'Mrs J.C.Williams' is just opening.
Camellia 'Dream Castle', which was cut back 2 years ago, is restored to its full glory.
Camellia 'Dream Boat' is a new one to us. Better when fully open.
A rather better flowerd Camellia 'Galaxie' then we looked at the other day.
Schefflera macrophylla untouched by frost or cold of -9oC!!
Camellia 'Grandiflora Alba' just coming out again. Loads of buds and only the odd flower frosted earlier.
Camellia 'Cornish Snow' still with a good new show of flowers. Again this started flowering in December.
First flowers on a young Rhododendron calophytum. They will soon fade to white but the blotch is nice.
Camellia 'Mrs D.W. Davis' with its droopy habit and huge flowers is just out for the first time this year.
Syringa reticulata already in leaf/growth a week on from the icy winds.
Camellia 'Silver Anniversary' out again too. Just the first few flowers lost.
The dainty Camellia 'Cornish Spring' is a great show below Burns Bank.
Masses to see and admire on a rather unmotherly Sunday. Lizzie has had to rush to Cheshire where her mother has had a stroke.
Acacia potaczeki was attractive and new to me.
Pieris formosa var forrestii 'Rowallane Spike' – flowers as its name implies.
Illicium simonsii won a cup (Trewithen). The flowers are rather hidden in the foliage.
Prunus laurocerasus 'Castlewellan' – a great deal better than our erratic 'Marbled White'.
Schefflera delavayi growing well with a little leaf yellowing over winter.
Pittosporum dallii – looks more like a pseudopanax.
Chionodoxa forbesii 'Blue Giant' would make an easy spring bulb pot sale with little effort.
Rhododendron Nimrod Group was very fine. A Rhododendron barbatum cross?
Forsystia x intermedia 'Goldrush' – huge flowers on this excellent form which was also for sale in their garden centre. I saw this last year too.
Xanthocyparis nootkatensis 'Pendula' – a superb and rare tree but could you ever grow it into a saleable state in a pot? (Recently reclassified as xanthocyparis rather than chamaecyparis.)
Aucuba japonica 'Dentata' – for shape and density as a large evergreen this was quite a surprise even if you do not like aucuba!
Chionodoca 'Pink Giant' – a good light pink form too which appeared to self sow itself.
Rhododendron vialii – almost a vireya but what a red!
Our Camellia 'Lipstick' is well worth propagating – no prize for this though.
Camellia 'Sweet Jane' a new Camellia transnokoensis hybrid so probably very tender. Better just opening than full out as you can see.