2020 – CHW
In my absence undertaking a planting job on the Belvoir Estate and visiting a new client in Ascot Jaimie took yet more wonderful pictures of Magnolia 'Mr Julian' and Magnolia 'Caerhays Splendour' as well as a few others while starting to cut the flowers for our entries at the Rosemoor show next weekend.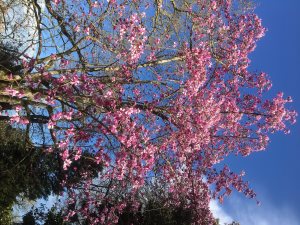 This is the original and true Magnolia campbellii 'Alba' between showers. Now full out.
Early flowers out on Magnolia 'Caerhays Surprise'. Perhaps a fortnight before expected most years.
Magnolia denudata 'Double Diamond' battered by hailstorms earlier this week in Kennel Close. There is a large tree at Burncoose but this is its first flowering here.
The oldest Magnolia sargentiana var. robusta absolutely perfect in the Ririeii Opening.
A load of plants ready to go out at Belvoir in a lakeside setting which you can see a glimpse of here amid the showers and in a gale.
First flowering of Magnolia 'Sentinel' in the Isla Rose Plantation. Nothing, as yet, to get very excited about. I need to research the parentage as this is a new one to us.
Magnolia 'Tina Durio' does have some pink markings or veining on some of the inner tepals just as they open out.
Camellia fraterna with much earlier and larger flowers than last year. The flowers seem to turn into the plant and are not easily appreciated. A pretty species none the less with leathery leaves which are a pale green.
Rhododendron moupinense at its best. First odd flower photographed a good 10 weeks ago but not on this plant.
The New Zealand bred Magnolia 'Cleopatra' just coming out.
Magnolia x loebneri 'Pink Cloud' is another misnamed one really (like Magnolia zenii 'Pink Parchment'). Just a hint of pink in the bud before it opens a conventional white. Battered in the wind I fear.
Magnolia x loebneri 'Wildcat' has extraordinary rose-like flowers.
Then I see it also on hydrangea villosa nearby so it's a natural phenomenon and not serious damage.
A week on from snow and a hydrangea clump with plenty of new growth.
Camellia reticulata 'Lasca Beauty' is just opening.
Rhododendron 'Mrs J.C.Williams' is just opening.
Camellia 'Dream Castle', which was cut back 2 years ago, is restored to its full glory.
Camellia 'Dream Boat' is a new one to us. Better when fully open.
A rather better flowerd Camellia 'Galaxie' then we looked at the other day.
Schefflera macrophylla untouched by frost or cold of -9oC!!
Camellia 'Grandiflora Alba' just coming out again. Loads of buds and only the odd flower frosted earlier.
Camellia 'Cornish Snow' still with a good new show of flowers. Again this started flowering in December.
First flowers on a young Rhododendron calophytum. They will soon fade to white but the blotch is nice.
Camellia 'Mrs D.W. Davis' with its droopy habit and huge flowers is just out for the first time this year.
Syringa reticulata already in leaf/growth a week on from the icy winds.
Camellia 'Silver Anniversary' out again too. Just the first few flowers lost.
The dainty Camellia 'Cornish Spring' is a great show below Burns Bank.
Masses to see and admire on a rather unmotherly Sunday. Lizzie has had to rush to Cheshire where her mother has had a stroke.
Acacia potaczeki was attractive and new to me.
Pieris formosa var forrestii 'Rowallane Spike' – flowers as its name implies.
Illicium simonsii won a cup (Trewithen). The flowers are rather hidden in the foliage.
Prunus laurocerasus 'Castlewellan' – a great deal better than our erratic 'Marbled White'.
Schefflera delavayi growing well with a little leaf yellowing over winter.
Pittosporum dallii – looks more like a pseudopanax.
Chionodoxa forbesii 'Blue Giant' would make an easy spring bulb pot sale with little effort.
Rhododendron Nimrod Group was very fine. A Rhododendron barbatum cross?
Forsystia x intermedia 'Goldrush' – huge flowers on this excellent form which was also for sale in their garden centre. I saw this last year too.
Xanthocyparis nootkatensis 'Pendula' – a superb and rare tree but could you ever grow it into a saleable state in a pot? (Recently reclassified as xanthocyparis rather than chamaecyparis.)
Aucuba japonica 'Dentata' – for shape and density as a large evergreen this was quite a surprise even if you do not like aucuba!
Chionodoca 'Pink Giant' – a good light pink form too which appeared to self sow itself.
Rhododendron vialii – almost a vireya but what a red!
Our Camellia 'Lipstick' is well worth propagating – no prize for this though.
Camellia 'Sweet Jane' a new Camellia transnokoensis hybrid so probably very tender. Better just opening than full out as you can see.