2023 – CHW
High pressure over the UK so the fine weather continues but cold at night.
The very first Magnolia sprengeri 'Diva' seedling which my father called Mr Gordon (Trudgeon) covered in pure 'Diva' flowers today in Tin Garden. The habit of the plant isn't quite true but the flowers are.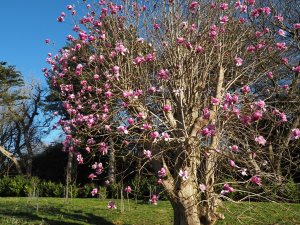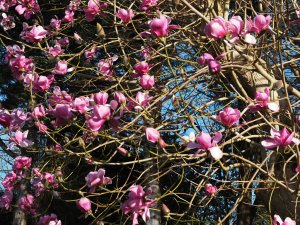 Prunus 'Felix Jury' nearly out. Very dark pink flowers and an exceptional cherry which I first saw at the Savill Gardens years ago. Three plants in a clump in Tin Garden. Wonderful bark as well.
The unnamed seeding hybrid near George's Hut is normally earlier into flower than this year. A cross between M. sargentiana var. robusta and M. sprengeri 'Diva'. Often frosted or blown away, it is quite splendid today in the sun.
First flowers I have seen (and rather later than usual this year as well) on Rhododendron 'Red Admiral'. High up on the plant.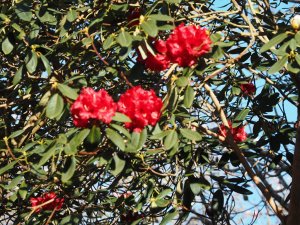 Bought in as a true Magnolia campbellii 'Alba' this one has far too much pink in the flower (which is also out far too early in the year) to be anywhere near true to name. Below Slip Rail and just above the NZ 'Lanarth'. The label has split so I cannot yet see where it came from but I can guess!
Acacia cultriformis now perfectly out by the former playhouse.
First ever buds on Magnolia ernestii (formerly Michelia wilsonii). A new species to us and eagerly awaited. It may be one to savour at the forthcoming garden weekend.
Flowers on a very elderly pure Magnolia mollicomata. A multi stemmed tree.
Rhododendron 'Choremia' (Rh. arboreum x Rh. haematodes) towards Tin Garden. John Anderson showed this hybrid in his excellent recent online Plant Heritage lecture on Windsor rhododendrons. I guess it was originally a Tower Court hybrid?
A young Magnolia sprengeri var. Diva 'Burncoose' just out.
The colour of Magnolia 'Shirazz' is superb.
First flowers in Tin Garden on the young (and as yet unnamed) Magnolia 'Pickard's Ruby' x Magnolia 'JC Williams'.
More flowers this year on the heavily pruned Magnolia sprengeri var. Diva (seedling) tree in Tin Garden. Definitely a sprengeri var. Diva flower shape.
Prunus campanulatus 'Felix Jury' now full out. A very special colour for a cherry. This ought to be much more widely grown.
The first 'cabbage' flower out on Magnolia 'Felix Jury'. The other two plants in the garden are not yet showing colour.
Helwingia chinensis is a suckering, spreading shrub so we have put another beside the existing one. Note how much bigger the leaves are on the plant from the frames.
With the loss of the three huge beech trees at Higher Quarry Nursery the wind is battering the big leaf rhododendrons and they do not like it!
Magnolia 'Plum Pudding' now fully out. A small round headed shrub and not a big tree.
A white flowered Bergenia 'Bressingham White' by the front door peeping out. The last remnants of what once edged the border here.
Indocalamus tesselatus (Sasa tesselatus) – the largest leaves of all hardy bamboos. Grows to 6ft or so.
Chusquea culeou – 'Foxtail Bamboo' – let us hope it does not seed and die like Chusquea gigantea just has.
Fargesia nitida 'Juizahaigou I' or syn. 'Red Panda' – superb form of this species with reddish canes in spring and autumn.
Borinda scabrida (Fargesia robusta) – persistent white sheaths.
Thamnocalamus crassinodus – zigzags just starting at the base.
Borinda (Fargesia) frigida (syn. frigidorum) – not listed in Hilliers!
Phyllostachys aureosulcata 'Spectabilis' – yellow canes with a green band in the groove.
Phyllostachys viridi-glaucescens – green canes fading to dull yellowish green.