2021 – CHW
For the record here are pictures of the 12 new bamboo species planted below the Old Kennels this week. We now have circa 35 species in the collection. If you find this all rather dull please skip on. The name changes which have occurred in recent years and reclassifications into other species makes this all quite a puzzle. It is hard to keep up with what one has always known and understood in the past which now all has to change.
Indocalamus latifolius – a spreading species growing to 6ft eventually.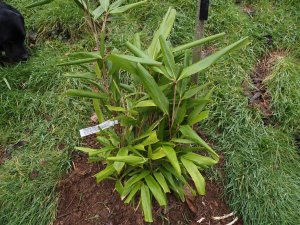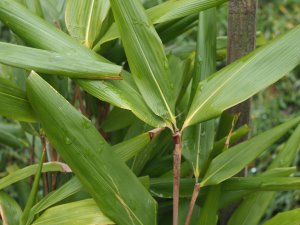 Indocalamus tesselatus (Sasa tesselatus) – the largest leaves of all hardy bamboos. Grows to 6ft or so.
Chusquea culeou – 'Foxtail Bamboo' – let us hope it does not seed and die like Chusquea gigantea just has.
Fargesia nitida 'Juizahaigou I' or syn. 'Red Panda' – superb form of this species with reddish canes in spring and autumn.
Borinda scabrida (Fargesia robusta) – persistent white sheaths.
Thamnocalamus crassinodus – zigzags just starting at the base.
Borinda (Fargesia) frigida (syn. frigidorum) – not listed in Hilliers!
Phyllostachys aureosulcata 'Spectabilis' – yellow canes with a green band in the groove.
Phyllostachys viridi-glaucescens – green canes fading to dull yellowish green.