2019 – CHW
A day of firsts!
Our first flowering of Rehderodendron indochinense which was bought from Crug Farm nursery about four years ago. It was 6ft tall on arrival and is now twice this.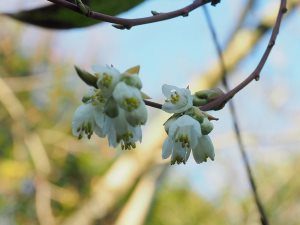 First flowering of Magnolia 'Amethyst Flame' in Kennel Close.
First decent and unfrosted flowering of Magnolia sprengeri 'Daisy Diva' which was planted in 2015.
First flowering of Camellia reticulata 'Lila Naff'. Odd name – huge flower.
Clearance of the Tin Garden continues apace. Unfortunately pushing over a Pinus insignis hit an Aesculus wilsonii which we were hoping to retain but there we are.
Agapanthus leaves turned to mush by the cold but the bulbs will probably be fine.
Rhododendron eximeum looking very poorly after the cold east wind.
In another walled garden the box hedging and edging looks extremely well. I guess Julie could use these pictures too.
Rhododendron sinogrande looking hurt by the cold but it should recover.
Drimys winteri, much like ours at home, has taken a hard knock and will need cutting back to reshoot. The lower branches will be dead.
In a sea of devastation Schefflera macrophylla is untouched. Those plants are totally hardy through they do not look as if they should be. Tetrapanax papyrifer 'Rex' will recover although all of the leaves are browned off and dead but Scheffleras undeterred..
Hoheria sexstylosa by the Heligan toilets looks dead from cold. Some of ours do too. Totally dead or a cut back to reshoot? Too early to say.
Even the Vinca has snow damage and withering.
The first colour on the buds of Magnolia 'J C Williams' on the small plants on Hovel Cart Road.
Colour on Magnolia 'Pickards Stardust' – now I think I see where the name comes from having been rude about this last year.
Magnolia 'Bishop Michael' with the sun at the right angle to see the colour properly. What a colour!
Rhododendron Golden Oriole var 'Busaco' – a hint of red in the flowers unlike 'Talavera' which is a pure yellow. This group is above Rogers Quarry.
The younger plant of Magnolia 'Philip Tregunna' below The Engine House in about its eighth year of flowering. A good colour despite some windblow.
Unlike the full out plant on the drive this Magnolia sprengeri var 'Diva' is only just opening up in a few places. Note again the unique shape of the tree and flower.
Rhododendron niveum full out now. We saw it starting three weeks ago on another plant in this group and this one is now over.
Camellia japonica 'Grand Slam' at its best and catching the sun.
Two days ago nothing but suddenly Magnolia 'Caerhays Splendour' has sprung out in the wind at the top of the tree. Not as dark or as large a flower as in earlier years but still impressive.
Ilex perado subsp perado is covered in nearly ripe berries. No sign of any flowers yet but they will come.
Last year's planting of Camellia 'Volunteer' has produced results – two!
This is Jaimie's hybrid Rhododendron 'Maisie'.
A Rhododendron kiyosumense has also sprung into flower although the other plants remain dormant.
The US bred Magnolia 'Mossmans Giant' is now full out above the greenhouse. A giant indeed but nowhere near as large as our campbellii alba seedling pictured a few days ago.
Magnolia 'Todds Fortyniner' is STILL full out at least six weeks on from when I first photographed it this year. A good white on the inside of the tepals is now evident.
The magnolia season rushes on far more quickly than last year. To have missed this weekend would have been to miss 20% of the best of the year.
2016 – CHW
Clematis armandii 'Apple Blossom' is now a huge plant below the greenhouse which has enveloped and killed an old camellia here. The one on the front of the house is white.Rhododendron 'Endsleigh Pink' is starting to show in the Auklandii Garden and on Burns Bank. About on time as this is always early and a good hardy hybrid which will propagate from cuttings.
A very odd (bought in) daffodil on the middle terrace with a red centre catches the eye. A horror compared to the wild ones yesterday. Tasteless or what?
Narcissus Mr Julian (a Narcissus cyclamineus hybrid grown by Ron Scamp and named after dad) is out also out on the middle terrace. I have watched a very red coloured cock pheasant eat the flowers and this shows up when you look closely. There are now four separate clumps and one has clearly crossed itself with something else and produced a new form with a rather larger trumpet. Nature at work. It will be interesting to check when I pictured them out last year?
Azalea 'Hinomayo' is now full out outside the back yard. This had colour in December as we have seen several times. It is now a muddy colour due to the frost and hail but still enough to wow the visitors on Mothering Sunday.
The most horrid thing about some, especially white, camellia williamsiis (and others) is how they hold their old dead flowers intact on the plant rather than dropping them to the ground. Camellia 'Jurys Yellow' is especially ghastly in this respect. It grows alongside Camellia 'Donation' which is just as guilty.
The ancient Camellia japonicas outside the yard were cut down last summer. The new regrowth shows yellow variegation which is presumably a virus in the plant albeit an entirely benign one which shows up far less when the plant is fully (re) grown. Not that unusual in older camellia varieties or perhaps it is the pruning which causes this?
2015 – CHW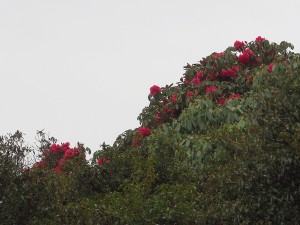 The Four Burrow Hunt meet on the beach; hounds and lady master late as usual, so plenty of time to admire the view of the garden. Rhododendron delavayi above the quarry stands out proud but is clearly nearing the end of its life. Stupidly I called it Magnolia barclayi during Jim Gardiner's visit on Monday but he kindly and very gently reminded me I was wrong 100 yards further down the path under Burns Bank.
1995 – FJW
Frost has not done great harm yet – still very wet.
1966 – FJW
George Blandfords 80th birthday and still going very strong indeed.
1962 – FJW
Very savage south easterly gale – very bad 10 days for the garden – on this day Penzance and Newlyn very badly damaged.
1933 – JCW
No Magnolia shows a flower as far as I can see. Camellia japonica is flowering, a fine crop of flowers with most of them.
1931 – JCW
What may well be a long hard frost set in yesterday on the top of a fine lot of early Rhodo's in the new planting.
1919 – JCW
Argenteums are opening, lutescens is nice, fargesii good, some of the blood red hybrids are very good indeed. Daffodils are behind 1913 a very long way.
1913 – JCW
Many daffodils open but no poets yet. Rho praecox going back, some Rho argenteum open, some going back.