2023 – CHW
I was invited as Chairman of the Great Gardens of Cornwall to formally open the new Court Garden at Trebah. A £400k project. The walled garden was once a tennis court and underneath the new gardens are ground heat source pumps supplying energy for the visitor centre. Around 60-70 people attended and Robert Dudley Cooke, Chairman of the Trebah Garden Charitable Trust, kicked the festivities off with a long speech. Mine was shorter and produced a few laughs at the account of a coach load of German tourists walking straight though an Arnhem veterans and US 29th Infantry (who set off from Trebah for D Day and Omaha Beach) outdoor memorial service at the bottom of Trebah garden some years ago. The ribbon cutting with garden shears was a failure and I had to resort to scissors.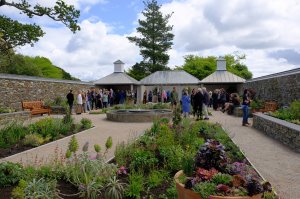 A hedge of Libertia grandiflora leading up to Trebah House.
Rhododendron 'Kabaret' is not far from Rhododendron ponticum really but quite acceptable as a bit of colour in this cold spot.
Rhododendron serpyllifolium – the Caerhays form is even more of a dwarf or mini azalea like than the Windsor one seen last week. Our flowers are smaller and paler than those in the species collection. I have never seen this anywhere else but the original Caerhays plant is at least 6ft x 6ft (2ft x 3ft at Windsor).
Rhododendron vanoyseyi – the Caerhays plant on the drive is a worthy rival for the one seen last week at the Isabella Plantation at Richmond. We now actually have three plants dotted about only one of which is more than 30 years old.
Azalea viscosum hybrids – these 30 to 40 year old plants on the drive appear identical to some viscosum hybrids seen in the Wisley garden centre originating from a French nursery. Very nice in the shade.
The azalea which flowered at Christmas is now the only one in this clump of five fairly ordinary orange azaleas to be bereft of flowers. A strange oddity caused by I know not what. Just the same in a group at Burncoose.
The US origin Rhododendron prunifolium by the Four in Hand has a large flower with a hint of orange unlike the ones at the top of the garden. Hillier's says it is pink but we have always known it as red and a new purchase from Glendoick is red too.
An unknown cherry by Four in Hand came as a batch of new cherries from Hillier's when they still did mail order. It is quite nice with a much smaller flower than the matsumae forms at Windsor seen last week.
The Rhododendron kiusianum hybrid is very fine and a huge plant well worth propagating. We saw pink and white forms at Windsor but none quite as pretty as this one with a star like centre. This species is the parent of many of the Wilson 50 Kurume azaleas and grows at high altitudes on Kyushu.
1993 – FJW
Wet rough spell with hail – garden past its peak.
1990 – FJW
Rain came after very dry two months. Garden has hung on very well despite heat. Rhodo's good (except for Rho orbiculare). Mags good. Camellias excellent.
1927 – JCW
A great block of buds showing bloom on Mag parviflora. The azaleas are about half open. Mag wilsoni is very good. The first flower for this year of Mag nicholsiana is open and is very fine. The last of the Zealanicum is at its best.
1916 – JCW
About half the Azaleas are open. Pink Pearl just open. No May yet. Sappho x Auklandii is very nice.
1912 – JCW
Azaleas of all kinds have been good but many going back. Pink Pearl going back. Auklandiii's nearly over. Bluebells over. Primula pulverulenta good. C montana going back. May very good.
1900 – JCW
Iris pavonia just open, Azalea Altaclarence good. Auklandii good. A cold rough wind.