2019 – CHW
To Burncoose to sort out what to cut from here for Chelsea. A first flowering at Burncoose for Manglietia Chingii; now renamed as Magnolia conifera var. Chingii. This is what the label says but I will need to check with Tom Hudson as to whether it is correct. Very distinctive bark and we definitely have a plant here too near Tin Garden. The tree is 20-25ft tall. Some of what appear to be buds are in fact new growth buds while others are more rounded and are certainly flowers. These are mainly at the very top of the tree where it has been slightly defoliated by strong winds.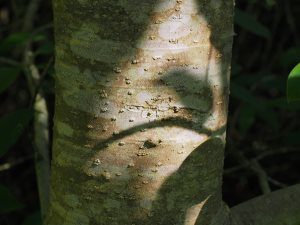 The Burncoose plant of Decaisnea fargesii flowering beautifully on several of its multiple stems.
The Burncoose plant of Meliosma oldhamii has much yellower new growth than the Caerhays plant. Rob and I could only spot one flower spike developing on a single lower branch. Another 'first' in the offing but it will not be the spectacle that we hope from the Caerhays tree.
Back at Caerhays Clethra pringlei is out early. This rare species struggles in full sun elsewhere in the garden. Here in decent dappled shade.
Camellia 'Manuroa Road' full out. Cannot remember offhand where this came from. Odd name but very late flowering.
Magnolia laevifolia 'Michelle' (formerly Michelia dianica 'Michelle') has flowers that open out flat. The label says dianica 'Michelle'. The use of the name Michelia dianica or Michelia yunnanensis as it was also called was phased out in 2006 to 2008. Anyway it is a good named form and well worth propagating or watching for seed. Quite a big plant now.
Another new magnolia with blue flowers (before they open). This is the first flowering of the magnolia labelled acuminata multiflower subcordata. Clearly there is a muddle in the naming. Need to check the Eisenhut listings as this is where this originated from.
2018 – CHW
We can now reveal one of our two entries for the RHS Chelsea Plant of the Year competition next week. The plants will also be featured prominently on the Burncoose stand.Fargesia murielae 'Luca' is an interesting novelty Bamboo bred by Frank Schnupper in Germany and exhibited in public for the first time in the UK at Chelsea. This variety is a real dwarf. It has an almost round shape an only reaches a height of 40 to 50cm with a maximum width of about 1m. 'Luca' is a perfect species for small gardens, foundation planting and in a pot on the terrace or balcony. 'Luca' does not develop spreading rhizomes and is therefore not invasive in the garden in the same manner as many other bamboo species and varieties. In addition, the plant is hardy and requires little or no maintenance. It is hardy to -20°.
This plant will be available to pre-order by mail order only on the Burncoose Nurseries website later this week.
2016 – CHW
Rather late in the day Crug Farm have delivered their February 2016 order. Many of the plants are extremely rare wild collected new introductions but they are mainly rather on the large side and will need a great deal of staking. The plants were delivered by Tuckermarsh nurseries from Tavistock (Mark Fillan) who I enjoyed taking around. He brought our order of Lithocarpus glabrata and three Styrax wilsonii as well. The latter died of old age outside the back yard recently although I cannot believe we have not planted out a few seedlings. Bond Street perhaps?
Rhododendron 'Kabaret' is not far from Rhododendron ponticum really but quite acceptable as a bit of colour in this cold spot.
Rhododendron serpyllifolium – the Caerhays form is even more of a dwarf or mini azalea like than the Windsor one seen last week. Our flowers are smaller and paler than those in the species collection. I have never seen this anywhere else but the original Caerhays plant is at least 6ft x 6ft (2ft x 3ft at Windsor).
Rhododendron vanoyseyi – the Caerhays plant on the drive is a worthy rival for the one seen last week at the Isabella Plantation at Richmond. We now actually have three plants dotted about only one of which is more than 30 years old.
Azalea viscosum hybrids – these 30 to 40 year old plants on the drive appear identical to some viscosum hybrids seen in the Wisley garden centre originating from a French nursery. Very nice in the shade.
The azalea which flowered at Christmas is now the only one in this clump of five fairly ordinary orange azaleas to be bereft of flowers. A strange oddity caused by I know not what. Just the same in a group at Burncoose.
The US origin Rhododendron prunifolium by the Four in Hand has a large flower with a hint of orange unlike the ones at the top of the garden. Hillier's says it is pink but we have always known it as red and a new purchase from Glendoick is red too.
An unknown cherry by Four in Hand came as a batch of new cherries from Hillier's when they still did mail order. It is quite nice with a much smaller flower than the matsumae forms at Windsor seen last week.
The Rhododendron kiusianum hybrid is very fine and a huge plant well worth propagating. We saw pink and white forms at Windsor but none quite as pretty as this one with a star like centre. This species is the parent of many of the Wilson 50 Kurume azaleas and grows at high altitudes on Kyushu.
2015 – CHW
Yes I have cheated and written this yesterday.  Currently en route to London so normal service will be resumed in a week or so.
Two puzzles for anyone who has managed to read this far: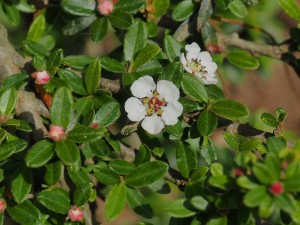 No one has ever known the name of this large ancient clump of cotoneaster at the start of Hovel Cart Road.  A bit like Cotoneaster microphyllus from a distance but not close up.  Bearing in mind its location and age it may well be an original wild collected Chinaman.  Every time you pose a question like this you suspect that you could find the answer in the planting records or archive but there simply is not the time to begin to try.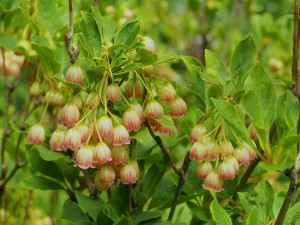 What is this 12 to 15 year old enkianthus?  Its shape and habit would suggest Enkianthus cernuus.  However it is not pure white and the location of the anthers and stamens in relation to the bell flower is incorrect.
1993 – FJW
Wet rough spell with hail – garden past its peak.
1990 – FJW
Rain came after very dry two months. Garden has hung on very well despite heat. Rhodo's good (except for Rho orbiculare). Mags good. Camellias excellent.
1927 – JCW
A great block of buds showing bloom on Mag parviflora. The azaleas are about half open. Mag wilsoni is very good. The first flower for this year of Mag nicholsiana is open and is very fine. The last of the Zealanicum is at its best.
1916 – JCW
About half the Azaleas are open. Pink Pearl just open. No May yet. Sappho x Auklandii is very nice.
1912 – JCW
Azaleas of all kinds have been good but many going back. Pink Pearl going back. Auklandiii's nearly over. Bluebells over. Primula pulverulenta good. C montana going back. May very good.
1900 – JCW
Iris pavonia just open, Azalea Altaclarence good. Auklandii good. A cold rough wind.