2023 – CHW
My granddaughter Lamorna goes collecting pheasant eggs (aged 2).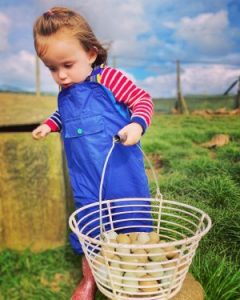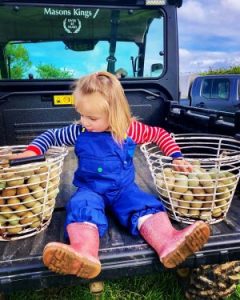 The rainstorms brought down a conifer on Laundry Hill.
Weigela florida 'Variegata' full out but with a few branches reverting to green.
Below 4-in-Hand this clump of rhododendrons came from Trewarthenick are were, I am told, bred there. No name!
A good crop of flowers on Rehderodendron macrocarpum.
Magnolia 'Coral Lake' is not quite as dull as I had thought when I look closely.
Paulownia kawakamii just coming out in Kennel Close. It will be the best thing in the garden in a week or so. Paulownia tomentosa 'Lilacina' is also out but nowhere near as good as this.
The first time this young Embothrium has flowered on the top of the bank above Roger's Quarry. A ghastly dry site with very poor stoney soil. Just what they like!
Lashings of rain have spoilt Rhododendron crassum (and many others).
Magnolia sieboldii 'Michiko Renge' nicely out.
Magnolia sieboldii sinensis also out beside it.
Magnolia 'Silk Road' bashed up by wind and rain but some flower buds still fine.
At last a true to name Staphylea bumalda (BSWJ 11053)
Another poor form of this species. Rhododendron orbiculare. Small flowers and smallish leaves.
Staphylea colchica was looking especially good but far too far out to cut for Chelsea. Staphylea pinnata nearby is nearly over and far less floriferous.
Delighted to find Rhododendron 'Corona' full out. I first saw this in Corona North's garden at Altimont in Eire near Tullow some 15 years ago. Bred by her father I believe. Did not know we had it!
The true and original Enkianthus cernuus rubens is out and just may make it for Chelsea as it is still in tight bud.
'Pheasant Eye' narcissus still out in full shade in mid-May above the cash point! And in such an early year! Amazing.
Now off to Burncoose to supervise the cut stuff from the garden there to cut on Wednesday. This year we will be struggling to fill the stand without really good cut material.