2022 – CHW
Five hundred plant photographs for the website database but a lot of standing about yapping to the great and good while judging goes on around us. No celebrity for the media on the Burncoose stand this year.
The 90 second presentation of each of the Plant of the Year finalists begins at 2pm in the president's pavilion suite. Here is the setting. We are (of course) running late as the president's lunch ends with Monty Don being awarded a Victoria Medal of Honour. (He is the late Peter Seabrook's successor to this award). Hurriedly we get under way and my speech has to contain a joke about the yellow leaves not being yellow as well as an appeal to traditionalists. This is a plant grown by an amateur over 20 years and not the product of a Dutch tissue culture / genetically modified laboratory.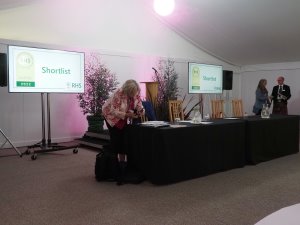 A good interview with Horticulture Week on the peat ban at Chelsea in 2025 and how absurd this is for growers of ericaceous plants. Have the RHS scientists come up with an alternative. Of course not!
Here are a few of the other Plant of the Year entries which I liked:
Geranium x cantabrigiense 'Intense'
Rhododendron 'Stardust Pink' (stenophyllum 'Linearifolium' refined a bit)
Forsythia x intermedia 'Discovery'
Armeria pseudoarmeria 'Dreamland' came second.
Iris sibirica 'Fran's Gold', despite everything came fourth!
The Queen and our new RHS president, Mr Weed (call me Keith please), in an electric popemobile pass close by just before the gala night begins (4,000 tickets at £1,000 each for a two and a half hour drinks party) and the corks begin to pop.
2021 – CHW
Today we go to look at around 40 different plants where the identity is unknown or uncertain so that Susyn and Brian can take away samples for identification or give us a pointer as to whether our naming is correct.
This is a wonderful suckering and multi-stemmed plant of Quercus coccifera in full flower in Penvergate.
During the day, where we were joined by Tom Hudson, we found quite a number of naming errors in young oaks collected by Allen Coombes and grown here from seed. These were planted out 2003 to 2007 and some have died as we know. However the survivors, with their original planting labels, are a muddle to put it mildly. Whether we muddled the seed labels or if mice moved seed about in seed trays or quite what has happened is hard to say. Subject to confirmation we think we have now sorted out Quercus morii and Lithocarpus corneus but the three Lithocarpus lepidocarpus are, Tom believes, Lithocarpus hancei. Quercus gilva has died or vanished and we are left with a number of queries which will need an oak expert to help sort out. Quercus monimotricha is not true to name by the George Blandford and neither is Quercus dolciholepis by the Paulownia 'Lilacina' according to Tom. All very frustrating and confusing to put it mildly.
Magnolia 'Moonspire' in Old Park. Not a great find!
This was labelled 'Fiax barumina'. It looks like it is a Fraxinus with yellow leaves initially but is clearly very tender and has hardly grown at all in 10 years. Sample taken for identification.
The ilex in the old Charlie Michaels Nursery has also partially reverted to Ilex x altaclerensis 'Hendersonii' from what was originally Ilex x altaclerensis 'Belgica Aurea'. The variegated leaves are very variable.
We believe this is Quercus affinis although I thought it was Quercus castanifolia when looking at the spiny acorns cups last autumn.
This is labelled Quercus monimotricha (90-0250) but Tom believed it was not.
Azalea 'Elsie Lee' a good late show.
We now await Susyn's conclusions and I will resist writing more now to avoid muddying the water further. We did identify a mystery plant near the Engine House as Ilex verticillata (near the Windsor Ilex spinigera) which gives us a second Ilex verticillata. Tom also confirms the much debated Lithocarpus nearby as Lithocarpus edulis (not Lithocarpus glabra). However it is quite dissimilar to the L. edulis at Rosemoor.
Susyn brought samples with her of Ilex colchica and a copy of her 1995 article in the Plantsman on the Black Sea holly which was only reintroduced to cultivation about 35 years ago and had long been thought of as a form of the native Ilex aquifolium. We have a plant in the greenhouse which Susyn confirmed is correctly named as is a young plant of Ilex fargesii subsp. fargesii var. fargesii. The latter used to grow here but had died out.
A pheasant's nest with nine eggs made from Echium leaves outside the Ante Room. Unusually this hen pheasant is actually trying to incubate them and a big snail's shell as you can see if you look closely.
A decent Magnolia sieboldii in full flower.
Magnolia tripelata with a few flowers. I had forgotten this one.
Staphylea holocarpa 'Rosea' with bladders. The first time this species has produced any with us since the old trees died and we started again.
Thinning work has just started at the very top of the 1991 hurricane replanting. Quite a lot more still to do.
Jaimie cleared around a magnolia at the top of the hill which is not to be thinned and is marked accordingly. One day you will hopefully see this from miles away.
Two quick growing Tetradium daniellii trees in Penvergate which I have never caught in flower before. It used to be called Euptelia daniellii. Swarming with bees and wasps today on the flowers. Come to think of it I am not sure it has actually flowered here before?
The champion tree Magnolia 'Yellow Fever' still has quite a few flowers left out. It was very late into flower this year.
Three groups of my father's rhododendron hybrids which Jaimie will have to interpret.
I had forgotten that there is a decent paulownia in the corner of Penvergate.
This area will, as usual, be the first to be cut in about a week or 10 days. The trash is well over knee height.
Sorbus torminalis nicely in flower. A Cornish champion tree which split in half a few years ago but is reshooting well and suckering from the base. Attractive leaves too. Burncoose has nice plants of this native species.
The original plant of Azalea 'Caerhays Lavender' by the Green Gate. Rather later out than the ones on the Main Ride. Colder and more exposed here.
Delighted to see that the single naturalised Gladiolus communis ssp. byzantinus has survived on the bank. We need to be careful not to cut it but I think we will leave the wildflowers to their own devices this year here at least until late August.
Indigofera howellii 'Reginald Cory' has flowered nicely by the Playhouse.
A clump of a rare bamboo species by Tin Garden has decided to flower and die. I need to look up which one.
A baby rabbit annoys Jaimie while completing the spraying around plants for this year.
Another batch of my father's hybrids which are fairly variable but quite nice. I will catch up on those when I get back and check exactly what they are but it looks like Rhododendron crassum is the parentage.
Bowden hostas have been at it all night. End result still laughingly bad with pots showing all over where they ran out of plants and ghastly bamboos with yellow leaves. Before we can laugh any further the judges appear soon after 8 o'clock and pause to look disdainfully at Rhododendron 'Ruby Hart' which droops a bit naturally anyway but has clearly gone beyond the natural stage (little do they know we cut half off already). 'Lady Alice' is on the floppy side too. By the afternoon it would certainly, in the judges' parlance, have been deemed to 'have gone'. One of the judges clearly dislikes the bold sway of rhodos behind the cashpoint (from which Karol had to rapidly remove his suitcase following the arrival of the sniffer dogs – the suitcase obviously contained substances of a non explainable nature and a hasty return to the car was necessary). We do not quite see what the judges vote despite our best efforts. Next door the Millais rhododendron stand is absolutely superb and definitely worth a gold medal.Guy Hands arrives about 9am in a very laid back mood insisting that he, unusually, will not be taking a drink because he is due in the High Court the following week for six days in round three of Terra Firma vs Citibank over the EMI deal.
They are bolder colours and nicer than I was expecting.  Quite unlike any of the unnamed deciduous azaleas on the drive which are to be inspected shortly.  Six more groups still to flower.  They are slow growers.
1943 – CW
Rho auklandii at their best and azaleas – Crinodendron well out. Trade forms of Mag conspicua over – took 1000 seed pods of Parviflora – a lot of fuschias good. Also some of the 40 Acre Maddeni hybrids still covered with flower. Bluebells are over – Primula forresti very good.
1934 – JCW
Auklandii's at their best. Camellias have been better than I ever saw them. The Azaleas are very good indeed. Trade forms of Magnolia conspicua are excellent. Mag nicholsiana is about the best of the family.
1909 – JCW
Mrs Butler is very good. Auklandii's on the turn, C montana rubra going, Roylei very good, sweet scented azaleas are nice.
1907 – JCW
Auklandii's going back fast. Mrs Butler opening. R roylei is very good. Edgeworthi is open in the wood, bluebells at their best, Gibsoni opening.
1904 – JCW
Moved some daffs yesterday a bit early.
1898 – JCW
Auklandii partly open also Royali and Fortunei and Gibsoni. Maples just at their best, most of the bamboos have made a move. About half the tree ferns have started. No daffs quite fit to move.
1897 – JCW
Laydikeri R opens in the big pond, no other yet, Viburnum at their best.