2020 – CHW
The RHS Virtual Chelsea 'Plant of the Decade' competition ended in a possible degree of farce.
Only on Friday 22nd did we hear from Jill Otway who organises the normal Plant of the Year Chelsea competitions. Online public voting had started last Tuesday (19th).
She told us the public voting on Plant of the Decade (10 Plant of the Year winners and our Viburnum 'Kilimanjaro Sunrise' from 2015) would close 'tonight'.
It actually closed at lunchtime.
Jill also told us that she had arranged for Sir Nicholas Bacon (the RHS President) to select HIS choice as Plant of the Decade on Friday's programme and that the winner would be revealed on the RHS website today with a press release sent out.
So we watch Monty and Joe Swift on the Virtual Chelsea programme at 8pm on Friday.
Monty clutched a plant of Streptocarpus 'Harlequin Queen' which was Plant of the Year in 2010 and announced it as 'Plant of the Decade' winner.
Mrs Dibley, from Dibleys Nurseries, who bred the wonderful plant herself, was then shown in her greenhouse thanking the president for "voting for this as his choice for Plant of the Decade".
No mention of numbers who voted or the votes cast by Monty Don on air.
By 9am Saturday no RHS news item or press release to be seen on their website.
Did the president choose for everyone?
Was the president's choice the same as the public's vote?
Did Monty and the BBC producers actually muddle the two choices? Certainly it was all very unclear to viewers at the time.
AND by 10.00am it did!
Viburnum plicatum f. tomentosum 'Kilimanjaro Sunrise' WAS the People's Choice Winner of Plant of the Decade (voting numbers not revealed)!
A big ring around to the nursery staff. Thankfully we have plenty of plants to fulfil new orders. Will we get a new rosette? Prize badge or whatever (as before) one day – next Chelsea perhaps?
Many thanks to all the friends, supporters and customers who did vote for Kilimanjaro Sunrise and who might well have been confused by last night's programme.
Scaffolding up for repointing (and gutter repairs) outside the Georgian Hall in perfect weather for this.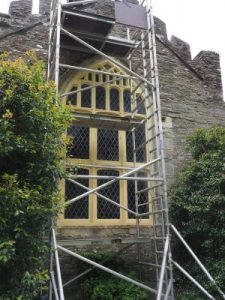 A pheasant's nest with nine eggs made from Echium leaves outside the Ante Room. Unusually this hen pheasant is actually trying to incubate them and a big snail's shell as you can see if you look closely.
A decent Magnolia sieboldii in full flower.
Magnolia tripelata with a few flowers. I had forgotten this one.
Staphylea holocarpa 'Rosea' with bladders. The first time this species has produced any with us since the old trees died and we started again.
Thinning work has just started at the very top of the 1991 hurricane replanting. Quite a lot more still to do.
Jaimie cleared around a magnolia at the top of the hill which is not to be thinned and is marked accordingly. One day you will hopefully see this from miles away.
Two quick growing Tetradium daniellii trees in Penvergate which I have never caught in flower before. It used to be called Euptelia daniellii. Swarming with bees and wasps today on the flowers. Come to think of it I am not sure it has actually flowered here before?
The champion tree Magnolia 'Yellow Fever' still has quite a few flowers left out. It was very late into flower this year.
Three groups of my father's rhododendron hybrids which Jaimie will have to interpret.
I had forgotten that there is a decent paulownia in the corner of Penvergate.
This area will, as usual, be the first to be cut in about a week or 10 days. The trash is well over knee height.
Sorbus torminalis nicely in flower. A Cornish champion tree which split in half a few years ago but is reshooting well and suckering from the base. Attractive leaves too. Burncoose has nice plants of this native species.
The original plant of Azalea 'Caerhays Lavender' by the Green Gate. Rather later out than the ones on the Main Ride. Colder and more exposed here.
Delighted to see that the single naturalised Gladiolus communis ssp. byzantinus has survived on the bank. We need to be careful not to cut it but I think we will leave the wildflowers to their own devices this year here at least until late August.
Indigofera howellii 'Reginald Cory' has flowered nicely by the Playhouse.
A clump of a rare bamboo species by Tin Garden has decided to flower and die. I need to look up which one.
A baby rabbit annoys Jaimie while completing the spraying around plants for this year.
Another batch of my father's hybrids which are fairly variable but quite nice. I will catch up on those when I get back and check exactly what they are but it looks like Rhododendron crassum is the parentage.
Bowden hostas have been at it all night. End result still laughingly bad with pots showing all over where they ran out of plants and ghastly bamboos with yellow leaves. Before we can laugh any further the judges appear soon after 8 o'clock and pause to look disdainfully at Rhododendron 'Ruby Hart' which droops a bit naturally anyway but has clearly gone beyond the natural stage (little do they know we cut half off already). 'Lady Alice' is on the floppy side too. By the afternoon it would certainly, in the judges' parlance, have been deemed to 'have gone'. One of the judges clearly dislikes the bold sway of rhodos behind the cashpoint (from which Karol had to rapidly remove his suitcase following the arrival of the sniffer dogs – the suitcase obviously contained substances of a non explainable nature and a hasty return to the car was necessary). We do not quite see what the judges vote despite our best efforts. Next door the Millais rhododendron stand is absolutely superb and definitely worth a gold medal.Guy Hands arrives about 9am in a very laid back mood insisting that he, unusually, will not be taking a drink because he is due in the High Court the following week for six days in round three of Terra Firma vs Citibank over the EMI deal.
They are bolder colours and nicer than I was expecting.  Quite unlike any of the unnamed deciduous azaleas on the drive which are to be inspected shortly.  Six more groups still to flower.  They are slow growers.
1943 – CW
Rho auklandii at their best and azaleas – Crinodendron well out. Trade forms of Mag conspicua over – took 1000 seed pods of Parviflora – a lot of fuschias good. Also some of the 40 Acre Maddeni hybrids still covered with flower. Bluebells are over – Primula forresti very good.
1934 – JCW
Auklandii's at their best. Camellias have been better than I ever saw them. The Azaleas are very good indeed. Trade forms of Magnolia conspicua are excellent. Mag nicholsiana is about the best of the family.
1909 – JCW
Mrs Butler is very good. Auklandii's on the turn, C montana rubra going, Roylei very good, sweet scented azaleas are nice.
1907 – JCW
Auklandii's going back fast. Mrs Butler opening. R roylei is very good. Edgeworthi is open in the wood, bluebells at their best, Gibsoni opening.
1904 – JCW
Moved some daffs yesterday a bit early.
1898 – JCW
Auklandii partly open also Royali and Fortunei and Gibsoni. Maples just at their best, most of the bamboos have made a move. About half the tree ferns have started. No daffs quite fit to move.
1897 – JCW
Laydikeri R opens in the big pond, no other yet, Viburnum at their best.