2023 – CHW
Styrax japonica 'Jippei-Kawamure' already full out. I need to get to see the rest of the Styrax. This one has large flowers and a single stem.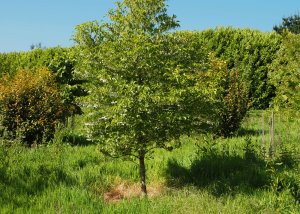 Styrax formosanus var. hayataianus is multi-stemmed and not quite out with much smaller flowers.
Cornus 'Venus' growing well and as plastered in bracts as ever.
Crataegus laevigata 'Paul's Scarlet' completely covered in flowers. Nearly the best thing in the garden today.
Crataegus ashei flowering for the first time here.
Crataegus ambigua interesting also.
Crataegus pontica just starting. Another new species for us. So about a third of the newly planted Crataegus species have now flowered but I have missed a couple while away.
Rhododendron falconeri has also come full out during the Chelsea absence.
Pruned camellias below the Stable Flat windows. They have been clipped like this every 5-10 years and thrive on it.
Magnolia 'Margaret Helen' still in flower – its reputation for a lengthy flowering season even in hot weather is well deserved.
Magnolia 'Tranquillity' – only the most tranquil of individuals could begin to get excited about this. A miniature 'Stellar Acclaim' A few better known and still available from Burncoose deciduous azaleas growing well by Green Gate. What a show at the garden entrance for June.
Strawberry Ice – the best of the five separate clumps today
Three huge plants of the short lived but today most impressive Buddleia salvifolia near the tower. Overpowering scent.
1997 – FJW
There is still a fairly well formed flower on Magnolia 'Star Wars'. Very condensed year for the garden – too dry so far, too much east wind.
1906 – JCW
Viburnum shows colour, bed roses very good, Crinodendron good. Polystichums very good indeed.
1897 – JCW
Chromatella opens in the big pond.