2023 – CHW
Still 10 cygnets survive on the pond. I discover its still a bit early for most of the young Styrax and Stewartia to be out in the clearing beside Charlie Michael's Nursery.
Stewartia? pseudocamellia 'Ogishu' just opening (ex. Mark Bulk).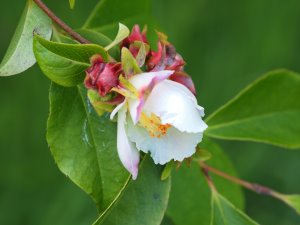 Styrax shirianus making a good growth and now flowering properly with larger flower clusters. We now have 3 plants of this rare species getting going.
Carpinus orientalis has small rounded leaves and a compact upright habit. Now about 8-9 feet tall.
Carpinus polyneura with its first fruit clusters that I think I have seen here. Attractive. This plant is above the greenhouse. The 2 in Kennel Close have yet to perform like this. Willow-like leaves perhaps?
Styrax hookeri var. yunnanensis from Mark Bulk. Larges leaves and more flowers in each cluster than in our plants of S. hookeri.
Gamblea ciliata var. evodiaefolia (DJHV 06111) also with its first flower high up. Crug Farm do supply enormous plants. Should I pollard this back I wonder?
Ilex chapaensis with some winter dieback. (HWJ 946). Not that happy in too hot a location.
Picconia azorica making excellent new growth and now about 5 feet tall. I wonder when it will flower? Another species of Picconia photographed previously at Ventnor was P. excelsa.
Azalea 'Rosebud' behind the greenhouse at its finest. Asia/ Cressy to propagate this in quantity please.
2022 – CHW
Then off at 6.30 to the rare plant fair at Tregrehan.
On the Crûg Farm nurseries stand the following are startling:
Roscoea caultleyoides 'Jeffery Thomas'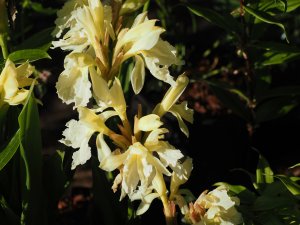 Roscoea 'Crûg Favourite'
Incarvillea zhongdianensis
Anemone rivularis
Then on the Tregrehan stand:
Gunnera insignis
Deutzia multiradiata
Fuchsia boliviana
Above the Tregrehan stand I found flowers on a mature tree of Meliosma pungens.
Elsewhere I spotted:
Diosporopsis bodinieri
Rhodiola fastigiata – a sedum like plant
Dicentra 'Longtrees'
Disporum lechenaultianum
The Burncoose stand – not very well arranged but it all sold!
In the car park was Tom's amazing plant of Deutzia longifolia in full flower as usual.
Thalictrum ichangense
Deutzia glomeruliflora
Philadelphus melanocalyx
Astrantia 'Gill Richardson'
A closeup flower of Aesculus wilsonii on our stand.
Watsonia humilis on Penberth nurseries' stand.
Watsonia zeyheri on Penberth nurseries' stand.
Elegia tectorum
Plectranthus zuluensis
On our stand Philadelphus 'Starbright' stood out and sold in minutes.
A huge throng of customers compared to last year's post covid let out. A huge array of rare plants and many happy customers and nurserymen. Plenty of plant hunters from all over the country and several people who I had seen at Chelsea plant hunting. One could take more cash here in four hours than in two days of Chelsea!
Rhododendron (Azalea) prunifolium by the Four in Hand (or very close to being this species anyway) which is a darker colour elsewhere in the garden.