2021 – CHW
Our planting records show six specie oaks planted in 1997 in Giddle Orchard:
Quercus lancefolia (two)
Quercus uxoris (two)
Quercus acutifolia
Quercus candicans
I assume these were a gift from Lady Anne Palmer to my father. I remember several Q. candicans planted in Bond Street.
So a trip to locate them
I am really not sure which species of allium this is growing outside the front gate. Perhaps Allium trifoliatum?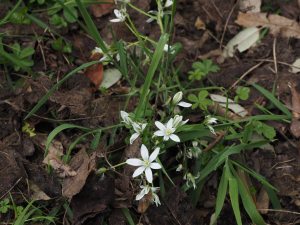 Rhododendron (Azalea) prunifolium by the Four in Hand (or very close to being this species anyway) which is a darker colour elsewhere in the garden.