2023 – CHW
No rain now for the best part of 3 weeks.
Malus x micromalus full out and a great spectacle today.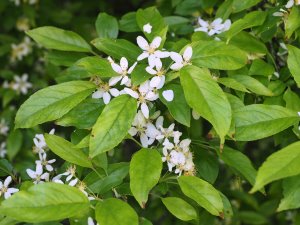 Camellia japonica 'Mathotiana Rubra' still full out on 1st June.
Deciduous azaleas at the Green Gate to welcome visitors.
Rhododendron stamineum, the butterfly rhododendron, in the Main Quarry. I fear this group are overflowering and at the end of their lives but we do have plenty of younger plants coming on.
Magnolia 'Summer Solstice' at its best.
Cornus kousa 'Satomi' just coming.
The old, gnarled and much damaged Paulownia tomentosa in the Main Quarry. Plant Paulownias where you can look down on them is the cry but, as here, the flowers are still too far away to properly appreciate their beauty. One of the very best blue flowers. P. tomentosa is said to produce a good tree crown on a single stem (with suckering) but our 50-60 year old tree has no crown at all and no suckers!
Aconitum 'Stainless Steel' which I expected to see much of at Chelsea as it is new but did not.
Eucryphia x nymansensis 'Nymans Silver' – a gorgeous new one to me.
Kalmia latifolia 'Snowdrift' – pure white and very new to Burncoose. Canadian bred I believe.
Arundo donax 'Golden Chain' – far less horrid than the plain green form.
Rosa cantabriensis – not a great advance on Rosa 'Mermaid' but more prickles!
Then to the late flowering and somewhat insipid coloured deciduous azaleas around Trevanions Holly.  It is shady here but they are clearly a unique batch of something different.  Large clumps, not as many varieties as I had thought, all different in habit and clearly some are old hybrids quite close to their rhododendron species parents.