2023 – CHW
A newly planted Acer kawakamii. The old tree in the Aucklandii Garden died last year, and the stump came out when the digger was last here. The one beside the drive died several years ago. A ste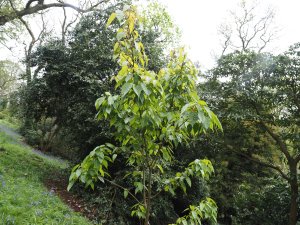 Cotoneaster silverstrii flowering well below White Styles. One of the first to show flowers in our newish collection of c.30 species.
Rhododendron wadanum 'Album' – sub species of Rhododendron reticulatum perhaps? Surely a Rh. reticulatum subspecies would have some evergreen leaves?
Staphylea colchica 'Black Beauty' now into leaf. It will get darker yet.
Juglans major has interesting new growth. As nice as Juglans ailantifolia?
Rhododendron 'Mrs Lionel de Rothschild' is one we always forget to propagate from cuttings. Need to remind Asia.
This clump of Rhododendron formosum in the Higher Quarry Nursery Bed was cut back hard 3 years ago but already a good show of flowers (possibly better). Many of the scented rhodo's would not respond well to this sort of chopping back but formosum has. Unexpected!
Rhododendron 'Tibet' a (new to us) williamsianum hybrid, flowering well in the nursery. These plants will need to get planted out next spring. On reflection I think it used to grow on Hovel Court Road in the williamsianum hybrid groups there?
A rare flower on a struggling big leafed rhododendron. Despite watering of the nursery bed these plants had horrid time in the drought and produced little new growth and only small deformed leaves as you see here.
A newly planted Abies delavayi with good new growth.
The Pheasant Eye daffodils on Hovel Court Road still good in May and, as usual, the very last of the daffodil season.
Rhododendron augustinii nearly over with the new growth coming. All too brief a flowering season.