2021 – CHW
James Williams sends me pictures of Acer palmatum 'Scolopendrifolium' on the drive at Burncoose Nurseries which was just coming into leaf. It is equally stunning in its yellow autumn colour.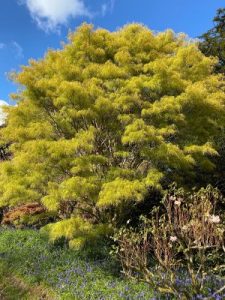 Also, from Tregullow, his plants of Rhododendron 'Colonel Rogers' which is a Rhododendron niveum x Rhododendron falconeri cross. Very splendid this year. Last year it had relatively few flowers.
Rhododendron reticulatum full out in the Rockery.
Azalea 'Black Hawk' just coming out. A good contrast soon between the other colours.
Rhododendron kiusianum was cut back hard two years ago and has responded well with more larger flowers.
A plant of Rhododendron tethropeplum with larger than usual flowers in the Rockery. This plant was being swamped by a Podocarpus which has now been pruned back. I had completely forgotten it was here.
Berberis amurensis var. latifolia (from Korea) is now developing into a substantial shrub with attractive new foliage and flowers.
Azalea oldhamii just out but sparse flowering this year even on youngish plants.
Rhododendron neriiflorum making a decent show. Another species which had died out here now making a comeback.
He has been creating a lot of new layers. Here are some pictures of previous years' work which will need moving and replanting in the autumn having been hugely successful. It has however taken four years to get this far.
Rhododendron 'Cowslip' is another williamsianum hybrid.
The base of one of the two huge clumps of Rhododendron loderi 'King George'. You have a job to see the best of the crowns.
An upright trunk of a dead Pinus insignis is being invaded with strands of honey fungus as you can see but leaving deliberate deadwood like this provides much for woodpeckers to do as can also be seen.
Although the elderly Magnolia macrophylla fell over it has still come into leaf.
Rhododendron klossii (CW & T 6346 to 10m 19.1.12) is not in any reference book. Nearly leafless as the new growth emerges.
I had forgotten about this Acer cappadocicum 'Aureum'. Here with flower and seeds emerging.
Cornus florida 'Red Giant' slowly emerging into colour.
Ilex yunnanensis with new growth and flower showing. I saw this at Rosemoor. Odd that it was not grown here before as far as I can see.
This plant of Magnolia 'Ossie's Yellow' is doing rather better than the other.
Halesia macgregori with its first flower. Another plant has flowered profusely at a smaller size than this.
Michelia x foggii 'Jack Fogg' has made a good show above Crinodendron Hedge.
The remains of a Rhododendron thompsonii after being hit by a tree.
Near enough to Azalea 'Northern Hi-Lights' but not quite. The more I look at Mr Galle's book on azaleas that lists thousands of deciduous varieties the more stuck I get. Without more pictures the book becomes a pointless list of names with descriptions of just a word or two.
Two Rhododendron heliolepsis of which one is much darker than the other.
My favourite species – Rhododendron floccigerum. This very old plant struggles on having falling over as you can see.
A good late flowering Rhododendron sinogrande (seedling) tucked away in shade and shelter.
Rhododendron makinoi or one of its hybrids. Very sparse flowering as this species seems always to be.
Unusual to see an Embothrium flowering only two years from planting.
A huge clump of this deciduous azalea and nice enough too. One of 40 to 50 clumps here in need of the (very elusive) expert on them.
Rhododendron prunifolium – another old plant at the Four in Hand. At least this one is relatively easy to spot and Mr Galle's book even has a picture to confirm!
We have seen the rare Magnolia officinalis var biloba in flower before. Planted in 1997 it has been showing for four or five years. The buds are slightly windblown but still a superb delicate pink on opening.
Another smaller Magnolia 'Sunburst' on the drive is just showing. This is 'up there' with Magnolia 'Lois' at this stage of its flower but fades quickly as you can see on one flower.
Magnolia 'Genie' below Donkey Shoe is still quite a sight. These plants do flower for six to seven weeks which makes them pretty special in the magnolia world.
Hidden away below it is another fairly mature Michelia x foggii 'Jack Fogg' with rather more pink in the flower than Michelia x foggii 'Allspice' seen a few days ago.
Magnolia x brooklynensis 'Black Beauty' is looking good. The best thing is the light creamy white insides to the near black tepals.
Our largest Magnolia rostrata has flower buds showing pink very high up. This was given to us by Tom Hudson when our original plant died 20 plus years ago. We have another through the hedge beside Mr Rogers Quarry but no flowers here yet.
Magnolia 'Randy' is looking good. This one was inevitably always pinched when we planted it at Windsor.
Magnolia 'Sunray' is a very quick fader to a dullish cream colour.
Another Michelia x foggii 'Jack Fogg' seems to lack as much pink in the bud as the one seen earlier.
The Lindera obtusiloba is finally full out with its 'mustard yellow' flowers. The one I photographed at Rosemoor in March was out much earlier and very pale by comparison.