2023 – CHW
Coronation day here on a drizzly, overcast day with mist and sea fret. Perfect growing weather for the garden but not perhaps the weather that King Charles III would have chosen for HIS big event!
10 signets have hatched off on the lake and the parents allowed us to see them for the first time today. They look a few days old already. Last year only 1 of 7 survived. This pair of swans are breeding for their third year here and are clearly getting the hang of it now. A much earlier hatch off than previously. Lets hope the otters don't get them all. Interesting that the pair headed off last autumn for a couple of months and took their one surviving signet with them. He came back with them but they never allowed him near the lake and, after a week or two, pushed off.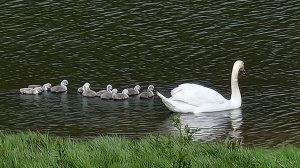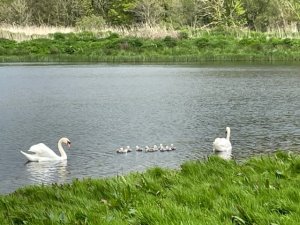 Slow worms sighted under a rhododendron which was cut back outside the front gate.
Magnolia officinalis var. biloba flowering in Penvergate. Later than usual but the one by Slip Rail is still not showing at all.
Viburnum taiwanianum with huge flower heads.
Merrilliopanax alpinus (BSWJ 13939) with its attractive new growth.
Picconia excelsa flowering for the first time here. Rather bay-laurel like? Its related to Olea and comes from the Canary Isles. If it survives it will become a large evergreen tree with hard, heavy wood.
Pseudotaxus chienii with attractive new growth.
New growth on a young Carya ovata.
The mini digger has removed the laurel stumps here to create a good new planting area for next spring. We have been awaiting its arrival throughout the drought of April and it is still dry despite last Sunday's good rain.
Another one here where we ripped out some old unnamed x williamsii camellias. Dry and easy to work cleanly for the digger. Still one to two more days work to do on other old stumps in the garden.
Magnolia 'Banana Split' in a strong east wind which has made it cold. The only thing to say about this one is that it has a bold upright habit like a totem pole. This means you do not have to see the fairly disgusting flowers close up.
My father told Jaimie that Rhododendron 'Hotei' (yellow) never set seed. When he found that it did he grew them and we now have a clump of four adult plants outside the arch. One of the two shown here has a hint of yellow. All are pleasant and different but imbued with too much other varied pollen to be anything special or for any to be worthy of a name. Worth their place though with a compact habit and Jaimie is chuckling at my father's expense although FJW has been proved right for the wrong reasons! It has perhaps taken 15 years for the point to be made though.
A clump of Rhododendron 'Halfdan Lem' nearby are a splendid red. Doing well in a quite exposed position near the Hotei seedlings.
Rehderodendron macrocarpum is not out at Burncoose yet but this young tree is really starting to perform. Why do not more people grow this? Better than the halesias I think?
Berberis latifolia is now full out and the shape of its bluish-green new leaves is rather dramatic. This will be a big plant before long and one Burncoose should stock as I have said before.
The first hydrangea flower heads (white) are nearly out. Bear in mind that in this extraordinary year we were still photographing hydrangeas in early January in this diary. I wonder if this has ever been bettered?
Betula costata – dead
Betual dahurica 'Maurice Foster'
Betula utilis var jacquemontii 'Jermyns'
Betula utilis var jacquemontii 'Silver Shadow'
A young Magnolia 'Red Lion' was in perfect condition, and very late indeed, nearby.