2023 – CHW
Glorious day. The rhododendron flowers have responded overnight to the heat.
Rhododendron serpyllifolium on the drive with its tiny pinkish flowers.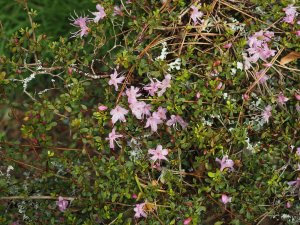 3 young Rhodendron reticulatum are very different to the aged form in the Rockery. One in leaf with flowers and one leafless. The Rockery form is semi deciodous.
Enkianthus cernuus rubens with more flower than I have ever seen on this elderly small tree.
Rhododendron 'Bow Bells' the R. williamsianum hybrids start to perform.
My grandfathers Rhododendron 'May Day' – I forgot to check it on the 1st May.
Newly planted Rhodendron augustinii by George's Hut. What a colour in the shade.
Rhodendron 'Moonstone' will soon be back in the Burncoose catalogue. This clump the best thing in the garden today.
A better flower on Magnolia 'Wim Rutten' than any seen previously on this young plant.
A new planted Rhododendron chapmanii settling in well.
Malus purpurea 'Crimson Cascade' developing splendidly well. A tremendous show in Kennel Close.
The nearly deciduous Azalea 'Fedora' now full out on the drive. A. ledifolia 'Alba' just starting.
The odd black lamb which is strange in that we only have a supposedly castrated 'teaser' ram which is black. If may be more intact than we thought!
Cock pheasants with their harems and constant fighting, squabbling and sex.
Magnolia 'Jane'
Magnolia 'Ricki'
Magnolia 'Betty'
Magnolia 'Ann'
Magnolia 'Judy'
Rhododendron sinofalconeri
As far as Caerhays is concerned the Windsor visit reminded me again how many species have died out here which were once very much part of the Forrest collection and now need to be replaced. Some have but there is much more to do to get back to what was here in the 1960s:
Rhododendron floccigerum
Rhododendron arizelum
Rhododendron fulvum
Rhododendron fulgens
Rhododendron hyperanthum
Rhododendron basilicum
Rhododendron campanulatum
2000 – FJW
Have never seen more flower or colour in the garden – went around with Philip.
1998 – FJW
Garden closed – on everyday the garden was open, RAIN FELL. Beech trees coming out.
1993 – FJW
Hot week saved by some showers.
1990 – FJW
Very dry – limited bad weather coming limply from the north.
1965 – FJW
The best new thing has been the Diva x Robusta above the Stables. The Mollicomata x nigra is ordinary but precocious to flower so young. The Dalhousiae hybs. not so good as the first attempt. The 'yellow' seedling azaleas on the Drive are at least yellow!
1916 – JCW
Auklandii nearly over, Cherries are gone. White A indica and A amoena very good. Molli and Ghent Azaleas nice. Loderi going over. Falconeri opening. Augustinii is passing. Daffs have gone.
1909 – JCW
Tubergen Iris are very good, most other things ruined by the sun and dry wind. C reticulata over, Montana rubra coming, Auklandii ⅓ open, Recurvas open, other things (daffs) over.
1901 – JCW
Picked the first seed pods, H Irving under glass.