2023 – CHW
Camellia reticulata 'Lovely Lady' still with decent flowers.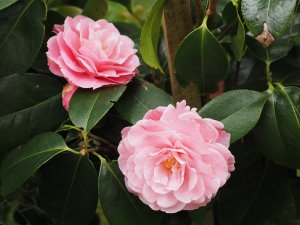 Sadly our original Illicium anisatum has died of old age. It did have a few flowers earlier in the year on a near leafless shrub now in far too much shade.
Magnolia (Michelia) 'Fairy Lime'. Another plant which I had forgotten with a few decent flowers.
Rhododendron 'Saffron Queen' far too out to cut for Chelsea.
Rhododendron 'Cowslip' flowering sparsely. (Rh. wardii x Rh. williamsianum).
The fir tree which fell above Red Linney took out Phellodendron amurense var. sachalinense. I wonder if it will reshoot when the mess is finally cleared up? There are two others in Penvergate.
Rhododendron 'Winsome' on the drive.
Cornus florida subsp. urbiniana with its white bracts joined at the tips. Odd! I think I looked this up previously and came to a different conclusion as to its identity. I called it Cornus florida 'Pluribracteata' and I am still not really sure which is the correct identification as I can find undivided flowers which have charachertistics of both forms. Its not in our planting plans but was planted around 2005.
Rhododendron fragrantissimum by the front door.
Michelia platypetala was full out at the top of the garden and has the makings of a huge tree. The deep scent is familiar but I cannot quite place it.
Enkianthus campanulatus 'Hollandia' is the best in the collection today above Hovel Cart Road. 'Venus' looks very pale this year and is nearly over. Enkianthus deflexus still in tight bud.
Azalea 'Babeuff' outside the back yard is full out and early. Seldom propagated or seen in the nursery trade today.
Rhododendron 'Countess of Haddington' is splendid but only four or the 16 plants have survived from those first planted in 2004! Scented rhodos have short lives and die off quickly not least from over flowering.
Prunus jo-nioi planted alongside in 2006 has made a splendid tree at the entrance to the garden. Is this a matsumae variety? No idea but it came from Thornhayes nursery.
A plant in the sales point of Magnolia 'Honey Tulip' is good for a first flowering. It is the yellowish sister to 'Black Tulip' but I doubt will sell as well.
Magnolia 'Daybreak' is, I think, rather better than Magnolia 'Peachy'. Quite like Magnolia 'Yuchelia' as I have said before but without such a pale inside to the tepals. Yuchelia is nearly over. Daybreak only just out but further comparison is merited.
Rhododendron 'Halfdan Lem' is just coming out. What a red!