2023 – CHW
A visit to Burncoose.
Acer rubrum 'Brandy Wine' looking very fine indeed. A new entry for our website.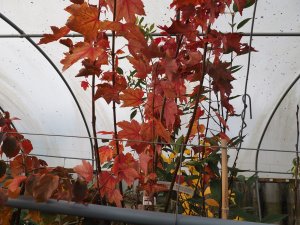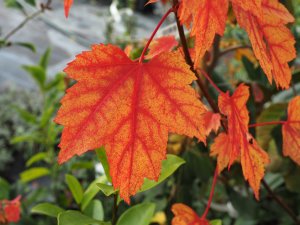 Phymosia umbellata is another new plant to Burncoose.
x Sycoparrotia 'Purple Haze' unbelievably good with several colour changes before we get to the final dark red.
Camellia 'Cornish Spring' full out before mid-November!
Mahonia eurybracteata 'Soft Caress' now full out in the nursery and the garden.
The bonfire of the fallen beech tree continues at The Hovel.
Several lower limbs pruned off an elderly magnolia to give more light to the rhododendrons below.
Magnolia 'Ian's Red' also has a pruning for the same reason.
Acer palmatum 'Dissectum Atropurpureum'.
First flowers on Camellia x williamsii 'J.C Williams' almost out earlier than ever this year.
Acer palmatum 'Inazuma' not quite yet at its best.
Secondary flowers, as normal, on Rhododendron 'Elizabeth'.
Euonymus elatus nearing its best.
Leaf fall under Kalopanax septemlobus.
Kalopanax septemlobus and Quercus acuta contrasting well.
Hoheria populnea 'Variegata' properly into flower which it has seldom managed in recent years. A tender variety easily set back and partially defoliated in cold east winds.
Hoheria populnea nearby is over but one branch on 'Variegata' has reverted to having no variegation.
Last petals from the last flowers on Magnolia delavayi.
Acer palmatum dissectum 'Atropurpureum'
A carpet of fallen leaves under Euonymus alatus and a few still holding on.
Fruits on Berberis wilsonae.
Rhododendron calophylum and Acer palmatum 'Atropurpureum'.
Orange clusters of fruits on the Photinia which we think is Photinia glabra although Hiller's says that this has red fruits? Gathered some seed anyway. The plant is just by Georges Hut.
Euonymus tingens (as we think) with just three seedpods remaining to collect.
Hydrangea aspera was a gift from Lord Howick in 2018. Here is its first flower in November! The bush is thriving.
Melicytus crassifolius recently planted along from Higher Quarry Nursery bed. Dull and rare!
Huge seedpods on the Rhododendron maddenii with the largest flowers – not yet ripe in the main.
Camellia heimalis 'Dazzler' above the Orchid House Nursery.
A cut flower of Camellia 'Dazzler' alongside Camellia heimalis 'Sparkling Burgundy'.
Camellia 'Sparkling Burgundy' below the borehole. I may have got these two sasanquas muddled up a week or two ago.
Stachyurus chinensis showing autumn colour.
Seed heads aplenty on Syringa emodii 'Aureovariegata'.
First few flowers on Camellia 'Noblissima' underneath the elderly Camellia reticulata 'Captain Rawes'. No flowers as yet on the one by the front door.
Nearly ripe seed heads on Rhododendron aberconwayi which we have not collected or tried before.
Just one flower left on another clump of Hydrangea paniculata 'Vanille Fraise'. All the others are brown.
A very odd terminal cluster of flowers on Lapageria rosea 'Picotee'. All the other flowers have now dropped.
Liriodendron tulipifera just getting to its best colour. Standing out well when you look back from the beach.
Sorbus folgneri 'Emiel' with ripe fruits and good autumn colour. I collect a few for Asia to grow. A wonderful plant which Burncoose now stocks.
Cornus kousa 'Gloria Birkett' with a tremendous crop of strawberry fruits as last year.
The unnamed hedge of Camellia x williamsii is just out at the top 15-18ft from the ground. This is always one of the first to show and surprise our visiting shooting parties.
Metasequoia glyptostroboides 'Amber Glow' showing its best autumn colour.
This Hydrangea 'Ayesha' was cut back hard two years ago. A few flowers only in the summer as you can see and now a second crop which start white then go blue. Not exactly what you would expect to find in November!
Cotoneaster franchetii absolutely laden with berries. Certainly many more than last year and still untroubled by the birds.
Rhododendron nobleanum has sprung into flower on the drive. I think the recent gales have blown the buds open as the timing is perhaps a little early this year. At Tregothnan they have a whole avenue of this species with a colour range from white to pink and red. Just a few more x williamsii camellias out and one could even hint that the 'spring' season had started.
A pale blue flowering form of Vinca minor 'La Grave' ('Bowles Variety') has colonised the hedgerow opposite Caerhays Barton Farm and is giving a great show today despite the wind and heavy showers filled with hail.
Cubby had to go to the vets to be put down today aged only nine. A bull of a dog but his hind legs went and last night was awful. He will be buried behind the summerhouse with the others tomorrow morning. The second death in our pack this year. The last one died aged only one in August but the two old dogs, Billy (spaniel) and Rio (Labrador), struggle on at 13 and 14 years old.
Autumnal views over Hovel Cart Road towards Old Park.
Styrax formosanus var formosanus is as laden with seeds as it was with flowers. Collected a large envelope full in only a couple of minutes.
Seed forming on Schima khasiana which I have never observed before. Not long after flowering really. The seeds are a bit like crab apples and appear singly here and there.
2016 – CHW
Jaimie wants to dig up some of these aptly named 'ginger lilies' (hedychium) and put a few around the garden. Their seed heads are very striking although the flowers are not. Strangely the slugs do not do the leaves much damage despite being very close to the main wall.
A nice new clearing at the end of Sinogrande Walk now that a few more of the dreaded leylandii have bitten the dust.
Camellia sasanqua 'Winters Toughie' is full out at the top of Burns Bank. We have quite a collection of these but this is the first to show in this batch of eight different plants.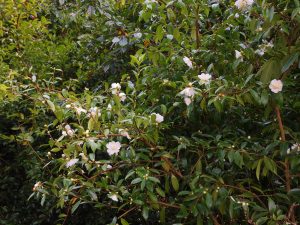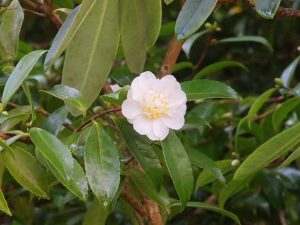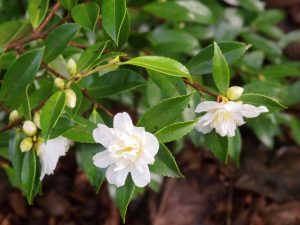 Nyssa sylvatica 'Wisley Bonfire' has changed colours in the four days. The red is going and more yellow now.
Nyssa sylvatica 'Autumn Cascade' has had its cascading bits chewed off by deer and has yet to change into its autumn colours. There is a third different nyssa beside these two even more deer chewed but no label. Wisely Bonfire has grown far better than the other two.
2015 – CHW
We all forget how late into the year magnolias hold their leaves and, indeed, why they grow so quickly. Here Magnolia 'Caerhays Belle' is still in full leaf while oak, ash, sycamore, chestnut and beech have long shed.
Over the course of the autumn Karol has assembled a collage of autumn colour pictures on sunny days (not today!). Here is a selection of what has now largely blown away for another year.Alan Clark delivers the following rhododendrons from his Vietnamese collection. I am tied up with a shoot but see him briefly at the front door.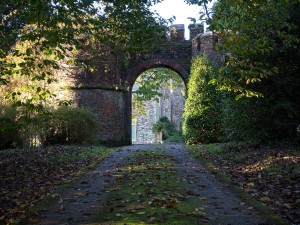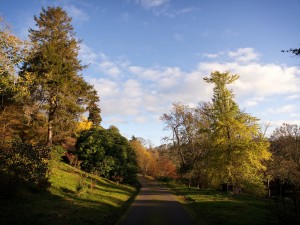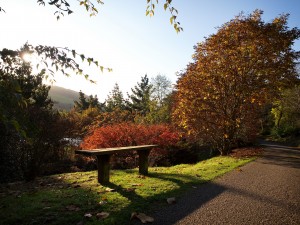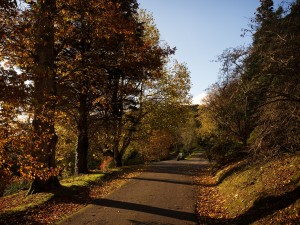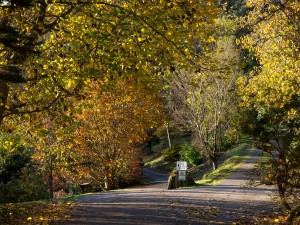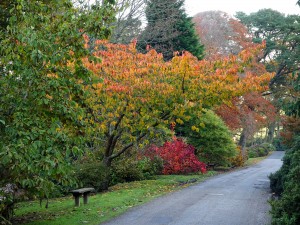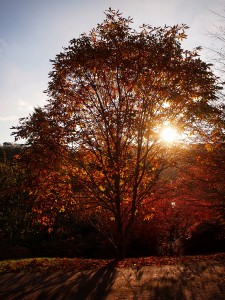 The Vietnamese Rhododendron collection. CWT – Alan Clark, Hannah Wilson and Jamie Taggart. All have been grown from seed collected from plants growing on the approach to the summit of Fan Si Pan, Lao Cai County, P R Vietnam.Rhododendron suoilenhense. Grandia subsection. Forms a spreading tree well clad in very large silvery leaves. Primrose yellow flowers with a pink blotch. April/May. CWT6410.
Rhododendron sp Maddenia subsection. Virtually prostrate, producing rosettes of dark green leaves. Deep yellow flowers resembling Rhododendon Valentiniodes. April/May. CWT6442.
Rhododendron sino-falconeri. Falconera subsection. Forms a large tree. Huge pale green leaves. Indumented below, yellow flowers. April/May. CWT6336.
Rhododendron excellens. Maddenia subsection. Forms a spreading shrub. Large, shiny bright green leaves. Long lily like, scented white flowers with a yellow blotch. June. CWT6486.
Rhododendron nuttalii. Maddenia subsection. Forms an upright shrub. Large dark green purple tinted leaves. Scented white tinged rose flowers. June. CWT6416.
Rhododendron sp Maddenia subsection. Small upright shrub. Foliage resembles Rhododendron cilliatum. Flower colour and flowering period not known. CWT6342.
Rhododendron sp subsection not determined. Completely prostrate. Small, round, hairy leaves resembling Rhododendron moupinense. Flower colour and flowering period not known. CWT6432.
Rhododendron sp Fortunea subsection. Forms a large upright tree. Dark green, wavy edged leaves. White scented flowers. August/September. CWT6282.
Rhododendron sp Maddenia subsection. Medium sized shrub. Dark green leaves. Flowers believed to be pale yellow. Flowering period not known. CWT6406.
Rhododendron fansipanense. Arborea subsection. Forms a large upright tree. Grey green, narrow leaves. Flowers believed to be red. May? CWT6390.
Rhododendron sp Parishia subsection. Forms a medium sized tree. Indumented foliage. Flowers believed to be red. August/September. CWT6348.
1924 – JCW
Much as in 1917 excepting P helodoxa which has been picked and the jonquil which has lacked sun. A good many rhodo's show colour of which Haematodes is the best.
1917 – JCW
The first Erica darleyense, Camellia sasanqua is fair, a good few P helodoxa open. Some jonquil x up in the Tin Garden, say up to 6 inches.
1907 – JCW
Camellia sasanqua has lost nearly all its buds from drought. Solanum is good and some of the roses. No frost yet. Lapagerias fairly good.
1902 – JCW
Hidalagea[?] open yet. Camellia sasanqua well open on the wall.
1900 – JCW
Some swallows and martins here yet.