2023 – CHW
First flowers out on the Camellia x williamsii 'J.C. Williams' hedge around the Rockery.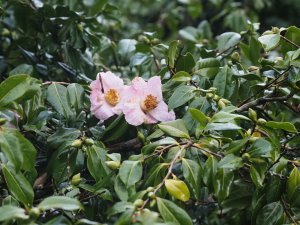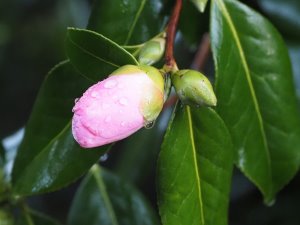 Daffodils in mid-November.
Nerine by the Drawing Room.
The very last flower for this year on Romneya coulteri.
Salvia 'Hot Lips' still in full flower.
I was asked yesterday what the difference is between Camellia japonica 'Gauntlettii' and Camellia japonica 'Nobilissima'. This is a discussion we have had before! 'Nobilissima' is not out yet!
Autumn colour in a now fully grass cut Kennel Close.
Mahonia oiwakensis is now 15 feet tall with 3 upright stems. Only one flower easily photographed. A Taiwanese species.
The yet to open terminal flowers on Aralia vietnamensis. About 18 feet up in the air. Previous flowers have been frosted before opening.
Camellia sasanqua 'Sekiyo'. A large flower for a sasanqua.
Camellia sasanqua 'Showa no Sakhe'.
Acer takesimense at its best with yellow and red in each leaf.
Acer japonicum nearly leafless.
Prunus 'Horinji'
Tilia endochrysa turning yellow.
Acer sterculiaceum subsp. sterculiaceum not that exciting!
More leylandii have been burnt.
But plenty more still to go.
Cornus iberica with good reddish-black autumn colour.
Cornus hemsleyi with very similar colouration.
200 Hostas for £1.00 each.
200 Primula florindae for 50p each.
Most sensible businesses would have held a proper auction as Trewithen did a few years ago when they closed their nursery. The auction sale there raised a tidy sum. I would not be surprised if the nursery reopens in a few years' time but then the National Trust is currently more interested in BLM issues than their members or their historic houses or their longstanding staff.
Another Schefflera delavayi with even more flower heads and a spreading habit. Greener leaves too.
This is the true Michelia compressa (Magnolia compressa) bought in the UK. Tom Hudson's plant has leaves like this and tiny flowers.
This is a supposed Michelia compressa acquired from overseas which, it now transpires, is something rather different! Not exactly hardy either by the look of it. We did not know this when the plants first arrived a few years ago.
Hydrangea 'Fireworks' with a decent flower or two still by Georges Hut.
Magnolia x loebneri 'Leonard Messel' with a great show outside the back yard.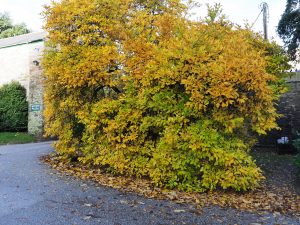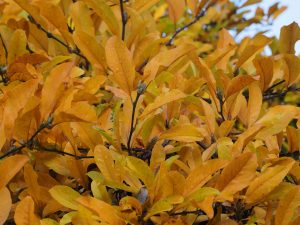 A light blue hydrangea still full out by Four in Hand.
Enkianthus perulatus is a superb red in autumn here shining in the sun. Perhaps the best of all enkianthus for autumn colour. I was late getting to many of the others but not here. Note the seed pods which still look unripe and un-swollen. Not much here yet for Asia to collect.
An FJW Rhododendron decorum hybrid outside the front gate with the odd secondary pinkish flower. This is near pure decorum and not likely to be anything special or worth a name but, for a 2007 planting, quite a nice size and shape. The leaves are pure decorum in shape.
Syringa pinnata has a nasty huge sucker from the rootstock or roots well below the graft. Now that the leaf on the true plant has fallen the remaining leaf on the syringa rootstock shows up clearly. Needs to be sawn off below ground level soonish and any regrowth sprayed off before it takes all the energy from the grafted plant which is doing well.
The buds on Camellia x williamsii 'J C Williams' will be showing colour in a few more days of sunshine. I need to inspect 'November Pink' for a flower tomorrow.
Rhododendron weyrichii has a nice autumn display in the Rockery. Many of the deciduous rhododendron species have this additional feature as we have seen recently. They should be planted more widely for autumn colour. This is still a rather good autumn colour year with lots of new surprises to admire.
The Cordyline australis by the front door is now multi-stemmed and in rude health. Many of these specimen Cornish palms have died recently from some disease. Truro and Falmouth roads look denuded with the old dead stumps.
Rhododendron 'Polyroy' has three secondary but well-formed flowers out by George's Hut on two separate plants of the five in the clump. It is an excellent Millais hybrid in both seasons (polyrandrum x royallii).
Also a new clearing of a laurel clump on the edge of the Rookery has been completed. The stumps will be removed when dry in the spring ready for a large new planting of more choice plants. The laurel is no longer needed here as a shelter belt but it would seem that a spring may rise here. A large old Meliosma pungens had died here; probably from being waterlogged and this has been burnt up as well. Not a place for rhododendrons and certainly not Alan Clark's Vietnamese introductions.