A very old dark form of Camellia sasanqua 'Rosea' with large flowers growing over a wall at the entrance to the house.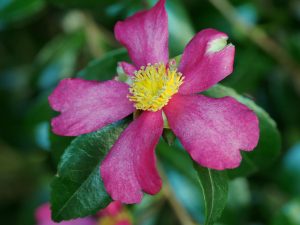 Zanthoxylum pipiterum – purple leaved. A more mature plant than anything we have at home. The foliage has paled a little in autumn.
Autumn colour on Enkianthus serrulatus. Tom gave us a plant a few years ago. White flowers before the leaves appear.
Rehderodendron kwangtungense with no discernible autumn colour as yet and no seeds this year either.
Camellia sasanqua 'Plantation Pink' with large light pink flowers stuffed with nearly dead wasps. An excellent plant which should be grown more widely even as a wasp killer!
Camellia sasanqua 'Rainbow' which is quite similar to 'Narumigata' but with a smaller flower with more pink. Not sure if this quite matches our Burncoose plants of this name?
Keleleeria evelyiana is a rare conifer with beautiful bark. Something we need to add to the collection here if one could ever locate it for sale.
Euonymus cornutus (a Wilson 1908 introduction) with a wonderful display of colourful seeds from which we avidly collected a few. A smallish shrub with remarkable pink tinged horn like capsules and orange-red seeds hanging below. Unremarkable in flower but startling today with seeds.
Nyssa aequatica with proper autumn colour. We have not seen this on our Caerhays plant as yet.
Griselinia jodonifolia from Chile looks more like a holly or an Osmanthus than a Griselinia. Very rare.
Luzurgia polyphylla is also from Chile. A dainty climbing plant with round bright orange seed clusters growing up the easterly side of a mature tree trunk.
Fuchsia glazioviana is a climbing species which flowers very late in the season. Cuttings taken!
Blepharocalyx cruckshankii from Chile was one of the remarkable new plants from today. Clearly closely related to Myrtus or Ugni with similar foliage and pleasantly edible purplish-black fruits in large clusters. Flaking bark like a myrtle too. Asia has cuttings and seeds to try.
Parasassafras convertifolium with tiny flowers and highly scented leaves when crushed. An extraordinarily rare tree which may never have flowered in the UK before. Another of Tom's wild collections for us to marvel at even if most would find it as 'dull as ditch water'!
Euonymus trapocosus with attractive pinkish fruit capsules on a smallish tree. Another interesting euonymus species.
Nyssa leptophylla was another brand new Nyssa species to us with startling autumn colours which had mainly shed.
Decaisnea insignis with its compact yellow fruit clusters which I had never seen before. Very different to the blue seed pods nearby of Decaisnea fargesii. D. insignis may take its name from the seed clusters which perhaps resemble a radiata pine cone (doubtful)?
Carpinus japonica with seed capsules in the sun.
Corynabutilon with very dark flowers indeed. A conservatory plant which survived 'The Beast' outside at Tregrehan.
Hedychium gardnerianum with distinctive leaves and yellow flowers. Not the same as our white H. gardnerianum with yellow spots on the top wall. No seeds appear to have set here.
Hedychium thrysiforme with a few tail end flowers.
Two outstanding elderly Acer palmatum dissectum 'Viridis' either side of a path in the main walled garden.
Camellia toberculata now in flower. We took cuttings of this peculiar species whose flower buds are brown in early October. The ripening seed is extraordinary too and hence the odd name.