2023 – CHW
The reality of Storm Ciaran.
The beech tree at the Hovel into which the WWII evacuees carved their names split in half. What's left is dangerous and will have to be felled.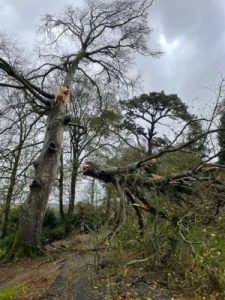 Further down the drive a sweet chestnut has made a huge mess.
A telegraph pole at Rescassa but the beaters trailer managed to get underneath.
A fair mess at Treluckey Mill with an oak tree.
Most of the schools were shut and, with the normal post COVID stupidity, we were all told to stay safe and at home. Storm Ciaran went through in the night and the day was reasonably dry and uneventful.
First flowers out on Polyspora axillaris var tonkmensi.
A young rhododendron arizelum has blown over. Half split at the base but still alive and an obvious candidate for layering to try to ensure its survival.
Uplifting small trees to improve their habit and prevent them shading out nearby smaller plants.
Lapageria rosea now with a better show of flowers on this very old plant.
Fuchsia and the ancient Camellia sasanqua (white form) out together again!
Forsythia turning yellow then red by the gents loos.
Sorbus hupehensis (now Sorbus pseudohupehensis) with pinkish berries.
Sorbus hedlundii (KR 1810 A – best clone) with large fruits.
Stewartia x henryae glowing nicely as it always has here.
Stewartia monodelpha is even better. A far better show in Kennel Close this year than Stewartia rostrata which is normally the best autumn coloured species.
Just a few fruits this year on Malus prattii which are not quite ripe.
2020 – CHW
Lockdown Number 2 is now in place so back to making videos for the website. Today one about the possibly oldest five Camellia sasanqua in the country with Karol behind the camera. Unbelievably tedious and totally unnecessary in Cornwall where our COVID rate is now 47 per 100,000 of population. Way below that in the north of England where it is at 170 to 250 per 100,000 AND Cornwall has been heaving with visitors since 4th July when the last lockdown formally ended.
Guests in our holiday lets are (surprisingly) allowed to stay on if they wish under the rules rather than being sent home immediately.About 20 staff on furlough again here – marketing department, house staff, Vean staff etc but they can now work one (or more) days a week if we so wish and we can afford to pay them with no Vean or shooting income for a month (at least).
Camellia 'Takinini' full out by the Playhouse and an exceptional colour.
Work progressing well on the laurel hedge below Sinogrande Walk.
A few rogue flowers, as usual, on Azalea 'Kirin'.
Ripe black myrtle berries cover the path. No wonder self-seeding everywhere is so rampant.
Acer palmatum 'Sango-kaku' now a true yellow and dropping.
Photinia beuvardiana var. notabilis is now more or less ripe all over the tree. What a show. This is another new entry on the Burncoose website and Asia needs to collect and grow more of this splendid species.
An oak branch has hit our little new row of Camellia x williamsii 'Les Jury' taking out at least one of them. Planted last spring.
The gales have stripped the bark off a yew which we pollarded in the Isla Rose Plantation. It died and so did the two roses which we hoped to grow up it in the dry summer.
A fine Acer palmatum dissectum 'Atropurpureum' which I planted exactly where a larger old plant died some 30 years ago. My mother cut it down, dried it off and used it as a Christmas decoration all sprayed white. This one will hopefully have decade or two to go like this before it suffers a similar end.
A large wasps nest appears to have fallen from an old beech tree.
Another fine autumn show from an Acer palmatum dissectum 'Atropurpureum'.
A clump of three Enkianthus campanulatus 'Wallaby' in which two exhibit very different autumn colours. One is bright yellow while the smaller 'runty' plant has a reddish hue. Unusual or is one dying?
Acer kawakamii (caudatifolium) is rotten at its base beside the drive. This fungal infection of the main stems is now a major threat to snake bark maples with several casualties here and at Burncoose.
Last few flowers on Hypericum lancasteri.
Unlike last year, loads of berries on Cotoneaster franchetti.
2016 – CHW
The darker pink original Camellia sasanqua is now full out.
Camellia sasanqua 'Hugh Evans' is also out in a large clay pot by the front door. Actually only one of the two here is out.
Camellia japonica 'Noblissima' now has two flowers out and one bud showing colour by the front door.
2015 – CHW
Below Slip Rail I find a nice surprise. Eriobotrya deflexa has enjoyed the warm and then wet summer and has produced a secondary flush of bright brownish red new growth every bit as good as the spring new growth. Perhaps flowers and fruit next year which I have never seen on this species. Eriobotrya japonica has fruited at Burncoose in the lower walled garden but the tiny oranges were never quite edible.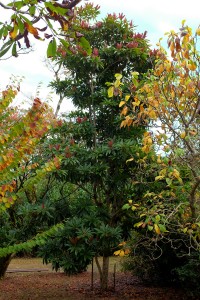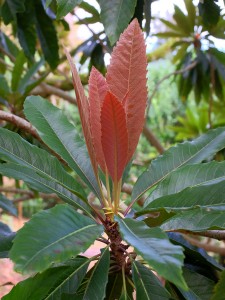 I had forgotten that we actually had Lindera triloba but here it is below Slip Rail exhibiting exceptional yellow autumn colour with next spring's flower buds clearly in evidence. At the recent Garden Society dinner Rupert Eley compared this to Lindera obtusiloba and the variable leaves are clearly easily confused. However our two original Lindera obtusiloba have a rather different growth habit so I firmly believe we have both species.
A picture to add to the styrax collection of Styrax japonicus 'Emerald Pagoda' growing below The Pound. It has much larger leaves than pure Styrax japonicus and was collected in South Korea in 1985. No flowers have been seen on this one yet.
Just above it is a good tree of Liquidamber styraciflua 'Worplesdon' which has narrow lobed leaves and is turning colour nicely allover. The book says orange and yellow colours but it looks more mixed than this to me. The original plant put here was pinched after planting. My father took Lord Falmouth to view it one day years ago and, to much merriment, the wire surround was empty! (Merriment from Lord Falmouth anyway.)