2018 – CHW
A new batch of plants from Stervinou nurseries. Camellias and Polyspora mainly. Most are large enough to plant out immediately.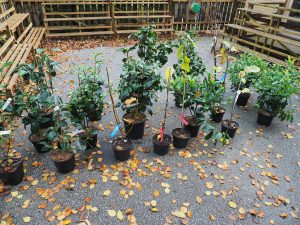 A large wasps nest appears to have fallen from an old beech tree.
Another fine autumn show from an Acer palmatum dissectum 'Atropurpureum'.
A clump of three Enkianthus campanulatus 'Wallaby' in which two exhibit very different autumn colours. One is bright yellow while the smaller 'runty' plant has a reddish hue. Unusual or is one dying?
Acer kawakamii (caudatifolium) is rotten at its base beside the drive. This fungal infection of the main stems is now a major threat to snake bark maples with several casualties here and at Burncoose.
Last few flowers on Hypericum lancasteri.
Unlike last year, loads of berries on Cotoneaster franchetti.
2016 – CHW
The darker pink original Camellia sasanqua is now full out.
Camellia sasanqua 'Hugh Evans' is also out in a large clay pot by the front door. Actually only one of the two here is out.
Camellia japonica 'Noblissima' now has two flowers out and one bud showing colour by the front door.
2015 – CHW
Below Slip Rail I find a nice surprise. Eriobotrya deflexa has enjoyed the warm and then wet summer and has produced a secondary flush of bright brownish red new growth every bit as good as the spring new growth. Perhaps flowers and fruit next year which I have never seen on this species. Eriobotrya japonica has fruited at Burncoose in the lower walled garden but the tiny oranges were never quite edible.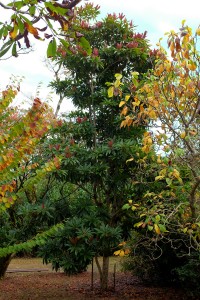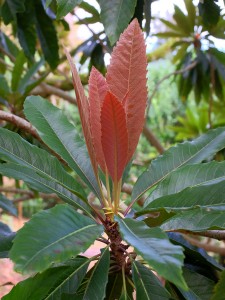 I had forgotten that we actually had Lindera triloba but here it is below Slip Rail exhibiting exceptional yellow autumn colour with next spring's flower buds clearly in evidence. At the recent Garden Society dinner Rupert Eley compared this to Lindera obtusiloba and the variable leaves are clearly easily confused. However our two original Lindera obtusiloba have a rather different growth habit so I firmly believe we have both species.
A picture to add to the styrax collection of Styrax japonicus 'Emerald Pagoda' growing below The Pound. It has much larger leaves than pure Styrax japonicus and was collected in South Korea in 1985. No flowers have been seen on this one yet.
Just above it is a good tree of Liquidamber styraciflua 'Worplesdon' which has narrow lobed leaves and is turning colour nicely allover. The book says orange and yellow colours but it looks more mixed than this to me. The original plant put here was pinched after planting. My father took Lord Falmouth to view it one day years ago and, to much merriment, the wire surround was empty! (Merriment from Lord Falmouth anyway.)