2023 – CHW
Another visit to Bonython on a ridiculously warm and sunny day.
Crataegus laevigata, Woodland Hawthorn, looking especially good and laden with berries. Two mature plants above the house near the old rhododendron planting.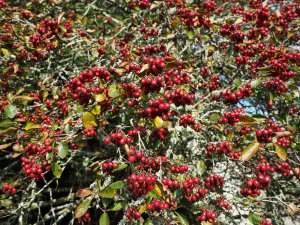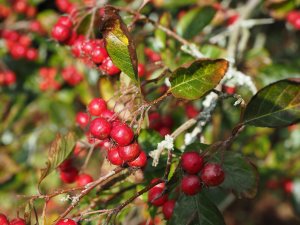 Strobilanthes rankanensis flourishing in the walled garden. A present from us a few years ago.
Rosa 'Rhapsody in Blue' still flowering!
Aconitum carmichaelii 'Arendsii' in full flower and stunning in the walled garden. A late season spectacular.
An exotic and tender Busy Lizzie – name unknown.
Dendroseris litoralis.
Fruits on Pyrus salicifolia 'Pendula' which one seldom sees.
The Betula circles get better and better.
Flowering grasses beside the lower lake.
A very fine Alnus cordata, Italian alder.
2022 – CHW
Seeds forming on Vaccinium dunalianum var. megaphyllum – a gift from Rod White.
First flower out on Camellia sasanqua 'Showa no Sakae'.
A large clump of Rhododendron davidsonianum with a real covering of secondary flowers.
Euonymus trapococcos with autumn colour.
Viburnum hoanglienense with ripening red fruits. Most attractive.
Viburnum taiwanianum preparing to flower.
Euonymus morrisonensis covered in, as yet, unripe seed pods
I have seldom seen this much seed on Stachyurus salicifolius.
Viburnum wilsonii with gorgeous autumn colour, an odd, late flower and the first crop of spectacular berries. Quite a species! It must have died out here years ago but one to propagate definitely.
The older leaves on Carpinus rankanensis are splitting and desiccating.
Wind damage to Catalpa szechuanica.
Autumn colour changes on Acer japonicum.
The new puppy (Teddy) annoying the other dogs.
Colour and seed on Enkianthus campanulatus 'Venus'.
Heuchera 'Wild Rose' will be a new entry in the 2021 catalogue.
Camellia sasanqua 'Early Pearly' has arrived from Stervinou nurseries for Caerhays. I saw this last autumn exhibited by Tregothnan at a Garden Society dinner. Excellent!
Leucadendron 'Jester' bought in for a new South African garden in Guernsey.
Wonderful autumn colour on Quercus imbricata.
Viburnum dentatum 'Blue Muffin' with extraordinary autumn hues which I had not seen before.
To add to this year's record of cotoneaster berries here is Cotoneaster Hybridus Pendulus.
Good autumn colour on Pistacia chinensis.
Mahonia eurybracteata 'Soft Caress' nicely in flower – no prickles on the leaves!
Toona sinensis 'Flamingo' with nice yellow colouring starting to show.
Albizia 'Summer Chocolate'
Celastrus orbiculatus with a good show in the sales point.
Malus 'Golden Hornet' with larger yellow crab apples than seen elsewhere in this diary recently.
Another new entry for the 2021 catalogue is Lonicera periclymenum 'Honey Baby' which is a small growing shrubby honeysuckle with (today) startling red fruits.
Fruits on the irregularly variegated Photinia davidiana 'Palette'. Another Photinia with fruits to add to our recent researches in this diary.
Vaccinum cylindraceum performing a secondary flowering which I have not seen before but apparently this is not unusual.
Cotinus 'Old Fashioned' putting on a superb show today in a brief sunny spell between the rainstorms.
2019 – CHW
The Beatrice Fleur Williams christening plantation of sasanqua camellias now goes in on the bank above the entrance to the Old Park where sasanquas once grew.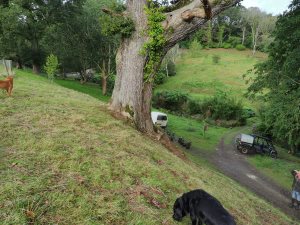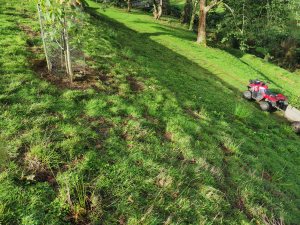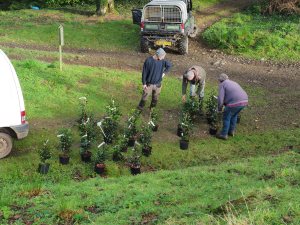 A couple of new varieties have flowers. Camellia sasanqua 'Survivor' is a delicate rounded white.
Camellia sasanqua 'Hiryu'.
Camellia sasanqua 'Versicolor'
The full list of what was planted is here:-
Belinda
Blush
Bonanza
Choji Guruma
Early Pearly
Elfin Rose
Frosted Star
Hiryu
Look Away
Marshmallow
Narumigata
Night Rider
Pink Goddess
Plantation Pink
Sekiyo
Setsugekka
Spring Fling
Survivor
Sweet Olive
Tada Meibi
Versicolor
Virginia Robinson
Yoimachi
Yume
The opening ceremony will be in February 2020.At the same time our new Cotoneaster species collection was planted below White Styles field below the path. A full list of what was planted here: -Cotoneaster erratusCotoneaster fangianusCotoneaster flinckiiCotoneaster gambleiCotoneaster glabratusCotoneaster naoujanensisCotoneaster rhytidophyllusCotoneaster rokujodaisanensisCotoneaster rubensCotoneaster schubertiiCotoneaster sikangensisCotoneaster silvestrii
Cotoneaster soongoricus
Cotoneaster teijiashanensis
Cotoneaster tengyuehensis
Cotoneaster thimphuensis
Cotoneaster uniflorus
Cotoneaster vandelaarii
Cotoneaster wilsonii
Cotoneaster 'Rothschildianus'
20 of the rarest Cotoneaster species you could ever wish to find! Lots of fun checking their identities and propagating them over the next decades I hope.
Another Cornish champion tree blew over in last week's gales. This was Magnolia 'Cecil Nice'. Clearly the roots have rotted. This was actually a casualty of The Beast in March which caught the tree in full flower with the new growth emerging and it has never recovered.
Also the first flowers on the largest white Camellia sasanqua.
The second, smaller, white Camellia sasanqua is further out. Two days ago nothing.
Fuchsia and white Camellia sasanqua both in flower side by side!
The first Camellia sasanqua which suddenly flowered 10 days ago is now over and shedding petals furiously as the wind gets up. A short and sweet flowering season.
A little passing damage which blocked the drive, thanks to Ophelia.
2016 – CHW
To Bond Street for a quick review of newer plants here and one or two surprises.Eupatorium ligustrinum, the late season flowering plant which butterflies adore, is nearly over with some flower head clusters already brown and seed setting while others are still out and a fluffy white. I see this is now renamed as Agerantina liguistrina at some botanist's whim. A plant from Mexico and Costa Rica.
This clump of five malus came as seed from Werrington ages ago. The crab apple fruits are golden yellow and ripe now but I do not know the species. Slow growing and only about 8ft tall after 25 to 30 years. Quite large leaves for a malus.
One seedling however is clearly a hybrid with reddish fruits and a larger taller tree. Could it be a pyrus rather than a malus?
Taxodium distichum var imbricatum'Nutans' is new in the Burncoose catalogue for 2017. Here is a more mature plant with graceful ascending branches about to turn yellow. Again the name has been 'botanised' to make it more complicated.
2015 – CHW
Some rather dull subjects today in an admittedly dull part of the garden around the camellia foliage plantation above the Auklandii Garden. There are three possibly self sown or possibly hidden because dull plants of Photinia (I think) davidiana with nearly ripe fruit. The leaf looks a bit different to the Burncoose plants above the tennis court in full sun. Here they are in full shade.
I have tried several times to get young plants of Quercus suber away but they have always died of cold in immaturity. Here one is at last growing in a very poor position and heavily propped up by stakes. The bark is beginning to look cork like as it should.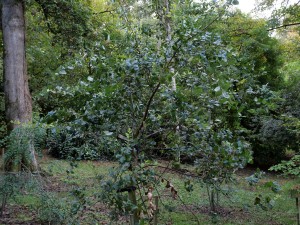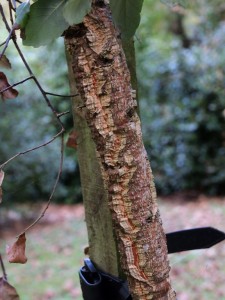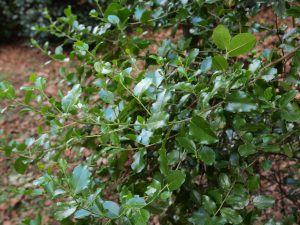 Quillaja saponaria, the soap bark tree, is rather aptly alongside the cork oak. It is a tender evergreen of little merit and one of the dullest worst selling items in the Burncoose catalogue. Then an ilex which I had always believed to be Ilex verticellata but now I am not so sure as this looks like an evergreen to me and Ilex verticellata is deciduous. The new growth stems are black so I should easily be corrected by someone on this old plant.Looking around this whole area is shaded by four or five large sycamores which have no place here and are taking all the light. Could we fell them easily? Probably but we would gain little new planting space. Jaimie wants to ditch the nearby laurel clump this autumn which will make a little space.
1961 – FJW
First flowers Nov Pink well out.
1954 – CW
Only one or 2 white buds on Camellia sasanqua – most of whites over are Maddeni x . Royal Flush a lot out. Hydrangeas some well. All very late and a wet summer. Rockery Tree ferns picked up a bit but old ones in Drive very bad. Fuchsias nice. Some lapagerias.
1948 – CW
Returned from North. Harvest good but plenty of rain. Fuchsias very good. Lapagerias still nice. Stable white Sasanqua out and an odd bit of pink. Pound gate Yellow Hammer rhododendron has been good. Almost no magnolia seed. Some bits of Auriculatum and its hybrid. A few daffs breaking ground. A few bits of Maddeni hybrid. Both plants of best dead.
1944 – CW
The white Camellia sasanqua by stables fully out and a few pink. Rho Yellow Hammer good. A few Auriculatum hybrids left. There have been some bad storms and a lot of rain. Last week 3 big branches off the tall Insignis.
1924 – JCW
I took a nice bunch of Hippophaeoides, Scintillans, Saluensis, Russatum x Primulinum to Wilson. C panniculata nice but not good. It is the same with bloom on many things. A late and sunless season but great growth.1908 – JCW
See some Polyanthus above ground, Camellia sasanqua is open. R nobleanum open in the drive.
1903 – JCW
I saw the first of the above in flower, Sasanqua well out.
1898 – JCW
Several Polyanthus above ground.