2018 – CHW
A last late flower on an elderly Rosa 'Mermaid' after at least four months of flowering.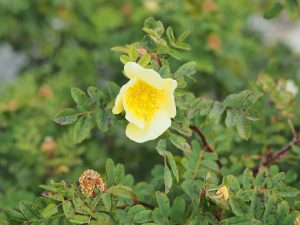 And the very last poor flower for this season on Romneya coulteri on the front of the castle. What a show we have had here all summer. This plant really enjoyed the drought.
2017 – CHW
Guests were asking what the rhododendron full out on the drive was. I had not yet noticed but there is a rather full secondary display on Rhododendron 'Norfolk Candy'. It may mean it is infected with honey fungus and is in its last throws of life. Its neighbour died in the summer. However another plant by 'Georges Hut' is full out too as I found out later.
The many seed pods on Rehderodendron macrocarpum are still not quite ripe enough to collect. Asia needs to keep an eye on them. Unusual for so much fruit on such a young tree.
2016 – CHW
James Garnett in Holland sent me pictures of Emmenopterys henryi which he saw flowering recently at Kalmthout in Holland. We looked at our plant last week which has shown no sign of flowering in 100 years; like nearly all other UK plants of this rare genus.
James also sent pictures of Meliosma parviflora which is not in our growing meliosma collection here which he saw during his visit. Both are amazing plants!
2015 – CHW
One forgets to look out for eucalyptus at this time of the year but I find a couple which were given to us as a present by I forget who. It might have been the podocarpus expert? Neither are in Hillier's so I must assume that they are tender. One is in 'New Trees' as a relatively unknown and new Australian species and the other is renamed Eucalyptus nitida in 'New Trees'.
Eucalyptus simmondsii (nitida) has particularly graceful leaves and is rather nicer than many grey leaved eucalyptus species.
Eucalyptus mannifera var praecox has exceptional peeling bark at a young age and nice foliage. It does look like an obvious casualty in a cold winter and was only planted in 2014. Amazing growth rate!